LIQUISOL bustine  sachets - Normal volume and normal consistency of faeces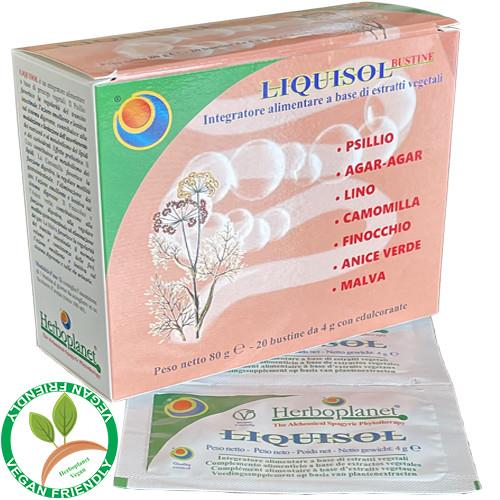 Product VEGAN FRIENDLY

AMOUNT OF HERBAL COMPONENTS FOR 1 SACHET (4g)
: powders of: Psyllium (Plantago ovata Forsk.) cuticle 1200 mg, Agar-Agar (Gelidium amansii JV Lamour.) thallus 1000 mg, Flax (Linum usitatissimum L.) seeds dry extract 150 mg , Chamomile (Matricaria chamomilla L.) flowers dry extract 150 mg, Fennel (Foeniculum vulgare Mill.) fruits dry extract 150 mg, Anise (Pimpinella anisum L.) green fruits dry extract 120 mg, Mallow (Malva sylvestris L.) leaves extract dry 120 mg. Aroma. Acidifier: citric acid. Anti-caking agents: silicon dioxide. Sucralose sweetener.
Product included in the Register of supplements of the Italian Health Ministry,
code 107950
.
Product included in the Register of supplements of the Spanish Health Ministry,
code 0599E/11108/2016
.
LIQUISOL
is a food supplement based on plant extracts. Flea wort has a
prebiotic effect
. Agar-Agar
contributes to the normal volume and consistency of faece
s. Flax
contributes to the regularity of intestinal transit
. Chamomile and Mallow c
ontribute to the
emollient and soothing action: regular functioning of the digestive system
. Fennel
contributes to the regular gastrointestinal motility and to the elimination of gases
and the Anise to the
digestive function
.
WARNINGS
: keep out of the reach of children under the age of three years. Do not exceed the recommended daily dose. The product should be used in the context of a varied and well-balanced diet and a healthy lifestyle.
USE
:
We recommend taking 1 sachet a day to be dissolved in a glass of water (about 100 ml).
NOTES
:
PSYLLIUM SEEDS
powder is able to attract water into the intestine and increase of
25
times its own weight, thus increasing the volume of the fecal mass. This, combined with the emollient properties, make it useful as mild laxative, like Flax seeds, having a
soothing effect at the same time and anti-inflammatory as well, protective of intestinal mucosa and absorbing toxins
. Intestinal Regulator, particularly useful in constipation states, colitis and dysentery. The powder of the whole plant of
AGAR-AGAR
(
Gelidium corneum
), algae of Gelidium genus, is rich in emollient ingredients and mucilaginous substances, with the ability to swell, like the seeds of psyllium and flax, when it goes in touch with the water,
increasing, in this way, the intestinal contents, thereby facilitating the evacuation
. The powder of
FLAX SEEDS
(
Linum usitatissimum
) contains muchmucilage and
40
% of fatty oil.
The mucilage swells in the gut, so stimulating the evacuation in an efficient manner.
It also has got anti-inflammatory properties for all disorders of the digestive and urinary tract. The powder of
CHAMOMILE
(
Matricaria chamomilla
) flowers contains an essential oil, mainly consisting of
chamazulene
and its derivatives as
matricarina
and
bisabolol
, flavonoids (
apigenin
), a derivative of coumarin (
umbellipheron
). These principles give digestive and painkilling properties,
antispasmodic and antiphlogistic properties in digestive tract diseases, calming in painful intestinal spasms and urinary tract as well
.
FENNEL
(
Foeniculum vulgare
) seeds powder is an excellent
carminative
(
sedative of intestinal gases
), also useful in certain intestinal tumultuarie diarrhea, and it has a general sedative action. It is one of the four seeds constituting the "
hot Seeds
" that are used
to facilitate the digestion and eliminate intestinal gas
, and the other three of them are:
Dill, Anise and Cumin
. Fennel contains an ethereal oil (made of
anethole, estragole, fenchone, pinene and limonene
), pectin; it
reduces the sense of heaviness after meals
. The powder of
ANISE
(
Pimpinella anisum
) seeds is
carminative
and
digestive.
Anise is part of the "
hot Seeds
"; one of its primary indications is in the
aerophagia states and in difficult digestions. It mitigates intestinal spasms and has disinfectant action on the digestive tract.
Its essential oil is composed mainly by
anethole
.
MALLOW
(
Malva officinalis
) contains mucilage, tannins, resin, and
vitamin A, B

1

, C
and
E
. Its flower encloses a glucoside called Malvin, which
has got emollient properties, decongestants and laxative as well, soothing of gastro-enteric inflammations, urinary tract and respiratory tract.
- Ernesto Riva - "
L'universo delle PIANTE MEDICINALI trattato storico, botanico e farmacologico di

400

piante di tutto il mondo
" - Ghedina & Tassotti editori s.r.l. - Bassano del Grappa (VI), Maggio
1995
.
- Tina Cecchini –
Enciclopedia delle erbe medicinali
, ………… - DE VECCHI EDITORE
- Padre Gianfranco Lazzari -
L'Erbario del Frate
- EDIZIONI S. MARCO LITOTIPO
- Alberto Fidi -
Erbe e Piante medicinali
- FRATELLI MELITA EDITORI
- AA.VV. -
Enciclopedia chimica
– USES ed., Firenze
- Benigni R., Capra C., Cattorini P.E. –
Piante medicinali: chimica, farmacologia e terapia
– Inverni della beffa ed, Milano.
- Duraffourd C., D'Ervicourt L., Lapraz J.C. –
Cahieres de Phytotérapie clinique
– Masson ed., Paris
1983
- Maugini E. –
Botanica farmaceutica
– CLUSF ed., Firenze
1976
- Pomini L. –
Erboristeria italiana
– Vitalità ed
- Valnet J., Duraffourd C., Lapraz J.C. –
Phytotérapie et aromatherapie
– Presse de la Renaissance, Paris
1978
- Massari E. –
Erbe in Cina
– Milano
1981
- Penso G. –
Piante medicinali nella terapia medica
– Org. Med. Farm. Ed., Milano
- Enrica Campanili –
Dizionario di fitoterapia e piante medicinali
– Tecniche Nuove - MI
- Larousse - "
Encyclopédie des PLANTES MÉDICINALES identification, préparations, soins
" - Larousse-Bordas –
1997
- Tom Wilsons - "
Guarire con le erbe, i consigli, le malattie, le ricette, le dosi nella più ricca raccolta di erboristeria
" - Fratelli Melita Editori
- Dr. G. Fort - "
Guide de traitement par les plantes médicinales et phytocosmétologie, soins de beauté
" - Editions Heures de France - Paris,
1976
---