HS 211 TAMARIS COMP.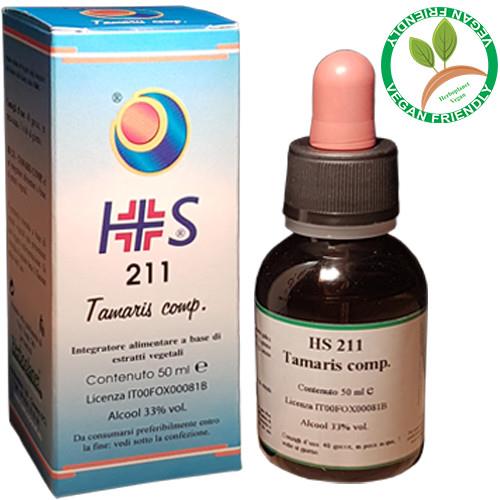 Product VEGAN FRIENDLY
HERBAL INGREDIENTS CONTENT FOR 120 DROPS
:
MSA
(
Spagyric-Alchemical Macerate of Solanimus R. E. 1/50
) of: Tamarisk (
Tamarix gallica L
. ) young shoots 1.44 g, Hazel (
Corylus avellana L
. ) buds 1.26 g, Blackthorn (
Prunus spinosa L
.) buds 0.90 g, Lemon (
Citrus limonum Burm. F
. ) buds 0.18 g.
Product included in the Register of supplements of the Italian Health Ministry,
code
16841
.
Product included in the Register of supplements of the Spanish Health Ministry,
code 0599E/11109/2016
.
HS 211 TAMARIS COMP.
is a food supplement based on plant extracts
able to promote the normal functions of the circulatory system
.
USE
: 40 drops, 3 times daily.
WARNINGS
: keep out of the reach of children under the age of three years. Do not exceed the recommended daily dose. The product should be used in the context of a varied and well-balanced diet and a healthy lifestyle.
NOTES
:
TAMARIX GALLICA
(
young shoots
), Thanks to its principles (especially tannins), it
stimulates the haemopoiesis and spleen functions and it is useful in anemia states
,
lymphocytosis
,
leukopenia
,
and mononucleosis
. It facilitates the formation of red blood corpuscles, as well as thrombocytes. This glyceric macerate is acting on bone marrow and, almost certainly, also on the spleen,
thereby stimulating the formation of red blood cells
and platelets.
CORYLUS AVELLANA
(
buds
)
actives the erythropoiesis
. Because of its medullary and global activities over every form of metabolism, it is a polyvalent medicament and its perfect tolerance allows a more widespread use.
The organotropism of the macerate is turned towards the bone marrow
(where it stimulates the erythropoiesis by activating the eritoblasti)
.
PRUNUS SPINOSA
(
buds
) has been used for a long time as medicine for preparations of numerous recipes. The glyceric macerate, as obtained from the buds of Prunus,
reactivates the hypothalamus-hypofiso-adrenal axis and stimulates the immune system
.
The organotropism is moved to the heart, the circulatory system, the intestinal canal and to the eye.
Its biochemical action allows us to reactivate the body metabolism
. The macerate also behaves as a tonic and stimulator when the body has been debilitated by diseases or pollutants, divisive and stressful situations. From the plants described above it is possible to obtain
MSA
(
Spagyric-Alchemical Macerates
)
with extraction ratio 1 to 50
(
RE 1/50
) if you follow the indications given by
Solanimus
in his book "
ALCHIMIA e SPAGYRIA: admirabiles et inseparabiles Artes!
", where some practical notions of Spagyria or Spagyrya and Alchemy are very well described.
BIBLIOGRAPHY
:
- Fernando Piterà - "
Compendio di GEMMOTERAPIA CLINICA
" - De Ferrari Editor
- Ernesto Riva - "
L'universo delle PIANTE MEDICINALI trattato storico, botanico e farmacologico di 400 piante di tutto il mondo
" - Ghedina & Tassotti editori s.r.l. - Bassano del Grappa (VI), Maggio 1995.
- Tina Cecchini –
Enciclopedia delle erbe medicinali
, ………… - DE VECCHI EDITORE
- Padre Gianfranco Lazzari -
L'Erbario del Frate
- EDIZIONI S. MARCO LITOTIPO
- Alberto Fidi -
Erbe e Piante medicinali
- FRATELLI MELITA EDITORI
- AA.VV. -
Enciclopedia chimica
– USES ed., Firenze
- Benigni R., Capra C., Cattorini P.E. –
Piante medicinali: chimica, farmacologia e terapia
– Inverni della beffa ed, Milano.
- Duraffourd C., D'Ervicourt L., Lapraz J.C. –
Cahieres de Phytotérapie clinique
– Masson ed., Paris 1983
- Maugini E. –
Botanica farmaceutica
– CLUSF ed., Firenze 1976
- Pomini L. –
Erboristeria italiana
– Vitalità ed
- Valnet J., Duraffourd C., Lapraz J.C. –
Phytotérapie et aromatherapie
– Presse de la Renaissance, Paris 1978
- Massari E. –
Erbe in Cina
– Milano 1981
- Penso G. –
Piante medicinali nella terapia medica
– Org. Med. Farm. Ed., Milano
- Enrica Campanili –
Dizionario di fitoterapia e piante medicinali
– Tecniche Nuove - MI
- Max Tètau - "
Gemmoterapia nuovi studi clinici
" - NUOVA IPSA Editore srl - Palermo, 1989
- Larousse - "
Encyclopédie des PLANTES MÉDICINALES identification, préparations, soins
" - Larousse-Bordas – 1997
- Tom Wilsons - "
Guarire con le erbe, i consigli, le malattie, le ricette, le dosi nella più ricca raccolta di erboristeria
" - Fratelli Melita Editori
- Dr. G. Fort - "
Guide de traitement par les plantes médicinales et phytocosmétologie, soins de beauté
" - Editions Heures de France - Paris, 1976
---