ARTROSOL - Normal joint functionality, as well as useful in contrasting localized states of tension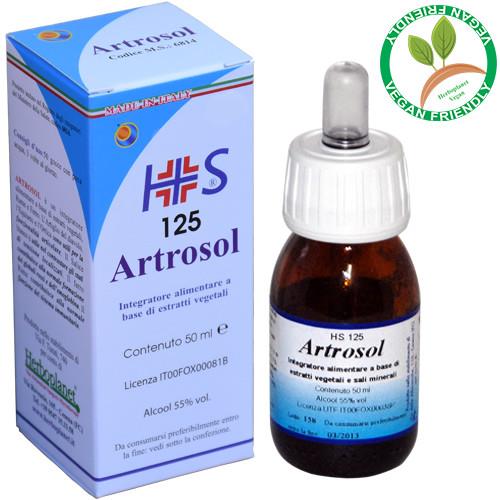 VEGAN FRIENDLY Product

HERBAL COMPONENTS CONTENT FOR

150

DROPS
:
T.S.A.
(
Spagiric-Alchemic Tincture with extraction ratio
1:5
) of: Devil's claw (
Harpagophytum procumbens DC.
) root 2,153 g, White willow (
Salix alba L.
) bark 2,10 g, Horsetail (
Equisetum arvense L.
) plant 491,8 mg, Common Nettle (
Urtica dioica L.
) leaves 462,788 mg. Gluconates of: Iron 35 mg (
contribution of Fe = 4,2 mg = 30% RDA
), Copper 7,875 mg (
contribution of Cu = 1,086 mg = 108,6 RDA
).
Product
VEGAN FRIENDLY
- Product included in the Italian Health Ministry supplements Register,
Code 6814
. Product included in the French Health Ministry supplement Register,
Code 2016-6-189
. Product included in the Belgian Health Ministry supplement Register,
Code NUT/PL 1653/1
. ​​​​​​
ARTROSOL
is a supplement based on iron, copper and plant extracts. WOODSPIDER and NETTLE
contribute to normal joint function
. WHITE WILLOW
contributes to normal articular functionality and is useful in countering the localized states of tension
. IRON
contributes to normal formation of red blood cells and and hemoglobin
. COPPER
contributes to normal immune system function
RECOMMENDATIONS FOR USE
:
50
drops, in a little of water,
3
times a day.
WARNINGS
: The product should be used as part of a varied and balanced diet and a healthy lifestyle. The use of this product is not recommended in the event of a suspected or proven allergy to one of its components. To be stored in a cool place and sheltered from the light. The expiration date refers to the product in a healthy and properly stored package.
NOTES ON SOME PLANTS
: The hydroalcoholic solutions have been made with the
spagyric alchemical method by Solanimus
which includes all the classic spagyrical phases with the final addition of a specific alchemical philosophy phase. We have joint spagyrics and Alchemy to get the best from plants.
DEVIL'S CLAW
(
Harpagophytum procumbens
)
has got antirheumatic properties
(fights the formation of uric acid) and purifies the blood, it contains glucoiridoid that has an analgesic property
WHITE WILLOW
(
Salix alba
) in the bark of its young branches contains the
salicin
, that is a glucoside and through the enzymatic action of the emulsin, acids, etc.. it divides in
glucose
and
saligenine
. Inside our body,
Saligenine
transforms itself in derived salicylics such as
salicyuric acid
,
salicylic acid
, and the
salicin
, etc.., which
has got strong antipyretic, antidolorific and anti-inflammatory actions
, characteristic of the derived salicylics as the aspirin.
HORSETAIL
(
Equisetum arvense
) contains silicon in the form of
silica (SiO2)
that participates in the formation of the connective tissue. The plant also contains flavonoidis that
they have a strong diuretic action
. In
COMMON NETTLE
(
Urtica dioica
)leaves, recent studies have shown the presence of
glycolic acid, glycerol, salts of sodium, potassium and magnesium
that would have an diuretic action flavouring the elimination of chlorides and urea
, so increasing the urinary purification and elimination of cinders in the blood. Dr. Jaques Ménétrier has put in evidence the role of the
COPPER
in the strengthening of the natural anti-infective and anti-inflammatory defence.

BIBLIOGRAPHY:
- Ernesto Riva - "L'universo delle PIANTE MEDICINALI trattato storico, botanico e farmacologico di 400 piante di tutto il mondo" - Ghedina & Tassotti editori s.r.l. - Bassano del Grappa (VI), Maggio 1995.
- Tina Cecchini – Enciclopedia delle erbe medicinali, ………… - DE VECCHI EDITORE
- Padre Gianfranco Lazzari - L'Erbario del Frate - EDIZIONI S. MARCO LITOTIPO
- Alberto Fidi - Erbe e Piante medicinali - FRATELLI MELITA EDITORI
- AA.VV. - Enciclopedia chimica – USES ed., Firenze
- Benigni R., Capra C., Cattorini P.E. – Piante medicinali: chimica, farmacologia e terapia – Inverni della beffa ed, Milano.
- Duraffourd C., D'Ervicourt L., Lapraz J.C. – Cahieres de Phytotérapie clinique – Masson ed., Paris 1983
- Maugini E. – Botanica farmaceutica – CLUSF ed., Firenze 1976
- Pomini L. – Erboristeria italiana – Vitalità ed
- Valnet J., Duraffourd C., Lapraz J.C. – Phytotérapie et aromatherapie – Presse de la Renaissance, Paris 1978
- Massari E. – Erbe in Cina – Milano 1981
- Penso G. – Piante medicinali nella terapia medica – Org. Med. Farm. Ed., Milano
- Enrica Campanili – Dizionario di fitoterapia e piante medicinali – Tecniche Nuove - MI
- Larousse - "Encyclopédie des PLANTES MÉDICINALES identification, préparations, soins" - Larousse-Bordas – 1997
- Tom Wilsons - "Guarire con le erbe, i consigli, le malattie, le ricette, le dosi nella più ricca raccolta di erboristeria" - Fratelli Melita Editori
- Dr. G. Fort - "Guide de traitement par les plantes médicinales et phytocosmétologie, soins de beauté" - Editions Heures de France - Paris, 1976
---