ULMASOL - Normal joint functionality, as well as useful in countering localized tension states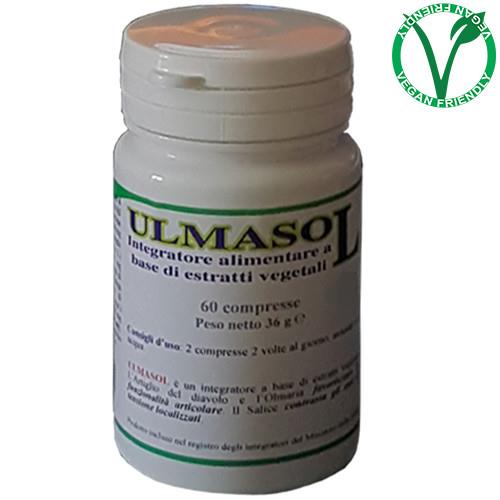 HERBAL COMPONENTS CONTENT FOR 4 TABLETS

:
Dry extract of Devil's Claw (
Harpagophytum procumbens DC
) root 640 mg (
bringing in harpagosid 16 mg
), dry extract of White Willow (
Salix alba L.
) bark 640 mg (
bringing in salicin 96 mg
), calcium phosphate, microcrystalline cellulose, dry extract of Meadowsweet (
Filipendula ulmaria Max
) apex 320 mg (
bringing in salicylic acid 0,64 mg
). Anti-caking agents: vegetable magnesium stearate, silicon dioxide.
Product included in the Italian Ministry of Health's Supplement Register,
code 12536
.
ULMASOL
is a supplement based on plant extracts. Devil's Claw and Meadowsweet
promote joint functionality. White Willow counteracts localized voltage states.



CAUTIONS:
keep out of reach of children under the age of three. Do not exceed the recommended daily dose. It is not recommended for use for children and adolescents. If you are taking anti-aggregator or anticoagulant medications it is advisable to hear your doctor's opinion. The product should be used as part of a varied and balanced diet and a healthy lifestyle. The use of the product is not recommended in the event of a supposed or proven allergy to one of its components.
NOTES ON SOME PLANTS:
DEVIL'S CLAW
(
Harpagophytum procumbens
)
has got anti- rheumatic properties
(
it fights the uric acid formation
) and blood purifying properties as well;
it contains a glucoiridoide
with
analgesic properties.
WILLOW
(
Salix alba
) contains, in the bark of young branches, salicin, a kind of glucoside that, through the enzymatic action of the emulsine, acids, etc., it is divided into
glucose and saligenin
.
Saligenin
, in our body, is converted into salicylic derivatives as
salicyluric acid, salicylic acid, salicin
, etc., which have
strong antipyretic, anti-pain and anti-inflammatory properties
, characteristic of the salicylic derivatives, such as aspirin.
MEADOWSWEET
(
Filipendula ulmaria Max
) also known as the 'Queen of the Meadows', it has acetylsalic acid among its principles and is traditionally used in the symptomatic treatment of minor painful joint manifestations. The plant is able to promote the normal functions of the osteo-articular apparatus.
BIBLIOGRAPHY
:
- Ernesto Riva - "
L'universo delle PIANTE MEDICINALI trattato storico, botanico e farmacologico di 400 piante di tutto il mondo
" - Ghedina & Tassotti editori s.r.l. - Bassano del Grappa (VI), Maggio 1995.
- Tina Cecchini –
Enciclopedia delle erbe medicinali
, ………… - DE VECCHI EDITORE
- Padre Gianfranco Lazzari -
L'Erbario del Frate
- EDIZIONI S. MARCO LITOTIPO
- Alberto Fidi -
Erbe e Piante medicinali
- FRATELLI MELITA EDITORI
- AA.VV. -
Enciclopedia chimica
– USES ed., Firenze
- Benigni R., Capra C., Cattorini P.E. –
Piante medicinali: chimica, farmacologia e terapia
– Inverni della beffa ed, Milano.
- Duraffourd C., D'Ervicourt L., Lapraz J.C. –
Cahieres de Phytotérapie clinique
– Masson ed., Paris 1983
- Maugini E. –
Botanica farmaceutica
– CLUSF ed., Firenze 1976
- Pomini L. –
Erboristeria italiana
– Vitalità ed
- Penso G. –
Piante medicinali nella terapia medica
– Org. Med. Farm. Ed., Milano
- Enrica Campanili –
Dizionario di fitoterapia e piante medicinali
– Tecniche Nuove - MI
- Larousse - "
Encyclopédie des PLANTES MÉDICINALES identification, préparations, soins
" - Larousse-Bordas – 1997
- Tom Wilsons - "
Guarire con le erbe, i consigli, le malattie, le ricette, le dosi nella più ricca raccolta di erboristeria
" - Fratelli Melita Editori
---