METABOL REG - Lipid metabolism and body weight balance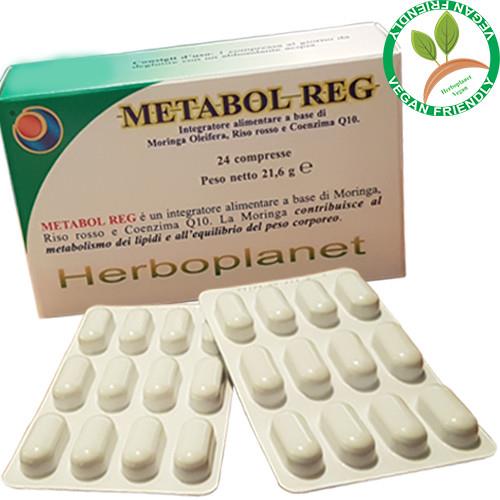 INGREDIENTS CONTENT FOR 1 TABLET

:
Moringa seed dry extract (
Moringa oleifera Lamk
.) seed dry extract titrated at 10% in Glycosides and 40% in Polysaccharides 500 mg (
bringing in Glycosides 50 ml - bringing in polysaccharides 200 mg
). Charge agent: cellulose microcrystalline. Dry extract of fermented red rice (
Monascus purpureus
) titrated at 5% in Monacolin K 80 mg (
bringing in monacolin K 4 mg
). Anti-caking agent: silicon dioxide, magnesium salts of fatty acids. Coenzyme Q10: 20 mg.
METABOL REG
is a dietary supplement based on Moringa, Red Rice and Coenzima Q10. Moringa
contributes to lipid metabolism and body weight balance.
RECOMMENDATIONS FOR USE:
1 tablet a day to be swallowed with water.
CAUTIONS:
Keep out of reach of children under the age of three. Do not exceed the recommended daily dose. Supplements should not be understood as substitutes for a varied, balanced diet and a healthy lifestyle. For the use of the product it is advisable to hear the advice of the doctor. Do not use in pregnancy, during breastfeeding and in case of therapy with hypolipidemizing drugs. The product does not replace a varied diet. It must be used as part of a proper low-calorie diet following a healthy lifestyle with a good level of physical activity. If the diet is followed for prolonged periods, more than three weeks, it is advisable to hear the advice of the doctor.
NOTES:
MORINGA
(
Moringa oleifera Lam
) dry extract of seed: Moringa oleifera produces round brown edible seeds. From these you can extract an oil containings from 65 up to 76% of oleic acid. After its squeezing, the remaining paste has got 60% of proteins with high biological value. Moringa contains: simple sugars (
Ramnoso, Arabinosio, Galattosio, Mannosio, Xylosio
); proteins; glucosinolates; isotiocytes; carbamates; alkaloids (
Moringina and Moringinina
); vitamin E, C, B (B1, B2, B7); oil (which in addition
to Oleic acid also contains Palmitic acid, Stearic acid, Behenic acid
); Calcium, Iron, Potassium and Phosphorus; Cytokines; b-Sitosterols; Polyphenols and Flavonoids. The traditional use of moringa oil to promote proper carbohydrate metabolism has led many researchers to go deep into its properties. In several trials, Moringa Oleifera seed extracts have been shown to:
inhibit the activity of the enzyme COX-2; inhibit 50% lipid peroxidation, stimulate the release of insulin from beta-pancreatic cells thus contributing to the normalization of glucose metabolism.
No contraindications have been reported as a result of the intake of this plant. Dry extract of
RED RICE YEAST
(Monascus purpureus):
Monascus purpureus
is a yeast contained in fermented Red Rice. Since ancient times, this fungus has been ascribed to stimulation properties of blood circulation. In recent decades, several studies have shown that red rice yeast contains active ingredients
inhibiting HMG-CoA-reductase
(3-hydroxy-3-methylglutaril-coenzyme A reductase) and, as a result,
moderate liver synthesis of cholesterol.
COENZYME Q10:
Coenzima Q, (
also called Ubichinone or vitamin Q
) is a benzochinone showing a very long isoprenic side chain. Its chemical structure is very similar to Vitamin E and vitamin K. It is very widespread in nature, and standing in: cereals, meat, fish, vegetable oils, wheat germ and soybeans. The side chains make it very lipophilic; it is present in biological membranes, especially mitochondrial membranes. Various types of coenzymes Q are distinguished depending on the number of isoprene units in its lateral chain. In human mitochondria the most common type of CoQ is Q10. In organisms, CoQ10 participates in redox reactions and, depending on the state of oxidation, can be present in three forms: oxidized, semi-quinone intermediate and a reduced form.
It plays a fundamental role in the production of energy, and also performs antioxidant and protective action against free radicals.
It is a hydrogen transporter, an important liposoluble antioxidant in the skin,
acting against peroxides that damage collagen and elastin and thus counteracts the loss of elasticity and the formation of wrinkles.
Besides, CoQ10 in several scientific studies, has shown that its presence causes an
increase in the pumping force of the heart in people with congestive heart failure.
The chemical reactions leading to production of Q10 coenzyme are complex and depend on many other essential nutrients (vitamins and other cofactors), their deficiency implies a decrease in the production of coenzyme Q10. Although the coenzyme Q10 is synthesized in our cells, its synthesis decreases with aging or malnutrition or with certain drugs or chronic diseases. Statins used to lower the cholesterol rate can reduce the rates of coenzyme Q10 since they block HMG-CoA reductase, which also intervenes in the synthesis of CoQ10: when this happens, its intake by using dietary supplements becomes of basic importance.
BIBLIOGRAPHY
:
1. Mehta et al. 2003. Effect of fruits of Moringa oleifera on the lipid profile of normal and hypercholesterolaemic rabbits. Journal of Ethnopharmacology 86:191–195.
2. Santos et al. 2012. Antioxidant Activity of Moringa oleifera Tissue Extracts. Phytother. Res. 26:1366–1370
3. Tahiliani P. et al. 1999. Role of Moringa oleifera leaf extract in the regulation of thyroid hormone status in adult male and female rats. Pharmacological Research, 41,(3): 319-323.
4. Anwar F. et al. 2007. Moringa oleifera: A food plant with multiple medicinal use. Phyto- ther. Res. 21:17-25
5. Francis JA et al. 2004 Insulin Secretagogues from Moringa oleifera with Cyclooxygenase Enzyme and Lipid Peroxidation Inhibitory Activities. Helvetica Chimica Acta 87:317-326 . Abrogoua DP et al. 2012 E ect on blood pressure of a dietary supplement containing traditional medicinal plants of Côte d'Ivoire. Journal of Ethnopharmacology 141:840–847
6. Dujovne CA 2017. Red Yeast Rice Preparations: Are They Suitable Substitutions for Statins Am J Med. 130(10):1148-1150
7. Burke FM 2015. Red yeast rice for the treatment of dyslipidemia. Curr Atheroscler Rep. 17(4):495.
8. Ernster L & Dallner G 1995. Biochemical, physiological and medical aspects of ubiquinone function. Biochimica et Biophysica Acta 1271 (1): 195–204.
9. Singh RB et al. 1998, Randomized, Double-Blind Placebo-Controlled Trial of Coenzyme Q10 in Patients with Acute Myocardial Infarction, in Cardiovascular Drugs and Therapy. 12:347-353.
---