PRE-INFLU - Favors the body's natural defences and the functionality of the first airways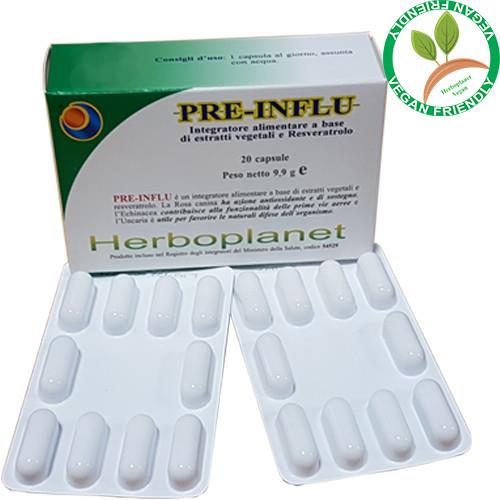 VEGAN FRIENDLY
product
To be purchased in Pharmacy or Herbalist's Shop
HERBAL COMPONENTS CONTENT FOR 1 CAPSULE:
Dog rose (
Rose Canina L
.) rosehips dry extract titulated at 70% in Vitamin C 142, 5 mg (
bringing in Vitamin C 100 mg - 125% VNR
), Echinacea (
Echinacea angustifolia DC
.) root dried extract titulated at 4% in Echinacoside 100 mg (
bringing in Echinacoside 4 mg
). Food jelly capsule type "0" white/white. Charge agent: cellulose microcrystalline. Cat's claw (
Uncaria tomentosa Willd. (former Schult.) DC
.) bark dry extract titulated at 0,5% in Alcaloids 50 mg (
bringing in Alcaloids 0,25 mg
). Anticaking agents: vegetable magnesium stearate . Japanese Polygon (
Polygonum cuspidatum Siebold & Zucc
.) root dry extract titulated at 98% in Resveratrol 2,5 mg (
bringing in Resveratrol 2,45 mg
).
Product included in the Ministry of Health's Food Supplement Registry,
code 54529.
PRE-INFLU
is a supplement based of plant extracts and Resveratrol. Dog rose
has antioxidant and support action
, Echinacea
contributes to the functionality of the first airways
, Cat's claw is
useful to promote the body's natural defences
and Polygon
contributes to the fluidity of bronchial secretions, purifying functions of the organism andregular functionality of cardiovascular system. Tonic: useful in physical and mental fatigue.
RECOMMENDATIONS FOR USE:
1 capsule a day for 20 days to be monthly repeated all winter season long.
CAUTIONS:
Keep out of reach of children under the age of three. Do not exceed the recommended daily dose. The product should be used as part of a varied and balanced diet and a healthy lifestyle. The use of the product is not recommended in the event of a supposed or proven allergy to one of its components.
NOTES:
seems verified that
CONE FLOWER
(
Echinacea angustifolia
) chemical compounds
slow pathogens germs spread in tissues and begin a defence mechanism activating, at the same time, regenerative mechanisms of these tissues.
The active substance of this action would be
a glucoside of caffeic acid and pyrocatechin
which would have the capability to inhibit
jaluronidase
enzyme
that is indirectly responsible for microorganisms attack and for their proliferation in tissues. This active ingredient could also act directly on Hyaluronic-jaluronidase system that is enabled by fibroblasts proliferation (L'azione fagocitaria dell'Echinacea….., in Erb. Domani, 2/91, p.16).
DOG ROSE
(
Rosa canina
):
Rosa canina
is the quintessential remedy for localized relapsed inflammations, especially in children (
otitis, rhinitis, tonsillitis, etc
.). It is also useful in vasomotory headaches and migraines (even with allergic component) for it seems to have the power to neutralize the release of tyramine aminoacid typical in this kind of discomforts. In addition, it is rich in Vitamin C, which
helps strengthen our immune system and improve its functioning.
Dog rose berries also contain vitamins B, with particular reference to vitamin B2 and vitamin B1, as well as vitamin K and vitamin P.
CAT'S CLAW
(
Uncaria tomentosa
):
Uncaria bark has
immunostimulating, antiviral, anti-inflammatory and antimutagene properties
and is
used in phytotherapy for treatment of chronic inflammatory diseases, immune deficiencies, in presence of viral infections and prevention and treatment of cold diseases with fever, cough and cold.
RESVERATROL
(from
Polygonum cuspidatum
): Resveratrol is a phytoalessin produced by plants for protective purposes. In fact, it protects them from environmental stresses, such as: viruses, bacteria and fungi, in particular
Botritis cinerea
, UV rays, water stresses, etc. It has several physiological well documented actions, favorable to man. Well known is its
powerful antioxidant action
, common to the chemical class of polyphenols which it belongs. Some studies attribute to Resveratrol some
powerful anti-aging, anti-inflammatory, vasorelaxant, anti-proliferation and estrogenic activities.
---