VACUUM - Tonic - Adaptogen - Relaxation and mental well-being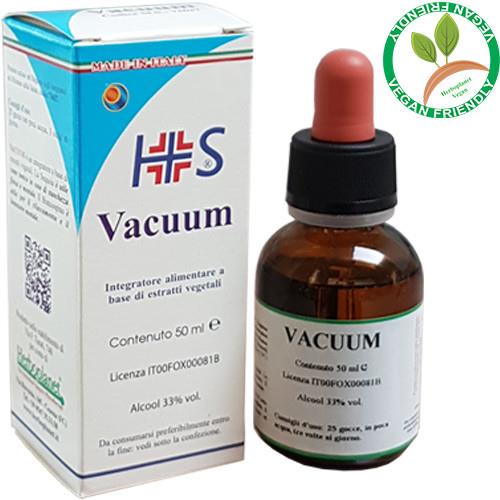 VEGAN FRIENDLY
product
to be purchased in Pharmacy or Herbalist's shop
HERBAL COMPONENTS CONTENT FOR 75 DROPS:

MSA
(
Spagyric-Alchaemical Macerate by Solanimus E.R. 1/40
) by: Jujube (
Ziziphus jujuba Mill
.) buds 0,356 g, Giant Sequoia (
Sequoiadendron giganteum (lindl.) J. Buchholz
) leaves 0,356g, Black Thorn (
Prunus spinosa L
.) buds 0,356g, Lime (
Tilia tomentosa Moench
) buds 0,356g, Hawthorn (
Crataegus laevigata (Poir.)
DC.
) leaves 0,356 g.
Product included in the Italian Ministry of Health's Supplement Registry,
code 73267
.
Product included in the Spanish Ministry of Health Supplement Register,
code 0599E/4448/2016.


VACUUM
is a supplement based on plant extracts. Sequoia is
useful as a tonic (physical, mental fatigue
). Hawthorn is
useful for relaxation and mental well-being.
RECOMMENDATIONS FOR USE:
25-30 drops, in some water. 3 times daily.
CAUTIONS:
Keep out of reach of children under the age of three. Do not exceed the recommended daily dose. The product should be used as part of a varied and balanced diet and a healthy lifestyle. The use of the product is not recommended in the event of a supposed or proven allergy to one of its components.
NOTES ON SOME PLANTS:

TILIA TOMENTOSA
buds are one of the richest plants in terpenic derivatives with sedative and antispasmodic properties. The most important active ingredients are
Farnesol
(O.E),
Tiliacina
(glucoside), flavonoids (
quercitroside, isoquercitroside, caupherol, acacetin), coffee and chlorogenic acids, Magnesium salts.
Thanks to these components it has
sedative properties in neuroses, spasmodic insomnia, gastralgia, migraines, nervous vomiting, spasmodic cough and asthma.
Also do not forget its action in
hypochondria, "nervous" hoarseness
,
precordialgia and hypoeremotiveness
. Useful in
esophageal disphagya and when psychopharmaceuticals remedies begin to be decreased, in mild stress hypertension and in restless leg syndrome. CRATAEGUS OXYACANTHA
is the symbol of hopelessness. Its active ingredients are: flavonoids (
quercitin, epigenine, hyperoside, vixetine), triterpenic acids (phytogonic, ursocolic, oleanolic acid
), amine (
trimethylamine, dimethylamine, tiramine, norarenaline, dopamine, 5-hydroxyphysoptamine
). Thanks to its active ingredients it can be useful as an adjuvant in insomnia and distress, especially during menopause.
PRUNUS SPINOSA
was considered a magical tree; its intertwined branches could accommodate good and evil. The plant was believed to protect against disease. The walking sticks protected the travelers from the dark forces of evil.
Active ingredients
: amygdalin, flavones, cumarinic compounds, hydrogen cyanide, queer, pectine, vitamin C, florizine, tannins. Useful as a
tonic, stimulant when the body has been debilitated by diseases or stressful situations. It activates the hypothalamus-hypophyse-surrenal axis, reducing the tendency to nervous abdominal colic. Useful in bladder tenesm. Prolonged convalescence. Secondary psychophysical debilitation to stress. Appetite. General fatigue syndrome. Asthenia. Depressive states. Abdominal Meteorism. SEQUOIA
(
Sequoiadendron giganteum
) comes from an Indian of the Cherockee tribe
, Sequojah
.
Sequoia is considered a symbol of willpower in honor of a young woman, Julia, who lived for two years on a Sequoia to avoid its felling
. It is the largest conifer in the world. Great
nervous tonic remedy. Useful in neuroasthenia, depressive syndromes of the elderly, psychic disorders of senescence, syndromes from "Surmenage" and excessive fatigue.
JUJUBE
(
Ziziphus jujuba Mill
.): The Romans first imported it to Italy, calling it "
Zyzyphum
" and for them it was a
symbol of silence
used to adorn the Temples of Prudence. In Romagna in many farmhouses it was cultivated adjacent to the house in the most sheltered area and exposed to the sun. It was thought to be a lucky plant. Its main indications are:
neurovegetative dystonia, neurosis with distress, muscle spasms, sleep troubled by nightmares.
From the plants described above you can get MSA (Spagyric-Alchemic Macerate) with extraction ratio 1 to 50 (R.E. 1/50) if you follow the indications given by Solanimus in his book '
ALCHIMIA and SPAGYRIA: admirabiles et inseparabiles Artes
!', where some practical notions of Spagyria or Spagyrya and Alchemy are described very well.
BIBLIOGRAPHY
:
- Ernesto Riva - "
L'universo delle PIANTE MEDICINALI trattato storico, botanico e farmacologico di 400 piante di tutto il mondo
" - Ghedina & Tassotti editori s.r.l. - Bassano del Grappa (VI), Maggio 1995.
- Tina Cecchini –
Enciclopedia delle erbe medicinali
, ………… - DE VECCHI EDITORE
- Padre Gianfranco Lazzari -
L'Erbario del Frate
- EDIZIONI S. MARCO LITOTIPO
- Alberto Fidi -
Erbe e Piante medicinali
- FRATELLI MELITA EDITORI
- AA.VV. -
Enciclopedia chimica
– USES ed., Firenze
- Benigni R., Capra C., Cattorini P.E. –
Piante medicinali: chimica, farmacologia e terapia
– Inverni della beffa ed, Milano.
- Duraffourd C., D'Ervicourt L., Lapraz J.C. –
Cahieres de Phytotérapie clinique
– Masson ed., Paris 1983
- Maugini E. –
Botanica farmaceutica
– CLUSF ed., Firenze 1976
- Pomini L. –
Erboristeria italiana
– Vitalità ed
- Valnet J., Duraffourd C., Lapraz J.C. –
Phytotérapie et aromatherapie
– Presse de la Renaissance, Paris 1978
- Massari E. –
Erbe in Cina
– Milano 1981
- Penso G. –
Piante medicinali nella terapia medica
– Org. Med. Farm. Ed., Milano
- Enrica Campanili –
Dizionario di fitoterapia e piante medicinali
– Tecniche Nuove - MI
- Larousse - "
Encyclopédie des PLANTES MÉDICINALES identification, préparations, soins
" - Larousse-Bordas – 1997
- Tom Wilsons - "
Guarire con le erbe, i consigli, le malattie, le ricette, le dosi nella più ricca raccolta di erboristeria
" - Fratelli Melita Editori
- Dr. G. Fort - "
Guide de traitement par les plantes médicinales et phytocosmétologie, soins de beauté
" - Editions Heures de France - Paris, 1976
---