RADIO-ACT - Normal DNA synthesis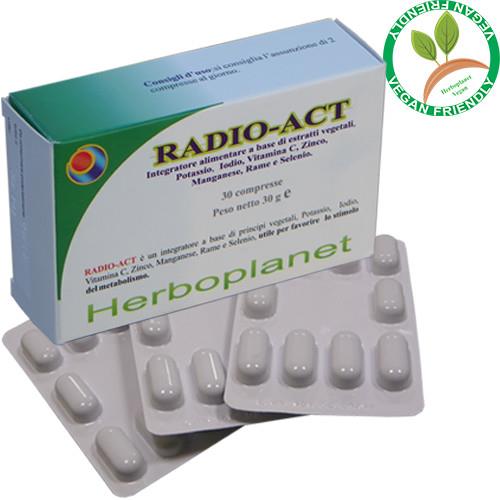 Product VEGAN FRIENDLY - Price: € 19,50
HERBAL COMPONENTS CONTENT FOR 2 TABLETS
: Potassium Phosphate dibasic
670
mg (
bringing in potassium

300

mg =

15

% RDA
), Laminaria cauloid powder (
Laminaria cloustoni le jolis
)
600
mg, microcrystalline cellulose, L-Ascorbic Acid
80
mg (
bringing in Vitamin C 80mg =

100

% RDA
), Zinc gluconate
70
mg (
bringing in Zinc

10

mg =
100
% RDA
), Manganese gluconate
16.13
mg (
bringing in manganese

2

mg =

100

% RDA
), L-Selenium methionine
11
mg (
bringing in selenium

55

µg =
100
% RDA
), Copper gluconate
7.14
mg (
bringing in copper

1

mg =

100

% RDA
). Anti-caking agents: vegetable magnesium stearate, silicon dioxide. Potassium iodide
0.295
mg (
bringing in iodine 150
µ
g =

100

% RDA
).
Product included in the Register of supplements of the Italian Health Ministry,
Code
53016
.
Product included in the Register of supplements of the Spanish Health Ministry,
code 0599E/11104/2016
.
Product included in the Register of supplements of the French Health Ministry,
code 2018-3-833
.
Product included in the Register of supplements of the Belgian Health Ministry,
Code
NUT/PL 1653/7
.
RADIO-ACT
is a food suplemet containing IODINE that
contributes to normal production of thyroid hormones, to normal thyroid function and to normal functioning of the nervous system
. VITAMIN C and SELENIUM that
contribute to the protection of cells from oxidative stress
. ZINC that
contributes to the normal DNA synthesis
. COPPER that
contributes to the maintenance of normal connective tissues
and LAMINARIA CAULOID that
contributes to the stimulation of the metabolism
.
USE:
2
tablets a day.
WARNINGS
: Keep out of reach of children under three years. Do not exceed the recommended daily dose. The productshould be used as a part of a varied and balanced diet and healthy lifestyle.
NOTES:
POTASSIUM
counteracts
the Cesium
137
, which, if absorbed, is distributed throughout the body so exercising a strong carcinogenic action.
Potassium, taken with a mineral supplement, is used to ensure that our body is tied-up to absorb this salt in stead of cesium

137

.
LAMINARIA CAULOID
(
Laminaria cloustoni le jolis
) is a seaweed rich, like other kind of algae, in valuable elements for our body. The algae were the first manifestation of life on Earth and contain all the substances contained in sea water, whose chemical composition is very similar to the chemical composition of our body. Seaweed contains Iodine, Iron, Phosphorus, Copper, Gold, Cobalt, Strontium, Rubidium, and so on. and vitamins (vitamin A, B, C, D, E, F, K, PP). All of these substances, which act in synergy, give algae the ability to strengthen the
defenses of our body facilitating the exchange and therefore having a detoxifying action so stimulating the endocrine glands.
Laminaria cauloid is particularly rich in Iodine, a mineral known for its ability to normalize thyroid function. This seaweed is also rich in sodium alginate, a substance having the ability to chelate (attach) toxic elements such as radioactive isotope, radioactive strontium (Strontium-

90

) without interfering with the absorption of calcium, as well as several experiments have shown, experiments in which strontium-

90

and calcium were given to guinea pigs, after giving them some sodium alginate. Strontium-90
, produced during nuclear explosions or nuclear reactors during the process of fission of heavy nucleus
can remain in the human body for years, so damaging the DNA within the cells and producing free radicals.
Algae can prevent assimilation of different radionuclides, heavy metals like cadmium and other environmental toxins
". In the case of nuclear fission, several radioactive substances, such as
Iodine

131

, Cesium

137

and Strontium

90

, are released into the atmosphere
.
These are all substances harmful for our body
.
Iodine content in seaweeds helps to stop the accumulation of radioiodine in thyroid because, being thyroid already saturated of good iodine introduced, it will tend not to recieve iodine

131

in the circle and delete it immediately
.
VITAMIN C
and
SELENIUM
are here included for
their antioxidant activity and their ability to fight free radicals produced by the absorption of radiations
. Discoveries of scientists like U. Weser, D. Seeber and R. Warnecke confirm the hypothesis, formulated in previous studies, that "Zinc is required in some phases of DNA synthesis, although it remains to determine which is precisely its function". DNA (
deoxyribonucleic acid
) is the substance such characteristic of all life forms and directs the activities of every cell in our body. This mineral trace is involved in every aspect of every living being health.
The DNA molecules, grouped in the chromosomes, contain all the information necessary to regulate the chemical reactions in our bodies, to create new cells, for differentiation and specialization of cells and for the preservation of health
.
---