QSA MELISSA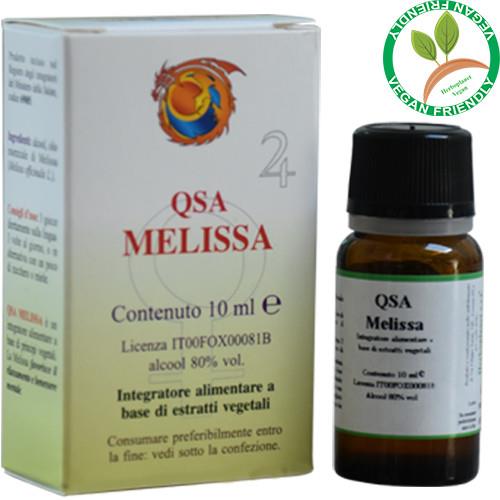 HERBAL COMPONENTS CONTENT FOR 10 ml: Spagyrico-Alchemical alcohol of Solanimus, essential oil and salt fixed of Melissa leaves (Melissa officinalis) 11,41 mg.

Product included in the Register of food supplements of the Italian Health Ministry, Code 69085.

QSPC MELISSA is a food supplement based on herbal principles that contributes to digestive function, to the regular gastrointestinal motility and elimination of gases, but it is certainly best known for its contribution that gives for relaxation, mental well-being and in the restoration of normal tone mood.

USE: 3 drops on your tongue or some honey, 3 times daily.

WARNINGS: keep out of the reach of children under the age of three years. Do not exceed the recommended daily dose. The product should be used in the context of a varied and well-balanced diet and a healthy lifestyle.
PSYCHIC SYNTHESIS
:
It gives compactness to emotional system and helps to find the meaning of life. It promotes friendship and availability for neighbor. It helps people that are used to alternate melancholy with the hysterical states somatizing, mainly, with intestinal problems.
ORGANOTROPISM:
neurovegetative system, intestine and digestive system.
SIGNATURE: Venus - Aquarius, Pisces
NOTES: the quintessence of MELISSA (Melissa officinalis) is derived from the leaves of the plant following the canonical spagyric method. The alcohol, present in its quintessence, is derived from the plant itself from which we can derive the sulphurous principle (essential oil purified) and the salt fixed. This procedure gives more power to the Quintessence. The essence of Melissa is valuable and very expensive because of its low yield during the extraction process. they have studied some antiviral activities due to polyphenolic fractions as well as some components present in the essential oil of this plant. Its essential oil has got carminative and stomachic properties and it stimulates the biliary secretion and diuresis (useful in case of indigestion and abdominal cramps). It has sadative, antispasmodic, choleretic and anti-inflammatory properties. This essence is one of the most important to strengthen the immune system that is weakened by the fatigue and stress thus favoring the onset of allergies or diseases caused by viruses. It is a good regulator of hormonal system imbalances and helps us to rediscover the meaning of life that is lost when a strong alteration of Vata is present. In pharmacology, this plant is used to stimulate the gastrointestinal tract. It is useful for hyperexcited, hypersensitive and sleepless children. It contrasts high fevers for it helps the sweating, eliminating colics; it fights parasites and intestinal worms.
---