QSA ANICE STELLATO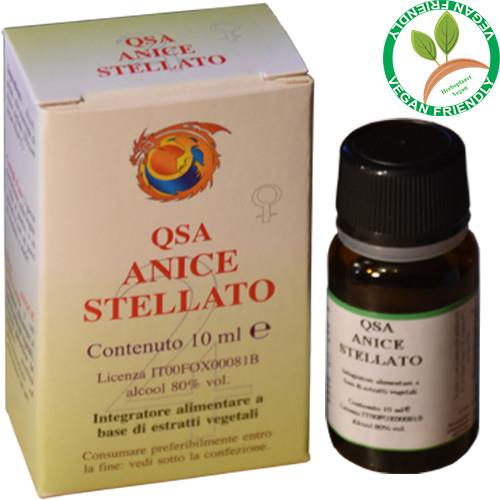 HERBAL COMPONENTS CONTENT FOR 9 DROPS
: Alchemical Spagyric alcohol of Solanimus, essential oil and salt fixed of eaves of Star Anise (
Illicium verum Hook. f
.) 25,06 mg.
Product included in the Register of food supplements of the Italian Health Ministry,
Code 69100
.
QSA ANICE STELLATO
is a food supplement based on vegetable principles that
contributes to digestive function, to the regular gastrointestinal motility and elimination of gases. Fluidizing of bronchial secretions. It contributes to the welfare of the nose and throat
.
WARNINGS
: keep out of the reach of children under the age of three years. Do not exceed the recommended daily dose. The product should be used in the context of a varied and well-balanced diet and a healthy lifestyle.
USE:
3
drops on your tongue or some honey,
3
times daily.
PSYCHIC SYNTHESIS: It helps to overcome negative experiences by opening the Chakras points and putting in touch the various energy levels with an opening effect. It stimulates the Solar Plexus, intestine, stomach, respiratory tract.
ORGANOTROPISM: immune system, skin, circulation, blood.
QUALITY: Yang
SIGNATURE
:
Jupiter-Cancer, Sagittarius.
NOTES:
The quintessence of
STAR ANICE
(
Illicium verum
) is derived from the seeds of this plant in accordance with the canonical Spagyric method. The alcohol, present in its quintessence, is derived from the plant itself from which we can derive the sulphurous principle (essential oil purified) and the salt fixed. This procedure gives more power to the Quintessence. We can get a good output of essential oil equal to
5-9
%. The active principles contained in the oil are: anethole, methilcavicol, pinene, limonene. Its common use, tells us that the star anise can be used as
degestive
,
carminative
,
in case of flatulence and intestinal fermentation
,
in swelling and intestinal spasms after meals
,
especially if it has got a nervous origin
.
Balsamic
: It thins the respiratory apparatus catarrhal secretions
.
It perfumes the breath
.
"
Il Sole

24

Ore
", on November
3 2005
writes that in the markets of Beijing star anise is sold like hot cakes because "
it contains the main principle of Tamiflu
,
the antiviral medicine that is effective enough in treating people affected by avian flu
".
However
,
the newspaper continues warning that
"
there is no scientific evidence that its infusion may be effective in treating this disease
",
because it is prepared by the fruit of star anise that is woody and that it hardly may set free all its active principles through a simple infusion in boiling water but
,
4

or

5

drops of essential oil, on a daily basis
,
could act as a preventive treatment
.
---