Timosol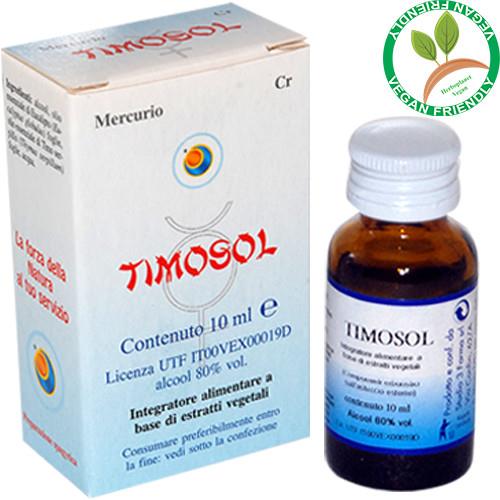 COMPONENTS CONTENT FOR

15

DROPS
:
QSA
(
Alchemical Spagyric Quintessence of Solanimus
) of Thyme (
Thymus vulgaris
) 4,9 ml,
QSPC
(
Alchemical Spagyric Quintessence of Solanimus
) of Eucalyptus (
Eucalyptus Globulus
) 4,9 ml,
Alchemical
Chrome 0,2 ml.
Product included in the Register of supplements of the Health Italian Ministry,
code 1683
5.
TIMOSOL
is a food supplement based on herbal principles well known for their beneficial effects,
able to facilitate the normal functions of the respiratory system
.
USE

:
it is recommended
5
drops,
3
times a day, directly on the tongue, away from meals.
WARNINGS

:
Keep out of the reach of children under the age of three years. Do not exceed the recommended daily dose. The product should be used in the context of a varied and well-balanced diet and a healthy lifestyle.

NOTES: The QSA of THYME and the QSA of EUCALYPTUS strengthen the immune system. It seems that these plants, in particular, stimulate the Islands of Langerhans, in the Pancreas. Both of these plants have got also an action on the respiratory system and help during antidiabetic therapies. Alchemical CHROME participates in the cholesterol and fatty acids synthesis. It lowers the cholesterol level and normalizes the exaggerated response of insulin to the loads of glucose.
---