Limonsol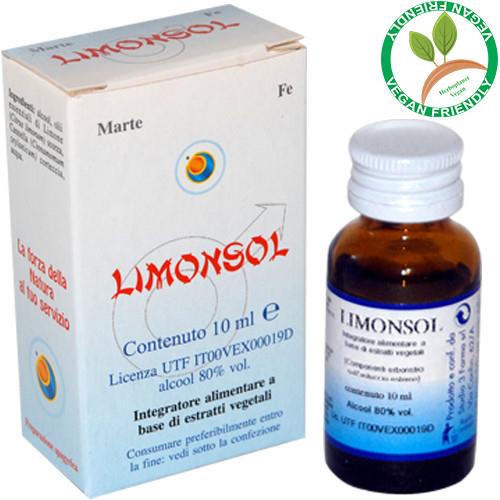 COMPONENTS CONTENT FOR

15

DROPS
:
QSA
(
Alchemical Spagyric Quintessence of Solanimus
) of Cinnamon (
Cinnamomum zeylanicum
)
4,9
ml,
QSA
(
Alchemical Spagyric Quintessence of Solanimus
) of Lemon (
Citrus limonum
)
4,9
ml,
Alchemical
Iron
0,2
ml.
Product included in the Register of supplements of the Health Italian Ministry,
code 16831
.
LIMONSOL
is a food supplement based on herbal principles well known for their beneficial effects,
able to help the regularity of the intestinal transit
.
USE
: it is recommended
5
drops,
3
times a day, directly on the tongue, away from meals.
WARNINGS
: Keep out of the reach of children under the age of three years. Do not exceed the recommended daily dose. The product should be used in the context of a varied and well-balanced diet and a healthy lifestyle.
NOTES:
The
CINNAMON
is Martian because of its well-known action on genital apparatus (
Scorpio
) and blood (
Aries
). The
LEMON
is Solar even if it has martian virtues as well, being indicated for the anemia, haemophilia, etc. The metal iron, in the
Alchemical
IRON
, is present in very low doses, and for this reason, the action of "integration" is impossible. The Alchemical iron, in fact, improves the absorption of iron (
contained in food
) by the small intestine. The ancient remedies were never allopathic remedies but it was always necessary, as Paracelsus says in the
Manual of the stone of the philosophers
, "
Apply similar to similar, here is the great secret of medicine, here is the Arcane
". In iron deficiency anemia cases, we must add
alchemical copper
(
Ginesol
)
to alchemical iron
(
Limonsol
)
. The
planetarium spirit of Mars
governs the iron but also the muscular force, the lleft ear, the RBC, the pericardium, mouth, blood, female sexual organs, anus, intestine blind, colon, biliary vesicle, it is part of the action of Saturn on cistifelia, spleen, corpus callosum and cerebellum. The thyroid is the endocrine gland governed by Mars.
---