IALURASE PLUS - Normal bones and normal muscle functions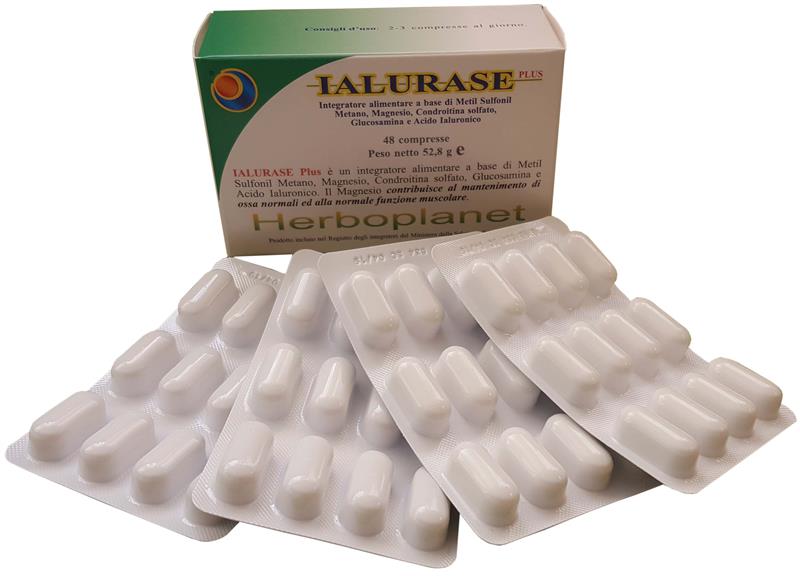 COMPONENTS CONTENT FOR

3

TABLETS
:
Methyl Sulphonyl Methane
1.2
g. Bulking agent: microcrystalline cellulose. Glucosamine sulphate
500.10
mg (
bringing in glucosamine

300

mg
),
Chondroitin Sulphate (
from shark cartilage
)
466.68
mg (
bringing in condroitin sulphate

420

mg
), Bulking agent: calcium phosphate. Magnesium oxide
149.28
mg (
bringing in magnesium

90

mg =

24

% RDA
). Anticakings: magnesium salts of fatty acids, silicon dioxide Sodium hyaluronate
85.62
mg (
bringing in hyaluronic acid

75

mg
). Contains derivatives of fish and crustacean
Product included in the Register of supplements of the Italian Health Ministry,
code

47645
.
Product included in the Register of supplements of the French Health Ministry,
code 2016-6-714
.
Product included in the Register of supplements of the Belgian Health Ministry,
code NUT/AS
1653/16
IALURASE PLUS
is a food supplement of methyl sulphonyl methane, chondroitin sulfate, glucosamine, hyaluronic acid and magnesium. Magnesium
contributes to normal muscle function and to the maintenance of normal bones
.
SUGGESTIONS OF U
SE
:
3
tablets a day.
WARNINGS
: Keep out of reach of children under three years. Do not exceed the recommended daily dose. The product should be used as part of a veried and balanced diet, and healthy lifestyle.
NOTES
:
GLUCOSAMINE
is an amino-sugar naturally present in human body and one of principle precursors for glycosylated proteins and lipids synthesis. It is one of major components of crustaceans shell and other arthropods. It is usually derived from shellfish and those who are allergic would be preferable to avoid it but, being
derived from the shells of animals while the allergen is contained in their flesh, its use is probably safe
; commercially, it is produced by crustacean shells hydrolysis. It is the starting point for the synthesis of many important macro-molecules making up many tissues of digestive and respiratory tracts, and some structures of eyes; it stands in blood, heart valves and largely in synovial fluid, tendons, ligaments and joints.
Glucosamine is used for hyaluronic acid bio-synthesis as well as synovial fluid and proteoglycans synthesis
:
ground substance of articular cartilage
.
A deficiency of glucosamine, or of its metabolism, can reduce the production level of these important macro-molecules, bringing to a weakness in specific tissues. arthritis is caused by a metabolic defect during glucosamine and proteoglycans synthesis; in this case,
exogenous glucosamine makes up for the deficiencies of the endogenous substance itself
,
stimulating the bio-proteoglycans synthesis
,
playing a trophic action against articular cartilage and encouraging the establishment of sulphur in glycosaminoglycans
(
CAG
)
and proteoglycans synthesis
.
All these actions have got beneficial effects in cartilage degenerative processes
:
processes responsible for arthritic diseases
.
With aging, glucosamine amount produced by the body decreases. The result is a deficiency of CAG. Then, the cartilage and bones rub one against each other, damaging joints and synovial fluid that is habit to lubricates them becomes watery and less consistent.
CHONDROITIN SULPHATE
(
or Sulphate of Chondroitin
) extracted from shark cartilage, is with C form and it is more likely to be used because it is also present in human being; it is a glycosaminoglycan sulphate (CAG) and consists of a chain of alternating sugars (
N-acetylgalactosamine and glucuronic acid
). It is usually associated with proteins to form a proteoglycan. A chondroitin chain can have over 100 sugars and each of these sugars can bind sulphate ions in different positions and quantities. Understanding the functions of this diversity in chondroitin and its glycosaminoglycans is one of the major objectives of glycobiology.
Chondroitin Sulphate is an important structural component of cartilage, giving it almost all its own resistance to compression
.
Since it's very capable of drawing water, Chondroitin sulphate helps
to keep joints lubricated and its particular structure allows it to recall and fix water in abundance, then leaving it again to proteoglycan molecules. This fluid is essential to support and lubricate joints because cartilage is not watered by blood
.
HYALURONIC ACID
is one of basic components of the connective tissue, both human being and other mammals.
It gives skin its unique properties as strength and shape retention
.
A lack of it leads to a weakening of the skin promoting formation of wrinkles and blemishes
.
Its concentration in body tissues tends to decline with age. In the amorphous matrix of a connective tissue,
hyaluronic acid is responsible for maintaining the right level of hydration
,
turgescence
,
plasticity and viscosity
,
because
,
in space
,
it assumes an aggregate conformation, so pocketing a large number of water molecules
.
It's able to work as a consolidating substance and as anti-collision molecule as well as efficient lubricant
(for ex. in synovial fluid),
thus preventing damages to tissue cells due to physical strains
.
The extreme length of its molecule together with its high degree of hydration allows multiple polymers of hyaluronic acid to organize themselves to form a reticular-type structure that has two main functions:
1) creating a molecular structure to maintain the shape and tone of tissue, 2) functioning as a filter against free spread in tissue of particular substances, bacteria and infectious agents. The particular chemical structure of hyaluronic acid gives itself a large number of properties which make it specially fit both in medicine and aesthetic medicine
.
Hyaluronic acid takes part in collagen and connective tissues building and also protects the body from viruses and bacteria; it increases the tissues plasticity and ensures an optimal skin hydration
.
Hyaluronic acid is a key component of dermis.
Thanks to its properties, it gives skin the elasticity and smoothness classic features
. Its concentration, within the dermal connective tissue, tends to decrease with age and if, on the one hand, this constant and significant decrease is a major contributor to skin aging, on the other hand,
with its integration, it allows you to reactivate mature skin by stimulating cell function and giving skin firmness and clarity lost
.
METHYL SULPHONYL METHANE
(
MSM
) is a natural form of organic sulphur. Its chemical formula is CH3SO2CH3.
In nature, sulphur comes in this form within all living organisms, working as a biologically active substance. Organic sulfur, biologically active, possess incredible healing and prevention properties. It has medicinal properties so much complete, and based on such obvious principles, that its discovery is usually ranked among the most important advances have been made by orthomolecular medicine in the second half of the twentieth century. In an adult person, 140 grams of sulfur are approximately present and used, almost half, by muscle, skin and bones
. When the plant organisms absorb methyl sulphonyl methane from rain, they turn it into sulphured amino acids, that is
methionine
and
cysteine.
20% of amino acids, called essential, must be taken by food and it includes
methionine
and
cysteine.
The well-known amino-acids are about 28; each type of protein is formed by a single amino acids series, arranged in a specific combination. Two cysteine molecules can oxidize and join via sulphur bonds (-S-S-). These bonds are key elements in proteins structure, which determine the shape, properties and biological activity of. Nails and hair are mainly made of a proteins protein, so high in sulphur, called keratin.
Flexible
,
connective and cartilaginous tissues contain proteins with flexible sulphur bonds.
The collage protein is the most common protein in human body as well as major component of all connective tissues. It gives elasticity to skin, interacting with fibers of another protein called elastin.
At the level of cartilage
,
glucosamine, chondroitin and proteoglycans
,
containing sulphur, make up a fibrous protein that forms the structure of collagen itself so much to make it flexible
.
BIBLIOGRAPHY:
· Barclay TS, Tsourounis C, McCart GM. Glucosamine. Ann Pharmacother. 1998 May;32(5):574-9.
· Deal, C.L. and Moskowitz, R.W. Nutraceuticals as therapeutic agents in osteoarthritis. Rheumatic Disease Clinics of North America. 1999;25(2):379-395.
· Deal CL, Moskowitz RW. Nutraceuticals as therapeutic agents in osteoarthritis. The role of glucosamine, chondroitin sulfate, and collagen hydrolysate. Rheum Dis Clin North Am. 1999 May;25(2):379-95.
· Houpt JB, McMillan R, Wein C, Paget-Dellio SD. Effect of glucosamine hydrochloride in the treatment of pain of osteoarthritis of the knee. J Rheumatol. 1999 Nov;26(11):2423-30.
· Leffler CT, Philippi AF, Leffler SG, Mosure JC, Kim PD. Glucosamine, chondroitin, and manganese ascorbate for degenerative joint disease of the knee or low back: a randomized, double-blind, placebo-controlled pilot study. Mil Med. 1999 Feb;164(2):85-91.
· Towheed TE, Anastassiades TP. Glucosamine and chondroitin for treating symptoms of osteoarthritis: evidence is widely touted but incomplete. JAMA. 2000 Mar 15;283(11):1483-4.
· Mautone G. Efficacy of glucosamine and chondroitin for treatment of osteoarthritis. JAMA. 2000 Sep 13;284(10):1241; discussion 1242.
· Donohoe M. Efficacy of glucosamine and chondroitin for treatment of osteoarthritis. JAMA. 2000 Sep 13;284(10):1241; discussion 1242.
· Leeb BF, Schweitzer H, Montag K, Smolen JS. A metaanalysis of chondroitin sulfate in the treatment of osteoarthritis. J Rheumatol. 2000 Jan;27(1):205-11.
· Reginster, J.Y., Deroisy, R., Rovati, L.C., Lee, R.L., Lejeune, E., Bruyere, O., Giacovelli, G., Henrotin, Y., Dacre, J.E., and Gossett, C. Long-term effects of glucosamine sulphate on osteoarthritis progression: A randomised, placebo-controlled trial. Lancet. 2001;357:251-256.
McAlindon T et al. Glucosamine and chondroitin for treatment of osteoarthritis: a systematic quality assessment and metanalysis. JAMA 2000; 283: 1469.
---