DRENASOL - Purifying functions of the body, drainage of body fluids and well-being of the skin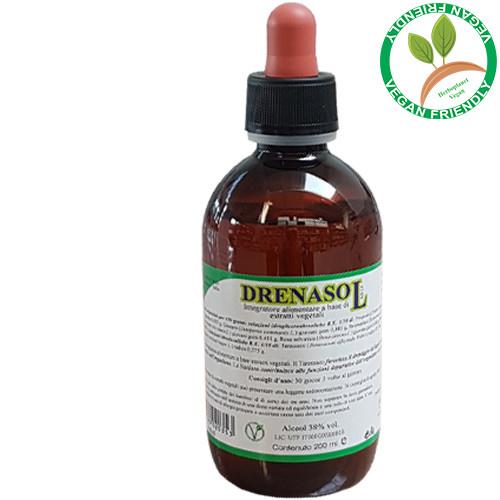 Product VEGAN FRIENDLY
HERBAL COMPONENTS CONTENT FOR

150

DROPS
:
MSA
(
Spagyric-Alchemical Macerated ER
1/50
) of:
Sloe (
Prunus spinosa L.
) buds
0.483
g, Beech (
Fagus sylvatica L.
) buds
0.483
g, Juniper (
Juniperus communis L.
) young shoots
0.483
g, Rosemary (
Rosmarinus officinalis L.
) young shoots
0.483
g, Cranberry (
Vaccinium vitis idaea L.
) young shoots
0.451
g, Dog rose (
Rosa canina L.
) young shoots
0.483
g, Bilberry (
Vaccinium Myrtillus L.
) young shoots
0.483
g.
TSA
(
Spagyric-Alchemical Tincture ER
1/10
) of:
Dandelion (
Taraxacum officinale Weber
) root
0.375
g, Artichoke (
Cynara scolymus L.
) leaves
0.375
g, Burdock (
Arctium lappa L.
) root
0.375
g.
Product included in the Register of supplements of the Italian Health Ministry,
Code
13230
.
DRENASOL
is a food supplement based on plant extracts. The DANDELION
promotes the drainage of body fluids
.
The ARTICHOKE
promotes the depurative functions of the body
. The BURDOCK
contributes to the depurative functions of the body
,
the well-being of the skin and the drainage of body fluids
.
SUGGESTIONS OF USE
:
50
drops,
3
times a day, in some water.
WARNINGS
: Keep out of reach of children under three years. Do not exceed the recommended daily dose. The product is used as part of a varied and balanced diet and a healthy lifestyle.
NOTES ON SOME PLANTS: The biochemical action of PRUNUS SPINOSA has the option to reactivate metabolism and then to detoxify the body by catabolites. Today, the self-hetero-intoxication is strong (thanks to air pollution and pollution present in water and food) and therefore it is essential to make an action to detoxify, at least twice a year (spring-autumn). FAGUS SYLVATICA has good ability to stimulate diuresis and renal function, so it is better in cases of renal failure, kidney stones and water retention. JUNIPERUS COMMUNIS stimulates renal function by increasing diuresis. It is a good hepatorenal drenant to be used all the times we are facing a state of chronic auto-intoxication. Stimulation of diuresis, coupled to an increased liver function, generally acts on the parts thus increasing the elimination of waste. ROSMARINUS OFFICINALIS has a eutrophic activity on gastric and intestinal mucosa. It is just draining the liver and biliary system. VACCINIUM VITIS IDAEA is the regulator of intestinal function (it corrects imbalances of enterocolic mobility and regulates intestinal enzymatic function). VACCINIUM MYRTILLUS causes pancreatic drainage. TARAXACUM OFFICINALE has a diuretic, purifying and tonic bitter action. Studies, published in 1959, show that dandelion root has a purifying action on the liver and plays a stimulant role for bile production. Its action on the liver and the gall bladder (it thins the bile through taraxasterol active principle) facilitates toxins elimination. CYNARA SCOLYMUS has a cholagogue and choleretic action. ARCTIUM LAPPA is known, in particular, for its purifying action but it also has a strong diuretic, diaphoretic action (increases the secretion of sweat) and is capable of stimulating hepatobiliary functions.
BIBLIOGRAPHY
:
- Fernando Piterà - "
Compendio di GEMMOTERAPIA CLINICA
" - De Ferrari Editor
- Ernesto Riva - "
L'universo delle PIANTE MEDICINALI trattato storico, botanico e farmacologico di 400 piante di tutto il mondo
" - Ghedina & Tassotti editori s.r.l. - Bassano del Grappa (VI), Maggio 1995.
- Tina Cecchini –
Enciclopedia delle erbe medicinali
, ………… - DE VECCHI EDITORE
- Padre Gianfranco Lazzari -
L'Erbario del Frate
- EDIZIONI S. MARCO LITOTIPO
- Alberto Fidi -
Erbe e Piante medicinali
- FRATELLI MELITA EDITORI
- AA.VV. -
Enciclopedia chimica
– USES ed., Firenze
- Benigni R., Capra C., Cattorini P.E. –
Piante medicinali: chimica, farmacologia e terapia
– Inverni della beffa ed, Milano.
- Duraffourd C., D'Ervicourt L., Lapraz J.C. –
Cahieres de Phytotérapie clinique
– Masson ed., Paris 1983
- Maugini E. –
Botanica farmaceutica
– CLUSF ed., Firenze 1976
- Pomini L. –
Erboristeria italiana
– Vitalità ed
- Valnet J., Duraffourd C., Lapraz J.C. –
Phytotérapie et aromatherapie
– Presse de la Renaissance, Paris 1978
- Massari E. –
Erbe in Cina
– Milano 1981
- Penso G. –
Piante medicinali nella terapia medica
– Org. Med. Farm. Ed., Milano
- Enrica Campanili –
Dizionario di fitoterapia e piante medicinali
– Tecniche Nuove - MI
- Max Tètau - "
Gemmoterapia nuovi studi clinici
" - NUOVA IPSA Editore srl - Palermo, 1989
- Larousse - "
Encyclopédie des PLANTES MÉDICINALES identification, préparations, soins
" - Larousse-Bordas – 1997
- Tom Wilsons - "
Guarire con le erbe, i consigli, le malattie, le ricette, le dosi nella più ricca raccolta di erboristeria
" - Fratelli Melita Editori
- Dr. G. Fort - "
Guide de traitement par les plantes médicinales et phytocosmétologie, soins de beauté
" - Editions Heures de France - Paris, 1976
---