DISPEPSOL - Digestive and hepatic function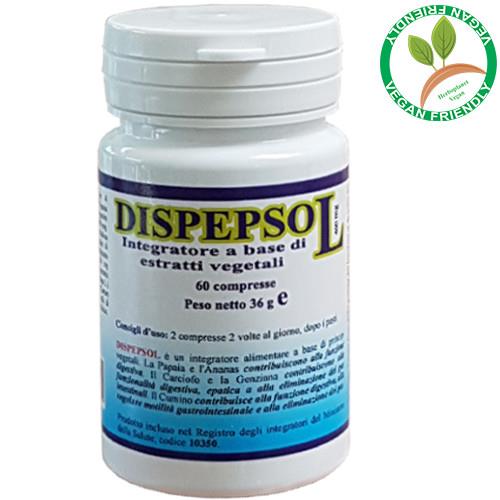 Product VEGAN FRIENDLY
HERBAL COMPONENTS CONTENT FOR

4

TABLETS
:
dry extract of Papaya (
Carica papaya L.
) fruit
640
mg, Pineapple (
Ananas sativus (L.) Merr.
) spear powder
400
mg. Bulking agents: calcium phosphate, microcrystalline cellulose. Dry extract of Artichoke (
Cynara scolymus L.
) leaves
280
mg (
bringing in caffeoylquinic acid

7

mg
), dry extract of Gentian (
Gentiana lutea L.
) root
240
mg, Cumin (
Carum carvi L.
) seeds powder
40
mg. Anticakings: magnesium salts of fatty acids, silicon dioxide.
Product included in the Register of supplements of the Italian Health Ministry,
Code
10350.
Product included in the Register of Food Complements of the French Ministry of Health,
code 2018-3-804
.
Product included in the Register of supplements of the Belgian Health Ministry,
Code PL
1653/45.
DISPEPSOL
is a food supplement based on vegetal extracts always known for their beneficial effects. Papaya and pineapple
are able to promote the normal functions of the digestive apparatus
. Artichoke and gentian
contribute to digestive function
,
of liver and in the elimination of intestinal gas
. The cumin
contributes to the digestive function
,
to the regular gastrointestinal motility and to the elimination of gases
.
SUGGESTIONS OF USE
: 1 or 2 tablets 2 times a day, during meals.
WARNINGS
: Keep out of reach of children under three years. Do not exceed the recommended daily dose. The product should be used as a part of a varied and balanced diet, and healthy lifestyle.
NOTES ON SOME PLANTS
: From
PAPAIA
(Carica papaya)
we get
papain
, obtained by fermentation of the substance escaping from incisions done in its branches and unripe fruit and that spontaneously coagulates. This fermented substance
has digestive properties
similar to pepsin from which it differs only because it is active both in the neutral than in acid or slightly alkaline environment, while pepsin is active only in a medium acid one.
PINEAPPLE
(
Ananas sativus
) contains
citric acid and malic acid
, vitamins A, B, and C; a yeast and a digestive ferment (
bromelain
)
which makes you digest
up to 1000 times its weight in proteins
in a few minutes (it is similar to
papain and pepsin
), minerals and especially iodine, potassium and sulfur.
ARTICHOKE
(
Cynara scolimus
) is a
hepatic and biliary functions stimulant
and this thanks to its principles (
flavoloids and o-diphenols
). It has got as a digestive and purifying action as well,
useful in hepatobiliary dysfunction
.
GENTIAN
(
Gentiana lutea
) contains bitter principles, alkaloids (
gentianin
), inulin, pectin and phenolic acids.
Gentian stimulates the taste receptor linked to the bitter taste causing an increase in salivary and gastric secretion.
The stimulating action of this plant towards stomach relieves disorders such
as flatulence and indigestions
.
CUMIN
(
Carum carvi
) seeds contain: essential oil at high carvone value (40 to 60%) and fixed oil. Cumin action is comparable with Anise (
Pimpinella anisum
) and Fennel (
Foeniculum vulgare
) ones. Because of its essential oil antispasmodic and antifermentative properties, cumin fruits (improperly called seeds) are successfully used such as
antispasmodic, carminative and stomachic remedies just to facilitate gastric secretion after meals and improve digestion
.
BIBLIOGRAPHY
:
- Ernesto Riva - "
L'universo delle PIANTE MEDICINALI trattato storico, botanico e farmacologico di 400 piante di tutto il mondo
" - Ghedina & Tassotti editori s.r.l. - Bassano del Grappa (VI), Maggio 1995.
- Tina Cecchini –
Enciclopedia delle erbe medicinali
, ………… - DE VECCHI EDITORE
- Padre Gianfranco Lazzari -
L'Erbario del Frate
- EDIZIONI S. MARCO LITOTIPO
- Alberto Fidi -
Erbe e Piante medicinali
- FRATELLI MELITA EDITORI
- AA.VV. -
Enciclopedia chimica
– USES ed., Firenze
- Benigni R., Capra C., Cattorini P.E. –
Piante medicinali: chimica, farmacologia e terapia
– Inverni della beffa ed, Milano.
- Duraffourd C., D'Ervicourt L., Lapraz J.C. –
Cahieres de Phytotérapie clinique
– Masson ed., Paris 1983
- Maugini E. –
Botanica farmaceutica
– CLUSF ed., Firenze 1976
- Pomini L. –
Erboristeria italiana
– Vitalità ed
- Valnet J., Duraffourd C., Lapraz J.C. –
Phytotérapie et aromatherapie
– Presse de la Renaissance, Paris 1978
- Massari E. –
Erbe in Cina
– Milano 1981
- Penso G. –
Piante medicinali nella terapia medica
– Org. Med. Farm. Ed., Milano
- Enrica Campanili –
Dizionario di fitoterapia e piante medicinali
– Tecniche Nuove - MI
- Larousse - "
Encyclopédie des PLANTES MÉDICINALES identification, préparations, soins
" - Larousse-Bordas – 1997
- Tom Wilsons - "
Guarire con le erbe, i consigli, le malattie, le ricette, le dosi nella più ricca raccolta di erboristeria
" - Fratelli Melita Editori
- Dr. G. Fort - "
Guide de traitement par les plantes médicinales et phytocosmétologie, soins de beauté
" - Editions Heures de France - Paris, 1976
---