BETAMIX - Natural defenses of the organism - antioxidant action - restorative - homocysteine metabolism - regulation of hormonal activity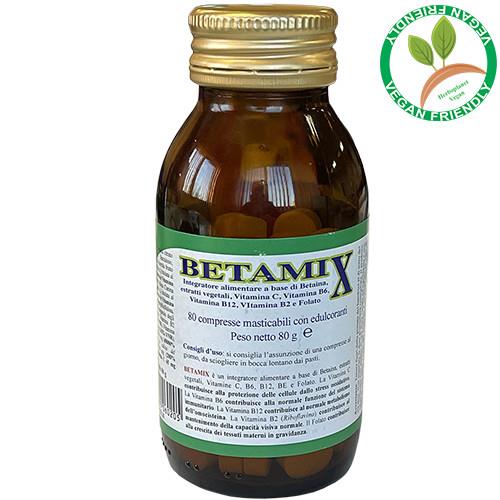 Product VEGAN FRIENDLY
SUPPLEMENT OF INGREDIENTS PER TAB
: bulking agents: microcrystalline cellulose, dicalcium phosphate, corn starch, mono and diglycerides of fatty acids, maltodextrins; Fructose. Betaine (
Trimethylglycine
) 250 mg, dry extract of Acerola titrated to 50% in Vitamin C (
Malpighia punicifolia L
.) fruits 60 mg (
intake of vitamin C 30 mg
), dry extract of Dog rose titrated to 10% in Vitamin C (
Rosa canina L
.) 50 mg (
intake of vitamin C 5 mg
). Mixed pulp berries 50 mg, Anti-caking agents: magnesium salts of fatty acids, silicon dioxide; Acidifier: citric acid; Aroma. Vitamin B2 from Riboflavin 2.04 mg (
145.71% RDA
), Vitamin B6 from Pyridoxine HCl 2 mg (
142.85% RDA
), Vitamin B12 from
Methylcobalamin
1000 μg (
40000% RDA
). Calcium
L-methylfolate
400 μg (
200% RDA
).
Total intake in vitamin C 35 mg equal to 43.75% RDA.
Product incuded in the supplements register of the Italian Health Ministry,
code

63
.
Product included in the register of supplements of the Spanish Ministry of Health,
code 0599E/13728/2015
.
Product included in the Register of supplements of the French Health Ministry,
code 2018-6-20
.
Product incuded in the supplements register of the Belgian Health Ministry,
code NUT/PL/AS
1653/90
.
BETAMIX
is a food supplement of of Betaine (Trimethylglycine), Vitamin C, Vitamin B6 and Vitamin B12. Acerola and Rosa di Macchia
contribute to the body's natural defenses, have an antioxidant, support and restorative action
. Vitamin B6
contributes to the normal function of the immune system
and vitamin B12
contributes to the regulation of hormonal activity and to the normal metabolism of homocysteine
.
SUGGESTIONS OF U
SE
: It's recommended one tablet once a day, to be melted in your mouth between meals.
WARNINGS
: Keep out of reach of children under three years. Do not exceed the recommended daily dose. The product should be used as part of a varied and balanced diet, and healthy lifestyle.
NOTES
:
TRIMETHYLGLYCINE
(
Betaina anidra
) is extracted from sugar beet. It is involved in transmethylation, that is the process by which methyl groups (CH3) are transferred from one molecule to another, this is a biochemical process so essential for cell metabolism. Together with Methionine and Choline, so it provides methyl groups to cells. It is believed that the introduction of this food supplement in the diet
can help recovery processes in degenerative diseases. Basically, Trimethylglycine is a methylating agent that plays an important role, especially in the process of detoxification of Homocysteine
(a powerful oxidant and free radical generator) into Methionine. In fact, the living organism metabolizes only small amounts of Homocysteine and we know that, in large quantities, it is toxic:
we can say that homocysteine is a good biochemical indicator about the efficiency of methylation by cells
. Methionine (
product of Homocysteine methylation
) produces high concentrations of SAME (
S-adenosyl-methionine
),
a natural antidepressant
and a donor of methyl groups;
the increase of SAME is useful both in prevention and treatment of several metabolic disorders, including those caused by severe deficiency states of organic deficit
. It is an essential amino acid with antioxidant activity.
It 'very important for the functioning of the liver by preventing an abnormal accumulation of fat and production of antibodies
.
In the presence of vitamin B12 it can be converted into cystine
. In combination with inositol and B vitamins, it helps suffering livers. It participates in the formation of carnitine, choline, creatine, adrenaline, etc.. and interacts with other substances to detoxify from harmful compounds;
it is included in supplementation as anti-fatigue agent
.
BIBLIOGRAPHY
:
- "
Il libro completo delle VITAMINE
" – Demetra
- Julianwhitaker's "
How the Homocysteine/Heart disease Connection Was discovered
" Health & Healin - August 1997
- John A. Man "
New Life - Extention Breakthrough: TMG - 15
" The Journal off the MegaHealth Society, Vol. 1 No. 4
- Graham, IM et al. "
Plasma homocysteine as a risk factor for vascular disease
" JAMA, June 11, 1997; 277 (22): 1775 - 1776
- Reardan Dayton, and Adams, David G.
Ltr from Orphan Medical
, Incl, to FDA. 21 August, 1996
- Yetley, Elizabeth A.
Ltr from FDA to Dayton Reardan
, Ph. D., Orphan Medical, Inc. 3 January 1997.
---