MSA RIBES NIGRUM - buds (Blackcurrant)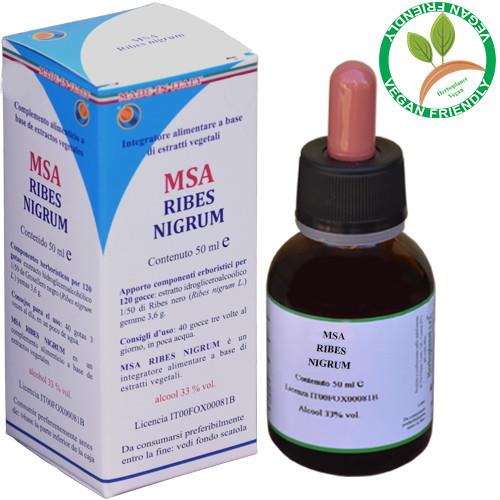 CONTRIBUTION OF HERBORISTIC COMPONENTS FOR 120 DROPS
:
Spagyrical
hydro-glicero-alcoholic
solution with extraction ratio 1
:
5
(
E.R. 1/5
) of Blackcurrant (
Ribes nigrum
) buds 3,6 g.
Product included in the Register of supplements of the Italian Health Ministry,
Code 31302
.
Product included in the Register of supplements of the Belgian Health Ministry,
Code NUT/PL 1653/27
.
MSA RIBES NIGRUM
is a food supplement based on plant extracts, which
contribute to the preservation of cartilage
.
SUGGESTIONS OF USE
: 25-40 drops, in some water, 3 times a day.
WARNINGS
: Keep out of reach of children under three years. Do not exceed the recommended daily dose.
NOTES
: The hydro-glicero-alcoholic solutions has been made with the
alchemical spagyric method of Solanimus
(
M.S.A.
) which includes all the classic spagyrical phases with the final addition of a specific phase of the alchemical philosophy. We have joint spagyrics and Alchemy to get the best from plant. The Macerate of Ribes nigrum is obtained by soaking its buds, just picked, in a hydro-glycero-alcoholic solution. The Macerate Ribes nigrum may be used whenever a phlogosis is present.
It decreases the production of IgE, reduces the chemoattraction of leukocytes and is able to slow the release of histamine and chinine by mast cells
. Its action is
mainly at adrenal level where it stimulates the cortex to release some substances with a strong anti-inflammatory and anti-allergy properties
, that is why it is said that the Ribes nigrum Macerate has an
cortisone-like action
without, having its toxicity yet. This is one of the most important remedies that gemmotherapy has and it has got a synergistic action with many other macerates.
PSYCHIC SYNTHESIS
: Generally, the "
Ribes
" kind is a spontaneous person, appearing a person younger than he looks like. He doesn't love nor heat nor cold but he prefers the fresh and the shadow. Usually, he is a parsimonious person in everything he has the habit of doing.
MSA
RIBES NIGRUM
helps you to reflect longer before you get action whose later you might regret . It helps to have a farther vision, adjusting your mechanisms of self-defence and teaching tolerance at the same time. It helps you to be more altruist, generous and charitable.
BIBLIOGRAPHY:
- Fernando Piterà - "Compendio di GEMMOTERAPIA CLINICA" - De Ferrari Editore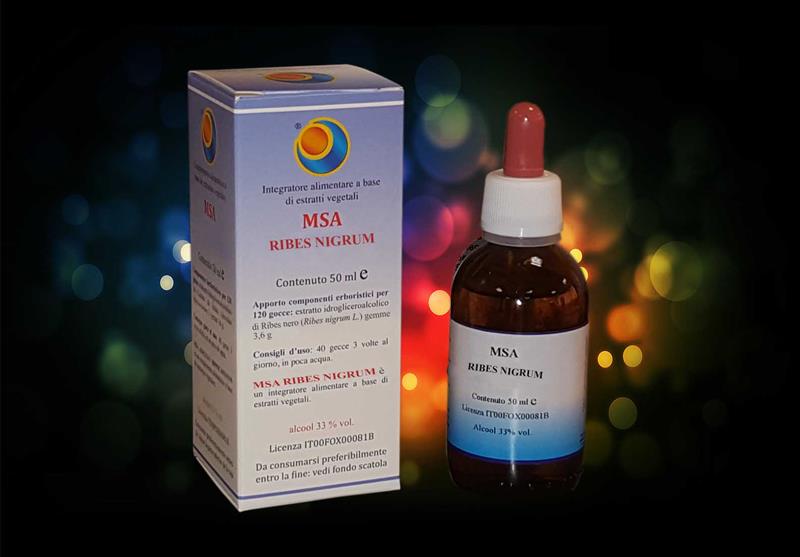 ---