MSA AMPELOPSIS WEITCHII - young shoots (Ivy Of Japan)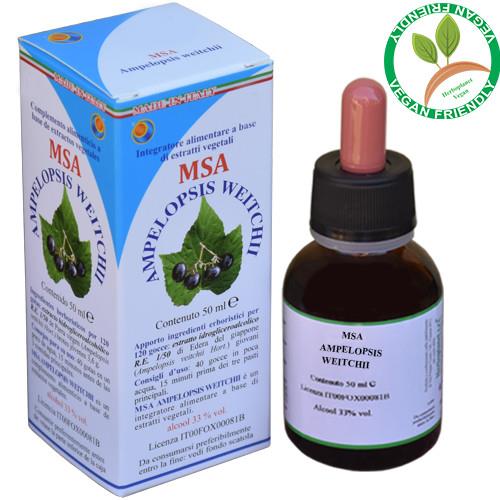 CONTRIBUTION OF HERBORISTIC COMPONENTS FOR 120 DROPS
:
Spagyrical
hydro-glicero-alcoholic
solution with extraction ratio 1/50
(
E.R. 1/50
) of
Ivy of Japan (Ampelopsis Weitchii) young shoots 3.6 g.
Product included in the Register of supplements of the Belgian Health Ministry,
Code NUT/PL 1653/89
.
MSA AMPELOPSIS WEITCHII
is a food supplement based on plant extracts that
help to maintain joint flexibility
.
SUGGESTIONS OF USE
: 25-40 drops, in some water, 3 times a day.
WARNINGS
: Keep out of reach of children under three years. Do not exceed the recommended daily dose. The product has to be used as part of a varied and balanced diet and a healthy lifestyle.
NOTES
:
The hydro-glicero-alcoholic solutions has been made with the
alchemical spagyric method of Solanimus
(
M.S.A.
) which includes all the classic spagyrical phases with the final addition of a specific phase of the alchemical philosophy. We have joint spagyrics and Alchemy to get the best from plant. The Macerate of Ampelopsis weitchii is prepared by using young shoots.
The macerate is to be used for hyperalgic and highly distorting rheumatic states with fast changing intense phlogosis.
It fights the joints deformation and sclerosis of ligaments
, resolving masses and hardenings. Young shoots contain organic acids,
choline, inositol
, tannins, flavonoids and sugars.
Psychic synthesis
:
The "
Ampelopsis
" kind like to wear necklaces, rings, bracelets, watches, etc. . As well as the plant, he remains attached to his ideas and it is not easy change his minds. His typical sentence is:"...
he does not go from his ideas
...". In case of difficulties, he does not directly face them with decision but try to use them to his advantage. Often he does not take care of them and find it very difficult to complete its projects.
MSA AMPELOPSIS WEITCHII
helps the individual in his sudden changes of mood and to have more interest in things and complete his projects.
BIBLIOGRAPHY
:
- Fernando Piterà - "
Compendio di GEMMOTERAPIA CLINICA
" - De Ferrari Editore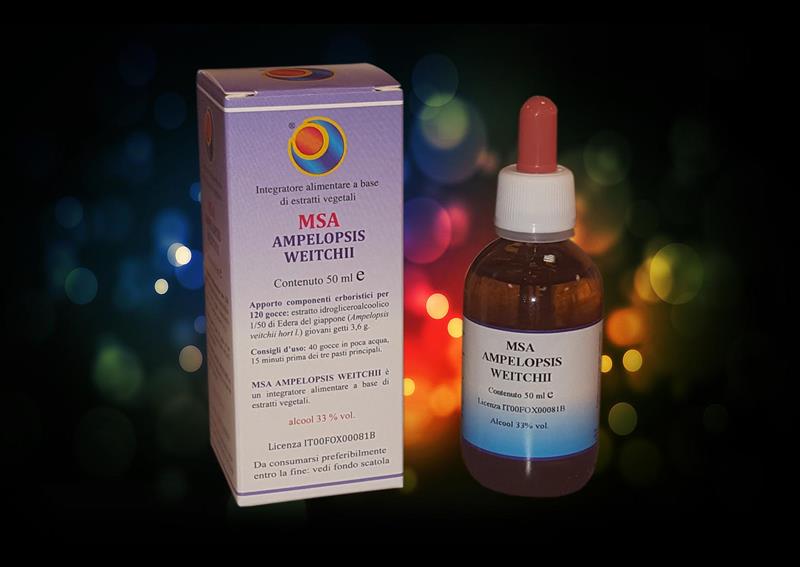 ---