TSA (Spagyric-Alchemical Tincture of Solanimus)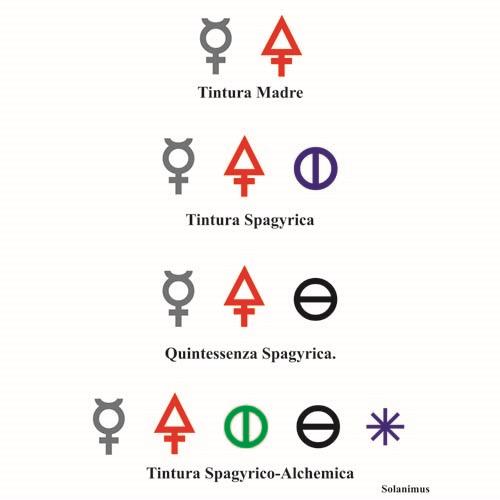 Making comparison between a Spagyric Tincture and Spagyric-Alchemical Tincture of Solanimus, we could see that at beginning preparation is the same, but in following there will be some differences.
Both Spagyric Tincture and Spagyric-Alchemical Tincture are done starting from a plant that could be fresh or dried, even should be better to start from a fresh plant as the active principles shall be greater respect to a dried ones.
Some plants are worked out dry simply because is almost impossible to let have them fresh in Occident (for example ginseng or cinnamon etc).
In any case, plant is reaped on its balsamic time, period on which it contains greater active principles quantities; every plant has its balsamic time that could be spring or autumn or one of remaining seasons.
Reaped, the plant will be soaked in hydro-alcoholic solution (water plus alcohol).Clearly it will be spagyric alcohol, also called "tartaric alcohol" even i think that more appropriated name should be "detartaric alcohol", as we try to eliminate all the tartaric deposits contained on it.
This alcohol will have a pre-arranged degree, according to the used plant (all the active principles are not extracted with same alcoholic degree, some are more or less hydrosoluble). The majority of the plants are soaking in a hydro-alcoholic solution that can varied since 45 to the 55 alcoholic volumetric degrees.
Plant will start soaking in this solution for 30 days around (lunar cycle) and it will be in relationship of one on five with the solution (R.E. 1/5), or of 4 liters solution every kilo of plant, or better of its dry residue. Dry residue because relationship must done with the dry plant , or better, with dry residue, this also to control alcoholic degree of the solution. For doing that, it is sufficient to take 100 grams of fresh plant and put it into a oven for dissicate, dry it , bring out and weighting (this weight obtained is called, exactly, dry residue), if for example now weight will be 50 grams, means that the other 50 grams was water; so that one kilogram of fresh plant will be 500grams of dry plant and from here will start calculation for extraction relationship.
In spagyria if often said that extraction relationship must be in saturation; in other words we put a fresh plant in a container and after we pour the hydroalcoholic solution up to the complete plant overhelm(this brings usually to a extraction relationship that fluctuate from ¼ to 1/5, according to the used plant; for example if we use a voluminous plant like marigold (calendula officinalis) we will need more solution quantity, while we work with plants less voluminous, like ginseng (panax ginseng) we will need less solution quantity (R.E. minor)
- First important difference that we find, since the first operative operations, is that the Spagyric-Alchemical Tincture of Solanimus is poured into circular container so that, meanwhile the plant is soaking, the hydroalcoholic solution from lower part of the container will evaporate and going up to the top, then from here it will slip along the walls to still go down in the low part. This operation is called circulation and it is in everything and for everything similar to the great circulation or circulation of the Macrocosm or that that constantly happens on the earth, since here it happens inside a container it calls circulation of the microcosm. This circulation makes thinnest, therefore more penetrating solvent (water's solution more alcohols) and is for this characteristic that the same solvent, thanks to the circulation, having become thinner and having therefore more penetrative power, shall be able to extract from plant greatest quantity of active principles, allowing us to have a product with a more elevated concentration of such principles.
Once filtered the solution, inside the container, remains the plant that is pressed and the liquid, so gotten, is filtered and added to the liquid obtained before. At this point, pressed plant is taken and burned to obtain ashes. Now we taken solution previously obtained and we put into a wide neck carboy, putting also the obtained ashes. Over this wide neck carboy we put another wide neck carboy upside-down, so that the two mouths coincided and than, this junta is sealed with a "luto". The "luto" is needed to unite the two necks, it is composed by a paper strip soaked of a pasta formed by flour, water, white of egg, mortar and/or clay. This strip is putted around the junta formed by the two wide carboy necks(this "luto" was called from the Ancients " luto of wisdom").When the Spagyric-Alchemical Tincture of Solanimus will be ready, "luto" will be break by itself, this will show us that circulation is finished. This happens because circulation make thinner the solution and by that more volatile; this means that its point of evaporation will decrease and by that biggest liquid quantity, with same temperature, will be transformed in steam (all of us know that this transformation will let happen a volume increase and consequently increase of pressure inside the carboy that will break, due that, the "luto"). This carboy formed by two of them called "microcosm", is putted then in a open statement to the sun and the moon and with heat, solution that is in the inferior part of the carboy, will evaporated and starts to climb in the superior (upside-down carboy) part; this steam will sticks to the walls and will be transformed, condensing itself, in small droplets which, slipping along glass of the superior carboy, again fall in the inferior part of carboy, for then evaporate and climb again and in this way continuously; this is way what inside carboy is called "microcosm"; because inside happens what in nature, "Macrocosm" happens continuously (rain that fall, evaporates and climb, condenses in the sky and reverts, and so continuously). This process is called circulation according to a perpetual up and down of the material. When the luto is broken means that time of circulation is finished, we divide the two carboys, filtering the solution with a filter of paper in pure cellulose, so that we have obtained in solution the oligoelements and have energized the tincture.

_________________________________________
Forbidden also partial copy of the contents, if source is not cited
HERBOPLANET s.r.l.
reserves the right to request removal of the information if it deems this appropriate