CASSIASOL - Regularity of the intestinal tract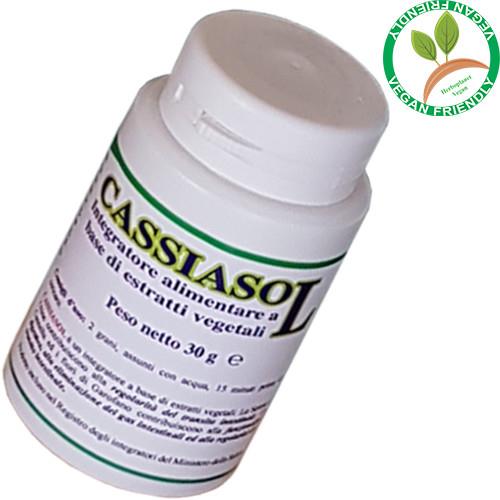 INGREDIENTS FOR 2 TABLETS
: Cassia leaves powder (Cassia angustifolia M.Vahl.) 498 mg, dry extract of Altea (Althaea officinalis L.) root 90 mg. Anti-caking agents: silicon dioxide, magnesium salts of fatty acids. Rhubarb rhizome powder (Rheum officinale Baill.) 6 mg, Cinnamon bark powder (Cinnamomum zeylanicum Nees) 4.8 mg, Clove flower powder (Syzygium aromaticum (L.) Merril et LM Perry) 0.6 mg, Propolis dry extract 3% galangin 0.6 mg (Galangin intake 0.018 mg).
Product included in the Register of supplements of the Italian Health Ministry,
Code

96
.
Product included in the Register of supplements of the Belgian Health Ministry,
Code PL
1653/65
.
CASSISASOL
is a food supplement based on plant extracts and Propolis. Senna
contributes to the regularity of intestinal transit
. Cinnamon and Carnation flowers
contribute to digestive function
,
to the elimination of intestinal gas and to the regularity of intestinal transit
.
SUGGESTIONS OF USE
: it's recommended to take 2 tablets, taken with water, 15 minutes before going to bedtime.
WARNINGS
: Keep out of reach of children under three years. Do not exceed the recommended daily dose. The product should be used in a varied and balanced diet and a healthy lifestyle.
NOTES ON SOME PLANTS
:
SENNA
(
Cassia angustifolia
) is a typically refreshing and laxative plant, for it's rich in glucose and especially fructose (anthraquinone glycosides - sennosides - mucilage, flavonoids). It is particularly recommended for children, old people and pregnant women. The plant has got an elective tropism toward large intestine to which causes activation of peristalsis. Its active principles are, for the most part, absorbed in the small intestine, going to act on the peristaltic action of the colon after arriving there via blood and lymph.
RHUBARB
(Rheum officinale)
can promote normal intestinal transit
. Because of its ability to evacuate the bile it is also used for liver . Of this plant, we use its rhizome.
CINNAMON
(
Cinnamomum zeylanicum
) is used for its bark in younger trees; it contains substances that help digestion.
CLOVES
(
Eugenia caryophyllata
) have got an essence in which we can find a phenolic terpene called eugenol, which gives rise to a marked analgesic and hypoanesthetic action (G. FASSINA, Lezioni di Farmacognosia, PAdova,
1965
, p.
182
). It was also recently confirmed the antiseptic action of these volatile components showing a marked bacteriostatic action (BENIGNI-CAPRA, piante medicinali.).
PROPOLIS
has antiseptic, antibiotic-like and anti-flu properties. Propolis is produced by bees reworking, through glandular secretions and enzymes, gummy and resinous substance they are used to collect.
Different substances are contained in it; here we will list the followings:

50-60

% resins and balsams,

30-40

% wax,

5-10

% essential oils and

5

% pollen
. After this division of substances that make up the propolis, we are going to see its active ingredients:
flavonoids
(
galangin, quercetin, etc..
)
, Aldehydes
(
vanillin, etc.
.)
Coumarins, phenolic acid, trace elements and vitamins B

1

, B

2

, B

6

and C
.
BIBLIOGRAPHY
:
- Ernesto Riva - "
L'universo delle PIANTE MEDICINALI trattato storico, botanico e farmacologico di 400 piante di tutto il mondo
" - Ghedina & Tassotti editori s.r.l. - Bassano del Grappa (VI), Maggio 1995.
- Tina Cecchini –
Enciclopedia delle erbe medicinali
, ………… - DE VECCHI EDITORE
- Padre Gianfranco Lazzari –
L'Erbario del Frate
– EDIZIONI S. MARCO LITOTIPO
- Alberto Fidi –
Erbe e Piante medicinali
- FRATELLI MELITA EDITORI
- AA.VV. –
Enciclopedia chimica
– USES ed., Firenze
- Benigni R., Capra C., Cattorini P.E. –
Piante medicinali: chimica, farmacologia e terapia
– Inverni della beffa ed, Milano.
- Duraffourd C., D'Ervicourt L., Lapraz J.C. –
Cahieres de Phytotérapie clinique
– Masson ed., Paris 1983
- Maugini E. –
Botanica farmaceutica
– CLUSF ed., Firenze 1976
- Pomini L. –
Erboristeria italiana
– Vitalità ed
- Valnet J., Duraffourd C., Lapraz J.C. –
Phytotérapie et aromatherapie
– Presse de la Renaissance, Paris 1978
- Massari E. –
Erbe in Cina
– Milano 1981
- Penso G. –
Piante medicinali nella terapia medica
– Org. Med. Farm. Ed., Milano
- Enrica Campanili –
Dizionario di fitoterapia e piante medicinali
– Tecniche Nuove - MI
- Larousse - "
Encyclopédie des PLANTES MÉDICINALES identification, préparations, so
ins" - Larousse-Bordas – 1997
- Tom Wilsons - "
Guarire con le erbe, i consigli, le malattie, le ricette, le dosi nella più ricca raccolta di erboristeria
" - Fratelli Melita Editori
- Dr. G. Fort - "
Guide de traitement par les plantes médicinales et phytocosmétologie, soins de beauté
" - Editions Heures de France - Paris, 1976
---