TARAXSOL - Purifying functions of the organism, liver function, drainage of body fluids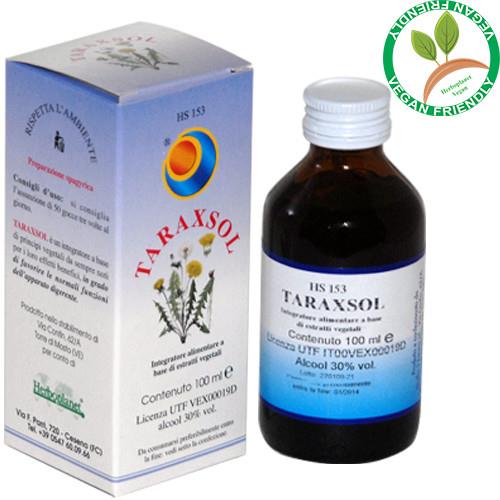 Product VEGAN FRIENDLY - Price: € 23,50
HERBAL COMPONENTS CONTENT FOR 150 DROPS:
TSA (
Alchemical-Spagyric Tincture ER

1/10
) of: Artichoke (
Cynara scolymus L.
) leaves
1,30
g, Dandelion (
Taraxacum officinale Weber
) root
1,30
g, Mint (
Mentha x piperita L.
) leaves
1,30
g, Rosemary (
Rosmarinus officinalis L.
) leaves
0,60
g, Horehound (
Marrubium vulgare L.
) leaves and flowering apexes
0,50
g.
Product included in the Register of supplements of the Italian Health Ministry,
code

16863
.
TARAXOL
is a food supplement based on plant extracts. The ARTICHOKE
promotes the depurative functions of body
,
liver function
,
lipid metabolism and elimination of intestinal gas
.
Antioxidant
. The DANDELION
promotes the depurative functions of body
,
the drainage of body fluids
,
liver function
,
digestive function and regularity of bowel movements
. The MINT
promotes digestive function, liver function, regular gastrointestinal motility and the elimination of gas
.
Also useful for the functionality of the upper respiratory tract
. The ROSEMARY
promotes digestive function, liver function, regular gastrointestinal motility and the elimination of gas, regular cardiovascular function
.
Antioxidant
.
WARNINGS: keep out of the reach of children under the age of three years. Do not exceed the recommended daily dose. The product should be used in the context of a varied and well-balanced diet and a healthy lifestyle.
USE
:
50
drops,
3
times a day.
NOTES
:
ARTICHOKE
(
Cynara scolymus
), thanks to its principles (o-diphenols and flavonoids), is a
stimulant of the liver and bile functions
.
The increase in the metabolic activity of enzymatic hepatobiliary chains causes THE reduction of cholesterol, nitrogen rates and lipids. The flavonoids and terpene alcohols protect the membrane of the hepatic parenchyma
. . It has got some digestive and depurative actions,
useful in hepatobiliary dysfunction
(with or without lithiasis), in the
hypercholesterolemia
and hyperuricemia related to liver disease of varying degree, in the
hyperlipidemy
and atheromatous risk. In
DANDELION
(
Taraxacum officinale
) the triterpenes (
taraxasterols
), synergically with the sesquiterpenic lactones,
act as colecistokinetics by activating the muscles of the gall bladder
, modifying the chemical-physical characteristics of the bile. The flavonoids and the
eudesmanolides
interact by increasing urination. It has got some action to protect from free radicals.
Useful as draining and hepato-renal depurative remedy, for disorders of the gallbladder and biliary lithiasis, in dermatoses associated with metabolic disorders.
The leaves of
MINT
plant (
Mentha piperita
) contain essential oil consisting of countless amount of terpenes: the most important is menthol, present in free form and combined form as
acetate, isovalerianate ester, or in furan form
. These active ingredients have a
carminative and eupeptic activity
for reflex action on nerve endings of the gastric wall and an
anti-fermentation function at intestinal level
due to their antiseptic properties. The plant has got
some tonic-eupeptic properties, slightly analgesic and carminative too, useful in nervous disorders of the stomach, especially with atony, colic with bloating and in dyspepsia states
. The diterpenic and depsidic fractions contained in
ROSEMARY
(
Rosmarinus officinalis
), together with rosmarinic acid have a
colecistokinetic
action; in the gastrointestinal tract they stimulate the digestive functions and the regularization of the bacterial flora activity.
Useful in dyspepsia with flatulence, especially if it is connected to hepatobiliary stasis and digestive headache
.
HOREHOUND
(
Marrubium vulgare
) contains marrubine (0.3 -1 % ),
gallic acid, mucilage, pectins, flavonoids, alkaloids, betonicine, mineral salts and ethereal oil
, which give the plant special
tonic, digestive, antiseptic, oblanceolate
and expectorant
properties
. This plant increases the gastric functions.
From the plants described above it is possible to obtain
TSA
(
Spagyric-Alchemical Tinctures
) with extraction ratio 1 to 10 (
RE 1/10
), if you follow the indications given by Solanimus in his book "
ALCHIMIA e SPAGYRIA: admirabiles et inseparabiles Artes!
", where some practical notions of Spagyria and Alchemy are very well described.
BIBLIOGRAPHY
:
- Ernesto Riva - "
L'universo delle PIANTE MEDICINALI trattato storico, botanico e farmacologico di 400 piante di tutto il mondo
" - Ghedina & Tassotti editori s.r.l. - Bassano del Grappa (VI), Maggio 1995.
- Tina Cecchini –
Enciclopedia delle erbe medicinali
, ………… - DE VECCHI EDITORE
- Padre Gianfranco Lazzari –
L'Erbario del Frate
– EDIZIONI S. MARCO LITOTIPO
- Alberto Fidi –
Erbe e Piante medicinali
- FRATELLI MELITA EDITORI
- AA.VV. –
Enciclopedia chimica
– USES ed., Firenze
- Benigni R., Capra C., Cattorini P.E. –
Piante medicinali: chimica, farmacologia e terapia
– Inverni della beffa ed, Milano.
- Duraffourd C., D'Ervicourt L., Lapraz J.C. –
Cahieres de Phytotérapie clinique
– Masson ed., Paris 1983
- Maugini E. –
Botanica farmaceutica
– CLUSF ed., Firenze 1976
- Pomini L. –
Erboristeria italiana
– Vitalità ed
- Valnet J., Duraffourd C., Lapraz J.C. –
Phytotérapie et aromatherapie
– Presse de la Renaissance, Paris 1978
- Massari E. –
Erbe in Cina
– Milano 1981
- Penso G. –
Piante medicinali nella terapia medica
– Org. Med. Farm. Ed., Milano
- Enrica Campanili –
Dizionario di fitoterapia e piante medicinali
– Tecniche Nuove - MI
- Larousse - "
Encyclopédie des PLANTES MÉDICINALES identification, préparations, so
ins" - Larousse-Bordas – 1997
- Tom Wilsons - "
Guarire con le erbe, i consigli, le malattie, le ricette, le dosi nella più ricca raccolta di erboristeria
" - Fratelli Melita Editori
- Dr. G. Fort - "
Guide de traitement par les plantes médicinales et phytocosmétologie, soins de beauté
" - Editions Heures de France - Paris, 1976
---