SULFONIL - Collagen, cartilages, bones, skin, blood vessels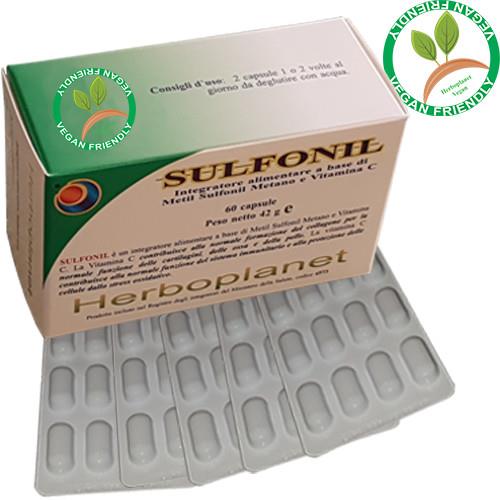 Product VEGAN FRIENDLY - Price: € 28,50
INGREDIENTS FOR

4

CAPSULES:
Methyl sulfonyl Methan
e
(
organic sulfur
)
2
g, Calcium ascorbate 198 mg (
bringing in Vitamin C

162
.
4

mg =

203%

RDA
). Bulking agents: microcrystalline cellulose, magnesium salts of fatty acids. Capsule in food gelatin.
Product included in the Register of supplements of the Italian Health Ministry,
code

4573
.
Product included in the Register of supplements of the Spanish Health Ministry,
code 0599/9372/2017
.
Product included in the Register of supplements of the French Health Ministry,
code 2018-1-754
.
Product included in the Register of supplements of the Belgian Health Ministry, code NUT/AS 1653/35.
SULFONIL is a food supplement based on Methyl Sulfonyl Methane and Vitamin C. Vitamin C contributes to the protection of cells from oxidative stress. Vitamin C contributes to normal collagen formation for the normal function of blood vessels, for the normal function of bones and for the normal function of cartilage. Vitamin C contributes to normal collagen formation for the normal function of gums, of teeth and of skin. Vitamin C contributes to normal energy-yielding metabolism, to normal functioning of the nervous system and to normal psychological function. Vitamin C contributes to the normal function of the immune system.
WARNINGS
: keep out of the reach of children under the age of three years. Do not exceed the recommended daily dose. The product should be used in the context of a varied and well-balanced diet and a healthy lifestyle.
NOTES:
The
METHYL SULFONYL METHANE
is a natural form of organic sulfur, which has the chemical formula CH
3
SO
2
CH
3
. This is the form in which the sulfur is present in nature, in all living organisms, where it acts as biologically-active substance. The Methyl Sulfonyl Methane is a odourless powder, white and crystalline, highly soluble in hot water and existing in a wide variety of organic solvents. The organic sulfur, biologically active, possesses incredible therapeutic and preventive properties. It has so complete and based on so clear principles medicinal properties, that
its discovery is usually ranked among the most important progress made by orthomolecular medicine in the second half of the twentieth century
. After calcium and phosphorus, sulfur is, in order of quantity, the third mineral present in the human body. In an adult individual there are approximately
140
grams of sulfur which are used, almost half, by muscle tissues, skin and bones. When vegetables absorb the methyl sulfonyl methane from the rain, they transforms it into sulfured amino acids, or methionine and cysteine. Taurine and cystine, the other two amino acids sulfur-containing, are synthesized by cysteine. Our body produces about
80
% of the amino acids it needs; these are called non-essential amino acids. The remaining
20
% of amino acids, the essential ones, must be taken from food and it includes the methionine and cysteine. The amino acids we known are about
28
. Each kind of protein consists of a single amino acids series, which is arranged in a specific combination. Two molecules of cysteine can oxidise and join by means of bonds of sulfur (-S-S- ). These links are key elements in proteins structure, determining their shape, properties, and its biological activity. Fingernails and hair are mainly consist of a very resistant protein, with a high sulfur content, called keratin. Flexible tissues such as the connective tissue and cartilaginous tissue contain proteins with flexible bonds of sulfur. Collagen is the protein that is found in greater quantities in our body, as well as the main component of all connective tissues. It provides elasticity to the skin, interacting with the fibers of another protein called elastin. In cartilage, glucosamine, chondroitin and proteoglycans, containing sulfur, form, together with collagen, a fibrous proteic substance that constitutes the structure of the collagen itself and makes it flexible.
Experiments on methyl sulfonyl methane, with radioactive tracers
,
have demonstrated that
,
after having been ingested, the methyl sulfonyl Methane binds to mucous membranes
.
In fact
,
it seems that the methyl sulfonyl methane is directed toward receptor sites on the surface of the mucous membrane in the intestinal tract
,
urogenital tract and the respiratory system
,
thus constituting a security interface between the host and the outside environment
.
These natural interactions have several useful implications for our health
:
allergens and parasites may not reach the mucous membranes. Toxins are oxidised and free radicals are deleted
.
The sulfur is called "
the mineral of beauty
" of nature,
an essential element for the production of collagen and keratin
,
that are necessary proteins for the health and the defence of skin, nail and hair
. Several experiments have demonstrated that
all types of skin diseases
,
often related to allergies
,
respond positively to a diet supplemented with methyl sulfonyl methane
.
It is demonstrated that taking orally Methyl Sulfonyl Methane is effective against the juvenile acne and rosacea
,
against dry skin, scaly or irritated skin
. If it is applied locally, in the form of gel or lotion, the Methyl Sulfonyl Methane is
useful in skin disorders treatments such as acne
,
psoriasis
,
eczema
,
dermatitis
,
dandruff
,
scabies
,
erythema due to diaper and various fungal infections
.
Even scars, if caused by operations and burns, if treated locally with gel made of
Methyl Sulfonyl Methane
(
see

ULCE Gel
), respond positively. Recent scars can heal in such a perfect way to be virtually invisible, in older scars you can have very good improvements. For more informations see the brochure "
Il miracolo Metil Sulfonil Metano
- Ass.I.S.A.".
BIBLIOGRAPHY
:
1. Herschler, R.J.: Methylsulfonylmethane and Methods of Use. United States Patent 4,296,130: 1981.
2. Herschler, R.J.: Methylsulfonylmethane in Dietary Products. United States Patent 4,616,039: 1986.
3. Herschler, R.J.: Dietary Products and Uses Comprising Methylsulfonylmethane. Brevetto Statunitense 4.863.748: 1989.
4. Herschler, R.J.: MSM: a Nutrient for the Horse. Eq. Vet. Data, 1986.
5. Mindell, E.L.: The MSM Miracle. Enhance Your Health with Organic Sulfur. Good Health Guides, Keats Publishing, Inc, Connecticut, USA: 1997.
6. Ley, B.M.: The Forgotten Nutrient MSM: on Our Way Back to Health with Sulfur. Health Learning Handbooks, BL Publications, California: 1998.
7. Owen, B.: Ask Dr. Bob?? Why MSM?? Health Hope Publishing House, California, 1997
8. Jacob, S.W: The Current Status of MSM in Medicine. Am. Acad. Med. Prev., 1983.
9. Jacob, S.W. and Herschler, R.J.: Introductory Remarks: Dimethylsulfoxide after Twenty Years. Ann. N.Y. Acad. Sci.: 1983.
10. Moore, R.D. and Morton, J.I.: Diminished Inflamatory Joint Disease in Mice Ingesting Dimethylsulfoxide (DMSO) or Methylsulfonylmethane (MSM). Fed. of Am. Soc. for Exp. Biol., Atti del convegno per il 69° Anniversario. 1985: 692.
11. Richmond, V.L.: Incorporation of Methylsulfonylmethane into Guinea Pig sieroproteine. Life Sciences 1986, vol. 39, pp 263-268.
12. Morton, J.I. and Siegel, B.V.: Effects of Oral Dimethylsufoxide (DMSO) and Dimethylsulfone (MSM) on Murine Autoimmune Lymphoproliferative Disease. Proc. Of the Soc. for Exper. Bio. and Med. 1986, vol. 183, pp. 227-230.
13. Munck-Khoe, L.K. de: Vitaminen, Hardware of Software? Deel 1. Ortho 14(5), 1996: 204-211.
14. Munck-Khoe, L.K. de: Vitaminen, Hardware of Software? Deel 2. Ortho 14(6), 1996: 252-261.
15. Vos, R. de: De Magie Van Het Leven Zit in De Chemie. Folia Orthica 1998 (1): 7-10.
16. Lamers, H.J.: Ferdinand Huneke, Ontdekker en Grondlegger van de Neuraaltherapie. Tijdschr. Voor Integr. Geneesk. 1996; 12(1): 18-22.
17. Nieuwenhuis, R.A.: Anti-oxidanten, De Effectieve Beschermers van Onze Gezondheid. Orthos Media, Den Haag, 1993
---