RELAXSOL - Relaxation, sleep, mental well-being, normal mood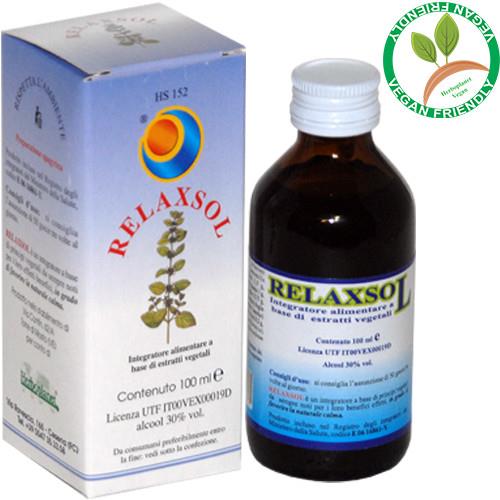 Product VEGAN FRIENDLY - Price: € 23,50
HERBAL COMPONENTS CONTENT FOR

150

DROPS:
TSA
(
Alchemical-Spagyric Tincture ER

1/10
) of: Chamomile (
Matricaria chamomilla L.
) flowers
1.50
g, Bear's Foot (
Alchemilla vulgaris L.
) plant
1.00
g, Balm-Mint (
Melissa officinalis L.
) leaves
0.75
g, Hawthorn (
Crataegus oxyacantha Medicus
) leaves and flowers
0.75
g, Hops (
Humulus lupulus L.
) fruits
0.50
g, Lime-tree (
Tilia tomentosa Moench
) flowers
0.20
g, California Poppy (
Eschscholtzia californica Cham.
) apex
0.20
g, Hogweed (
Heracleum sphondylium L.
) plant
0.10
g.
Product included in the Register of supplements of the Italian Health Ministry,
code

16861
.
Product included in the Register of supplements of the French Health Ministry,
code 2017-7-1146
.
RELAXSOL
is a food supplement based on plant extracts. CHAMOMILE
contributes to relaxation, to the sleep and mental well-being
. BALM-MINT
in addition to being an antioxidant
,
promotes digestive function and the elimination of gases
.
Useful for relaxation and mental well-being
,
as well as for recovering the normal mood
. HOPS, LIME and CALIFORNIA POPPY
promote sleep and relaxation due to stress
. HAWTHORN
contributes to the regularity of blood pressure
.
WARNINGS
:
keep out of the reach of children under the age of three years. Do not exceed the recommended daily dose. The product should be used in the context of a varied and well-balanced diet and a healthy lifestyle.
USE
:
50
drops,
3
time a day.
NOTES
:
CHAMOMILE
(
Matricaria chamomilla
) contains
bisabolol
, protective against gastroduodenal ulcerative lesions and gastritis.
Apigenin
and its
glycosides have some spasmolytic and sedative activities to the extent of about three times higher than papaverine.
Useful as anti-inflammatory and spasmolytic remedy of the gastrointestinal tract
,
sedative
.
BEAR'S FOOT
(
Alchemilla vulgaris
) contains, in its leaves, a relative amount of mucilaginous gums, tannins and traces of the salicylic acid. The plant has anti-inflammatory properties, for it exerts astringent-protective and diuretic actions. The leaves of
BALM-MINT
(
Melissa officinalis
) contain an essential oil rich in citral, linalool, geraniol and citronellol, mono terpenes with a characteristic scent of citronella and strong
sedative and antispasmodic actions
. First,
it seems to exercise an exciting action
,
and in a second time a hypnotic-sedative action
. It also has got an antithyroid activity by inhibiting the binding of TSH hormone with membrane receptors.
HAWTHORN
has some kinds of
flavonoids
that play
sedative and antispasmodic action at the central nervous system level
,
reducing the excitability
,
with disappearance of cephalalgy and sleep disorders
. Useful for symptoms of menopause (also accompanied by tachycardia).
HOPS
(
Humulus lupulus
) contains phloroglucinol bitter acids and an essential oil consisting of terpene alcohols that have
sedative sleep and antispasmodic properties
.
Therefore, it is useful in sharing and spasmophilia caused by menopause.
LIME-TREE
(
Tilia vulgaris
) is a
sedative, anxiolytic and antispasmodic remedy
.
Pharmacological experiments have showed that it develops calming properties comparable to those of a tranquilizer benzodiazepines based
.
The Lime Tree, such as hawthorn, is anxiolytic neurosedative and avoids the nutrient imbalances due to an excess of anguish or existential depression
. Because of his spastic action it is also useful for spastic colitis. Effective in cardiovascular arrhythmias,
insomnia, anxiety and obsessional neurosis
,
hyperthyroidism, gastralgia
.
CALIFORNIA POPPY
(
Eschscholtzia californica
) is the
typical phytotherapic remedy for insomnia
.
HOGWEED
(
Heracleum sphondilium
) would contain, according to some authors, a acrid principle so called eraclina which would
be responsible for the sedative effect on the nervous system.
The tincture would give satisfactory results especially if subministred to subjects suffering for asthenia due to physical travails.
From the plants described above it is possible to obtain
TSA
(
Spagyric-Alchemical Tinctures
) with extraction ratio 1 to 10 (
RE 1/10
), if you follow the indications given by Solanimus in his book "
ALCHIMIA e SPAGYRIA: admirabiles et inseparabiles Artes!
", where some practical notions of Spagyria and Alchemy are very well described.
BIBLIOGRAPHY
:
- Ernesto Riva - "
L'universo delle PIANTE MEDICINALI trattato storico, botanico e farmacologico di 400 piante di tutto il mondo
" - Ghedina & Tassotti editori s.r.l. - Bassano del Grappa (VI), Maggio 1995.
- Tina Cecchini –
Enciclopedia delle erbe medicinali
, ………… - DE VECCHI EDITORE
- Alberto Fidi -
Erbe e Piante medicinali
- FRATELLI MELITA EDITORI
- AA.VV. -
Enciclopedia chimica
– USES ed., Firenze
- Benigni R., Capra C., Cattorini P.E. –
Piante medicinali: chimica, farmacologia e terapia
– Inverni della beffa ed, Milano.
- Duraffourd C., D'Ervicourt L., Lapraz J.C. –
Cahieres de Phytotérapie clinique
– Masson ed., Paris 1983
- Maugini E. –
Botanica farmaceutica
– CLUSF ed., Firenze 1976
- Pomini L. –
Erboristeria italiana
– Vitalità ed
- Penso G. –
Piante medicinali nella terapia medica
– Org. Med. Farm. Ed., Milano
- Enrica Campanili –
Dizionario di fitoterapia e piante medicinali
– Tecniche Nuove - MI
- Larousse - "
Encyclopédie des PLANTES MÉDICINALES identification, préparations, soins
" - Larousse-Bordas – 1997
- Tom Wilsons - "
Guarire con le erbe, i consigli, le malattie, le ricette, le dosi nella più ricca raccolta di erboristeria
" - Fratelli Melita Editori
---