BRONSOL Syrup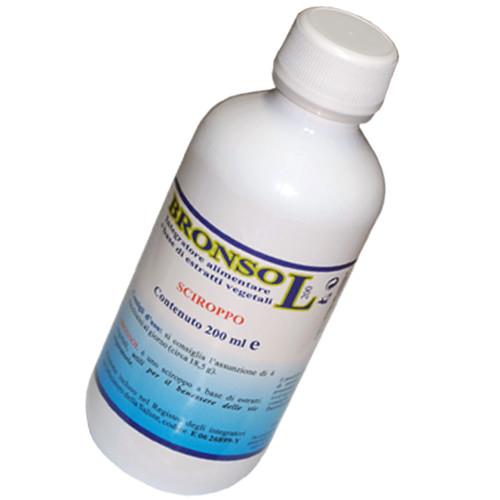 HERBAL COMPONENTS CONTENT FOR

4

TEASPOON:
Acacia honey, depurated water, fluid extract of Mallow (
Malva sylvestris
) leaves
370
mg, fluid extract of Common Lime (
Tilia cordata
) flowers
370
mg. Essential oils
of Mint (
Mentha piperita
) leaves
37
mg, Scots pine (
Pinus sylvestris
) leaves
27.75
mg, Thyme (
Thymus vulgaris
) bloomy apexes
18.50
mg, Juniper (
Juniperus communis
) leaves
9.25
mg.
Product included in the Register of supplements of the Italian Health Ministry,
Code

26899
.
Product included in the register of supplements of the Spanish Ministry of Health,
code 0599E/11116/2016
.
BRONSOL
is a syrup based on acacia honey and plant extracts. MALLOW
contributes to the fluidity of bronchial secretions.
THYME
has emollient and lenitive actions allowing regular functionality of the oropharynsia mucosa and tone of the voice
. LIME
contributes to the functionality of respiratory system mucosa and to the well-being of nose and throat
. PINE
contributes to the well-being of nose and throat as much as thyme and also performs a balsamic effect
. MINT
contributes to the functionality of the first airways.
RECOMMANDATIONS FOR USE:
We recommend taking 4 teaspoons a day (about 18.5 g).
WARNINGS
: Keep out of reach of children under three years. Do not exceed the recommended daily dose. The product should be used in a varied and balanced diet and a healthy lifestyle.

NOTES: HONEY is the food substance that bees produce from nectar of blossoms or from secretions of plants living parts they collect, transform, combine with their own substances and lay in their own honey comb. Inside the hive, from a bee to another one numerous exchanges occur and these exchanges allow a gradual maturing and enrichment of enzymes derived from glandular secretions of the bees themselves. Main components of honey are: fructose, glucose, water, sugar and other different substances including organic acids, minerals, enzymes, herbs and more. Honey is a food with high nutritional value and easily digestible. Glucose provides energy for immediate use, fructose is metabolized at hepatic level and constitutes an energy reserve. SCOTS PINE (Pinus sylvestris) contains an essence known as Siberian dwarf pine essence or Mugo Pine essence; substances with antiseptic, balsamic and secretolytic action indicating their activity for the respiratory system only. MALLOW (Malva sylvestris), in its flowers and leaves, contains mucilage and a anthocyanic glucoside named Malvinas. This active principle give mallow an emollient very interesting action. The mucilage acts calming mucous membranes inflammation, protecting them from stimulus and preventing absorption of irritants substances in contact with their surface. COMMON LIME (Tilia europea) contains mucilage and, in its bracts and flowers contains an essential oil; the drug also contains quercetin, tiliroside and tilianin, which give this plant the feature to be: a good anticatarrhal emollient (mucilages). The most important action of THYME (Thymus serpyllum) is an expectorant action and it is successfully used in the treatment of catarrhal diseases of respiratory tract with cough.
BIBLIOGRAPHY:
- Ernesto Riva - "L'universo delle PIANTE MEDICINALI trattato storico, botanico e farmacologico di 400 piante di tutto il mondo" - Ghedina & Tassotti editori s.r.l. - Bassano del Grappa (VI), Maggio 1995.
- Tina Cecchini – Enciclopedia delle erbe medicinali, ………… - DE VECCHI EDITORE
- Padre Gianfranco Lazzari - L'Erbario del Frate - EDIZIONI S. MARCO LITOTIPO
- Alberto Fidi - Erbe e Piante medicinali - FRATELLI MELITA EDITORI
- AA.VV. - Enciclopedia chimica – USES ed., Firenze
- Benigni R., Capra C., Cattorini P.E. – Piante medicinali: chimica, farmacologia e terapia – Inverni della beffa ed, Milano.
- Duraffourd C., D'Ervicourt L., Lapraz J.C. – Cahieres de Phytotérapie clinique – Masson ed., Paris 1983
- Maugini E. – Botanica farmaceutica – CLUSF ed., Firenze 1976
- Pomini L. – Erboristeria italiana – Vitalità ed
- Valnet J., Duraffourd C., Lapraz J.C. – Phytotérapie et aromatherapie – Presse de la Renaissance, Paris 1978
- Penso G. – Piante medicinali nella terapia medica – Org. Med. Farm. Ed., Milano
- Enrica Campanili – Dizionario di fitoterapia e piante medicinali – Tecniche Nuove - MI
- Larousse - "Encyclopédie des PLANTES MÉDICINALES identification, préparations, soins" - Larousse-Bordas – 1997
- Tom Wilsons - "Guarire con le erbe, i consigli, le malattie, le ricette, le dosi nella più ricca raccolta di erboristeria" - Fratelli Melita Editori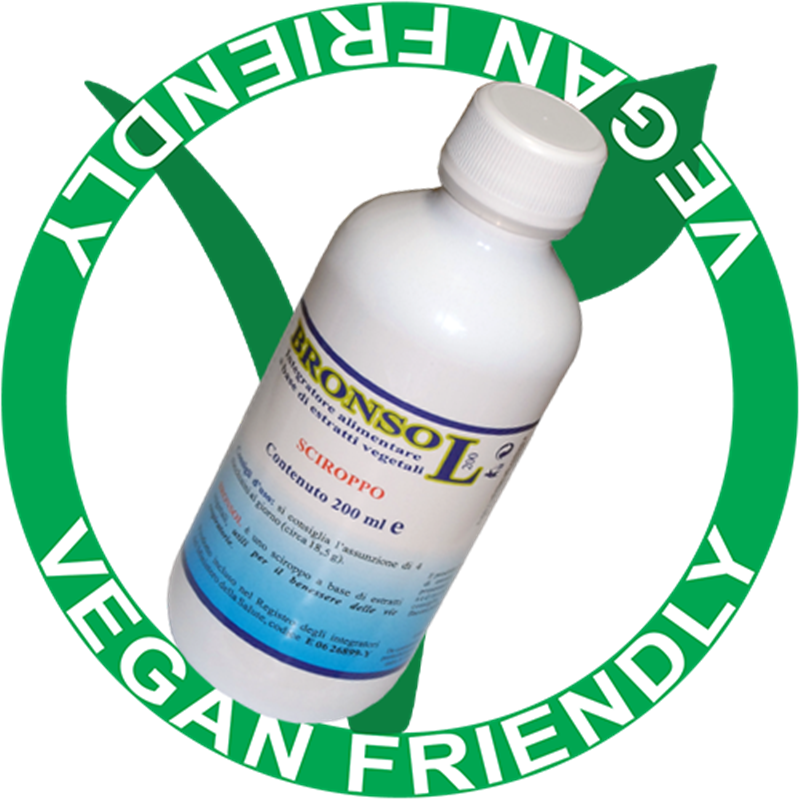 ---