HS 214 - VITIS COMP. - Preservation of cartilage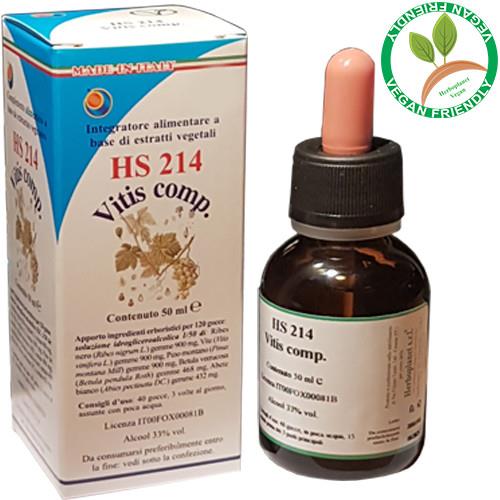 Product VEGAN FRIENDLY
HERBAL COMPONENTS CONTENT FOR

120

DROPS
:
MSA (Spagyric-Alchemical Macerated E.R.

1/50

)
of: Blackcurrant (
Ribes nigrum L.
) buds
900
mg, Common Grape Vine (
Vitis vinifera L.
) buds
900
mg, Mountain Pine (
Pinus montana Mill.
) buds
900
mg, Silver Birch (
Betulla verrucosa Ehrardt
) buds
468
mg, Silver Fir (
Abies pectinata DC.
) buds
432
mg.
Product included in the Register of supplements of the Italian Health Ministry,
code 90123
.
Product included in the Register of supplements of the Spanish Health Ministry,
code 0599E/14866/2015
.
Product included in the Register of supplements of the French Health Ministry,
code 2016-6-240
.
Product included in the Register of supplements of the Belgian Health Ministry,
code
PL 1653/37
.
VITIS HS

214

COMP.
is a food supplement based on plant extracts that
supports the preservation of cartilage
.
SUGGESTIONS OF USE
: 40 drops in some water, 15 minutes before the 3 main meals.
WARNINGS
: Keep out of reach of children under three years. Do not exceed the recommended daily dose. The product should be used in a varied and balanced diet, and healthy lifestyle.
NOTES ON SOME PLANTS
:
RIBES NIGRUM
(
buds
) neutralizes inflammatory condition caused by the articular damage. Its action is cortisone-like one, steroids or not, but this cortisone-like plant does not present its iatrogenic side effects. Its anti-inflammatory action also involves tendons and ligaments, improving their fluency.
It has got a diuretic action
.
PINUS MONTANA
(
buds
)
acts on the cartilage of joints
,
keeping its trophism
,
thus slowing its wear
.
VITIS VINIFERA
(
buds
) acts on each newly-former process. It's the remedy par excellence of chronic and recurrent inflammatory states.
BETULA VERRUCOSA
(
buds
)
it has a tonic action significantly evident in young subjects, is a draining and anti-inflammatory in rheumatic syndromes
.
ABIES PECTINATA
(
buds
) is an excellent mineralizing and
an anti-inflammatory at lymphatic plexuses level
.
It stimulates fission of calcium.
From the plants described above it is possible to obtain
MSA
(
Spagyric-Alchemical Macerates
)
with extraction ratio 1 to 50
(
RE 1/50
) if you follow the indications given by
Solanimus
in his book "
ALCHIMIA e SPAGYRIA: admirabiles et inseparabiles Artes!
", where some practical notions of Spagyria or Spagyrya and Alchemy are very well described.
BIBLIOGRAPHY
:
- Fernando Piterà - "
Compendio di GEMMOTERAPIA CLINICA
" - De Ferrari Editor
- Ernesto Riva - "
L'universo delle PIANTE MEDICINALI trattato storico, botanico e farmacologico di 400 piante di tutto il mondo
" - Ghedina & Tassotti editori s.r.l. - Bassano del Grappa (VI), Maggio 1995.
- Tina Cecchini –
Enciclopedia delle erbe medicinali
, ………… - DE VECCHI EDITORE
- Padre Gianfranco Lazzari -
L'Erbario del Frate
- EDIZIONI S. MARCO LITOTIPO
- Alberto Fidi -
Erbe e Piante medicinali
- FRATELLI MELITA EDITORI
- AA.VV. -
Enciclopedia chimica
– USES ed., Firenze
- Benigni R., Capra C., Cattorini P.E. –
Piante medicinali: chimica, farmacologia e terapia
– Inverni della beffa ed, Milano.
- Duraffourd C., D'Ervicourt L., Lapraz J.C. –
Cahieres de Phytotérapie clinique
– Masson ed., Paris 1983
- Maugini E. –
Botanica farmaceutica
– CLUSF ed., Firenze 1976
- Pomini L. –
Erboristeria italiana
– Vitalità ed
- Valnet J., Duraffourd C., Lapraz J.C. –
Phytotérapie et aromatherapie
– Presse de la Renaissance, Paris 1978
- Massari E. –
Erbe in Cina
– Milano 1981
- Penso G. –
Piante medicinali nella terapia medica
– Org. Med. Farm. Ed., Milano
- Enrica Campanili –
Dizionario di fitoterapia e piante medicinali
– Tecniche Nuove - MI
- Max Tètau - "
Gemmoterapia nuovi studi clinici
" - NUOVA IPSA Editore srl - Palermo, 1989
- Larousse - "
Encyclopédie des PLANTES MÉDICINALES identification, préparations, soins
" - Larousse-Bordas – 1997
- Tom Wilsons - "
Guarire con le erbe, i consigli, le malattie, le ricette, le dosi nella più ricca raccolta di erboristeria
" - Fratelli Melita Editori
- Dr. G. Fort - "
Guide de traitement par les plantes médicinales et phytocosmétologie, soins de beauté
" - Editions Heures de France - Paris, 1976
---