AMENOSOL - Menstrual cycle disorders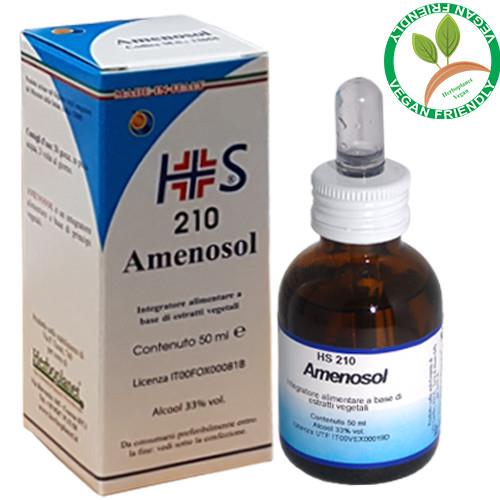 Product VEGAN FRIENDLY
HERBAL COMPONENTS CONTENT FOR

150

DROPS
:
MSA
(
Alchemical-Spagyric Macerata R.E.

1/5

0
) of: Raspberry (
Rubus Idaeus L.
) young shoots
2.4
17 g, Blackcurrant (
Ribes Nigrum L.
) buds
1.45
g, Fig (
Ficus carica L.
) buds
0.483
g, Rowan (
Sorbus domestica L.
) buds
0.483
g.
Product included in the Register of supplements of the Italian Health Ministry,
Code

13655
.
AMENOSOL
is a supplement based on herbal ingredients always known for their beneficial effects,
able to promote the normal functions of the female genital apparatus
.
SUGGESTIONS OF USE
:
30-50
drops, 3 times a day, in some water.
WARNINGS
: Keep out of reach of children under three years. Do not exceed the recommended daily dose. The product should be used as a part of a varied and balanced diet, and healthy lifestyle.
NOTES ON SOME PLANTS
: The hydro-glicero-alcoholic solutions has been made with the
alchemical spagyric method of Solanimus
(
M.S.A.
) which includes all the classic spagyrical phases with the final addition of a specific phase of the alchemical philosophy. We have joint spagyrics and Alchemy to get the best from plant.
RUBUS IDAEUS
(
sprouts
) contains a mixture of muscle relaxant substance and
it's an effective uterine antispasmodic
.
It is active on the pains appearing at the beginning of menstruation or just before and decreasing or disappearing when it reaches the full flow
.
Fragarin
, contained in Rubus Idaeus,
induces a uterine musculature relaxation, so much so that secondary contractions are nullified.
The action of
RIBES NIGRUM
(
buds
)
is exercised at cortical adrenal level, spurring it to secrete anti-inflammatory hormones.
SORBUS DOMESTICA
(
buds
) is an excellent regulator of venous system circulation by fighting its congestive phenomena. It tones venous walls.
Typical female remedy indicated in circulatory disorders due to menopause, in venous hypertension, in phlebitis, varicose veins and in heavy legs cases.
FICUS CARICA
(
buds
)
has a targeted cortical-diencephalon axis action, normalizing its functions. Being a cortical-hypotalamic axis regulator, it's useful during psychosomatic appearances with spasmophilia and neuralgias.
BIBLIOGRAFIA
:
- Fernando Piterà - "
Compendio di GEMMOTERAPIA CLINICA
" - De Ferrari Editor
- Ernesto Riva - "
L'universo delle PIANTE MEDICINALI trattato storico, botanico e farmacologico di 400 piante di tutto il mondo
" - Ghedina & Tassotti editori s.r.l. - Bassano del Grappa (VI), Maggio 1995.
- Tina Cecchini –
Enciclopedia delle erbe medicinali
, ………… - DE VECCHI EDITORE
- Padre Gianfranco Lazzari -
L'Erbario del Frate
- EDIZIONI S. MARCO LITOTIPO
- Alberto Fidi -
Erbe e Piante medicinali
- FRATELLI MELITA EDITORI
- AA.VV. -
Enciclopedia chimica
– USES ed., Firenze
- Benigni R., Capra C., Cattorini P.E. –
Piante medicinali: chimica, farmacologia e terapia
– Inverni della beffa ed, Milano.
- Duraffourd C., D'Ervicourt L., Lapraz J.C. –
Cahieres de Phytotérapie clinique
– Masson ed., Paris 1983
- Maugini E. –
Botanica farmaceutica
– CLUSF ed., Firenze 1976
- Pomini L. –
Erboristeria italiana
– Vitalità ed
- Valnet J., Duraffourd C., Lapraz J.C. –
Phytotérapie et aromatherapie
– Presse de la Renaissance, Paris 1978
- Massari E. –
Erbe in Cina
– Milano 1981
- Penso G. –
Piante medicinali nella terapia medica
– Org. Med. Farm. Ed., Milano
- Enrica Campanili –
Dizionario di fitoterapia e piante medicinali
– Tecniche Nuove - MI
- Max Tètau - "
Gemmoterapia nuovi studi clinici
" - NUOVA IPSA Editore srl - Palermo, 1989
- Larousse - "
Encyclopédie des PLANTES MÉDICINALES identification, préparations, soins
" - Larousse-Bordas – 1997
- Tom Wilsons - "
Guarire con le erbe, i consigli, le malattie, le ricette, le dosi nella più ricca raccolta di erboristeria
" - Fratelli Melita Editori
---