RINOPLUS - Well-being of nose and throat.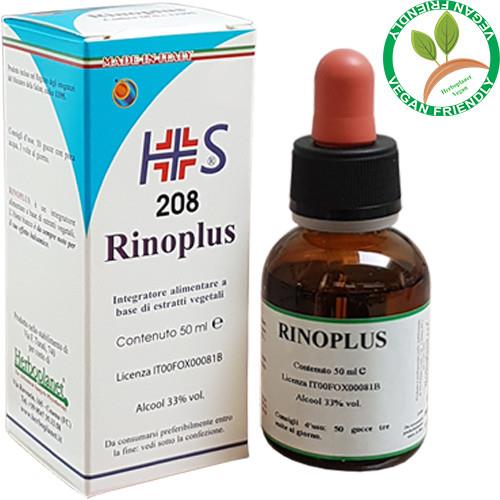 Product VEGAN FRIENDLY - Price: € 18,90
HERBAL COMPONENTS CONTENT FOR

150

DROPS
:
MSA
(
Spagyric-Alchemical Macerated ER
1/50
)
of: Blackcurrant (
Ribes nigrum L.
) buds
3,384
g, Dog Rose (
Rosa canina L.
) buds
1,169
g, Silver fir (
Abies pectinata DC
) buds
0,242
Product included in the Register of supplements of the Italian Health Ministry, Code
13395
.
Product included in the Register of supplements of the French Ministry of Health,
Code
2016-6-183
.
Product included in the Register of supplements of the Belgian Health Ministry, Code PL 1653/60.
RINOPLUS
is a food supplement based on plant extracts. The SILVER FIR has always been known for its balsamic effect. The leaves of BLACKCURRANT contribute to the wellbeing of the nose and throat.
SUGGESTIONS OF USE
:
50
drops,
3
times a day, in some water.
WARNINGS
: Keep out of reach of children under three years. Do not exceed the recommended daily dose. The product should be used in a varied and balanced diet and a healthy lifestyle.
NOTES ON SOME PLANTS: (
b

uds
)
is the typical remedy for allergies, chronic gouty conditions and minor hyperazotaemic renal insufficiency. Blackcurrant is the remedy for each acute adynamic syndrome and is indispensable for increasing corticosteroid rate. Its field of action is at adrenocortical level about which it is supposed to stimulate anti-inflammatory hormones secretion. Acting on direct stimulation of adrenal cortex, it doesn't have iatrogenic disadvantages of corticoids; besides, it doesn't cause drowsiness
.About allergies, blackcurrant action may be enhanced by using an hepato-vesicular and renal drainage.
DOG
ROSE
(
buds
)
strengthens body's defence
;
it's valuable in treating of migraines and headaches
,
especially the resistant ones to most traditional therapies in which
,
often
,
an allergic component takes part
.
In these cases, it's interesting associating it with blackcurrant for it completes its own corticoadrenal stimulation and with Silver Lime (Tilia tomentosa
)
which acts as a natural tranquilizer
.
ABIES PECTINATA
(buds)
is an excellent pediatric remedy.
From the plants described above it is possible to obtain
MSA
(
Spagyric-Alchemical Macerates
)
with extraction ratio 1 to 50
(
RE 1/50
) if you follow the indications given by
Solanimus
in his book "
ALCHIMIA e SPAGYRIA: admirabiles et inseparabiles Artes!
", where some practical notions of Spagyria or Spagyrya and Alchemy are very well described.
BIBLIOGRAPHY
:
- Fernando Piterà - "
Compendio di GEMMOTERAPIA CL
INICA" - De Ferrari Editor
- Ernesto Riva - "
L'universo delle PIANTE MEDICINALI trattato storico, botanico e farmacologico di 400 piante di tutto il mondo
" - Ghedina & Tassotti editori s.r.l. - Bassano del Grappa (VI), Maggio 1995.
- Tina Cecchini –
Enciclopedia delle erbe medicinali
, ………… - DE VECCHI EDITORE
- Padre Gianfranco Lazzari –
L'Erbario del Frate
– EDIZIONI S. MARCO LITOTIPO
- Alberto Fidi –
Erbe e Piante medicinali
- FRATELLI MELITA EDITORI
- AA.VV. –
Enciclopedia chimica
– USES ed., Firenze
- Benigni R., Capra C., Cattorini P.E. –
Piante medicinali: chimica, farmacologia e terapia
– Inverni della beffa ed, Milano.
- Duraffourd C., D'Ervicourt L., Lapraz J.C. –
Cahieres de Phytotérapie clinique
– Masson ed., Paris 1983
- Maugini E. –
Botanica farmaceutica
– CLUSF ed., Firenze 1976
- Pomini L. –
Erboristeria italiana
– Vitalità ed
- Valnet J., Duraffourd C., Lapraz J.C. –
Phytotérapie et aromatherapie
– Presse de la Renaissance, Paris 1978
- Massari E. –
Erbe in Cina
– Milano 1981
- Penso G. –
Piante medicinali nella terapia medica
– Org. Med. Farm. Ed., Milano
- Enrica Campanili –
Dizionario di fitoterapia e piante medicinali
– Tecniche Nuove - MI
- Max Tètau - "
Gemmoterapia nuovi studi clinici
" - NUOVA IPSA Editore srl - Palermo, 1989
- Larousse - "
Encyclopédie des PLANTES MÉDICINALES identification, préparations, so
ins" - Larousse-Bordas – 1997
- Tom Wilsons - "
Guarire con le erbe, i consigli, le malattie, le ricette, le dosi nella più ricca raccolta di erboristeria
" - Fratelli Melita Editori
- Dr. G. Fort - "
Guide de traitement par les plantes médicinales et phytocosmétologie, soins de beauté
" - Editions Heures de France - Paris, 1976
---