MINERALSOL new - Memory and cognetive functions, relaxation for stress and mental well-being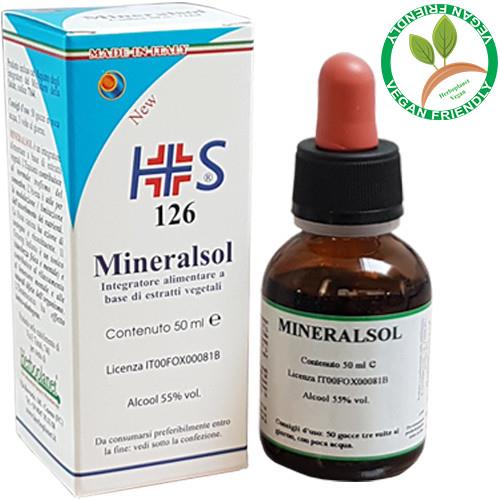 HERBAL COMPONENTS CONTENT FOR 150 DROPS: TSA (Spagyric-Alchemical Tincture by Solanimus E.R 1:5) of: Horsetail (Equisetum arvense L.) plant 1.15 g, Oats (Avena sativa L.) fruits 1.15 g, Rose Hips (Rosa canina L.) fruits 1.15 g, China (Cinchona calisaya Wedd.) bark 0.73 g, Indian Ginseng (Withania somnifera (L.) Dunal.) plant 0.53 g, Eleutherococcus (Eleutherococcus senticosus Maxim.) root 0.31 g, Anise (Pimpinella anisum L.) fruits 0.21 g.
Product included in the Italian Health Ministry food supplements Register, code 7164.
MINERALSOL
is a food supplement based on herbal extracts.
ELEUTHEROCOCCUS
helps support memory and cognitive function
.
ROSE HIPS
contributes to the supporting action
;
restorative
. HOGWEED
promotes toning action and the metabolic support
.
HORSETAIL
promotes normal tropism of the connective and hair and nail health
.
OATS
promotes relaxation in case of stress and mental well-being
.
CAUTIONS: keep out of the reach of children under the age of three years. Do not exceed the recommended daily dose. The product should be used in the context of a varied and well-balanced diet and a healthy lifestyle.
RECOMMENDATIONS FOR USE: 30-40 drops in some water, 3 times a day.
NOTES:
EQUISETUM ARVENSE
(
Horsetail
)
contains silicon in the form of
silica
(SiO
2
), and for the most part in a soluble and assimilable form, which intervenes in the development of the connective tissue by participating in the formation of bonds between proteins and mucopolysaccharides,
thus contributing to the integrity of the articular cartilages, arterial walls and regenerating the connective tissue, improving its elasticity.
The plant contains
equisetonin
(about 8%), which facilitates the absorption of the active principles and seems to be
able to stimulate the adrenal activity
and the biochemical processes of the use of silicates.
It makes the plant used for
inflammatory states, hypodiuresis, connective tissue diseases and mineral deficiencies.
AVENA SATIVA
(
Oats
) seeds contain saponins, alkaloids, trigonellina, silicic acid, starch, proteins, B-group vitamins and mineral salts, calcium for the most. It is indicated in wasting, as stimulant of neurovascular system and in digestive tract diseases.
ROSA CANINA
(
Rose Hips
) contains
Vitamins C, K, P, B1, B12 and A
, and carotenoids, pectin and tannins, thanks to its active principles has a
vessel protective action
(strengthened with the synergism of bioflavonoids), as well as
anti-inflammatory and diuretic actions
.
CINCHONA CALISAYA
(
China
) bark contains alkaloids (
quinine, quinidine, etc
.), glucosides, bitter triterpenic, tannins and quinic acid. The quinidine has got a moderating role in the activity of the heart, by decreasing the excitability of the heart and regularizing its pace. China is also used as
tonic
,
eupeptic, anti-fermentative, stimulating and neuro-tonic
.
It increases appetite, gastric and salivary secretion, gastric and intestinal motility and liver function
.
INDIAN GINSENG
or
ASHWAGANDH

A
(
Withania somnifera (L.) Dunal
.) is known in the Ayurvedic medical tradition as Ashwagandha. The plant grows spontaneously in India, but also in Italy (Sicily and Sardinia). The etymology of the word "
ashwagandha
" derives from the Sanskrit word "
ashva
", which means horse, and from "
gandha
", meaning odour, a name given to it by the fact that its root has a strong odour reminiscent of horse. It contains steroidal lactones (
Withanolides
), alkaloids (
Withanine
), Withaferin A, polysaccharides, aminoscids, etc. It has been known and used since ancient times by Ayurvedic medicine, as an
adaptogen, aphrodisiac, tonic for the liver and for its immunomodulatory and anti-inflammatory properties
. The tonic and adaptogenic properties are due to the withania alkaloid; that's why it is
able to increase the body's resistance to external stimuli (stress, tiredness, etc.).
Some studies have confirmed the anti-inflammatory and analgesic properties of the plant and this thanks to its steroids
. The plant, as confirmed in a study, is
useful in people stressed by the commitments of daily life and to whom it can give an invigorating and helping effect for concentration, in order to maintain attention and memory.
From the root of
ELEUTHEROCOCCU

S
(
Eleutherococcus senticosus
) many glycosides have been extracted, the most important of them are:
eleutherosides
(glucoside of the
V-sitosterol
),
eleutherosides B1
(
cumarinic glucoside
),
eleutherosides B, D, E
(glycosides of
syringaresinol
) and
eleutherosides I, K, L
(
triterpenic
of nature). Eleuterococcus is now considered a "
adaptogenic
", a complex of substances able of
balancing the cell homeostatic mechanisms through a stimulation of the synthesis of the mediators who preside over the normal operation of tissues and organs.
This is translated into an increase of the body in the ability to adapt itself to some adverse conditions that induce tiredness, anxiety, reduced immune defences effectiveness and metabolic imbalances. The result is a set of stimulating properties tending to protect the organism from the attack of stressful situations.
Eleutherococcus compounds have got an
anti fatigue action towards the physical and mental effort, making an increase in the resistance against stress and regulating the immunocompetence, especially during the periods preceding or subsequent to influenza pathologies
(M. Rossi,
Erb. Domani
, 5/87, p. 113).
PIMPINELLA ANISUM
(
Anise
) seeds contain essential oil (
70-90% of anethole, methylcavicol and other terpenes
), furanocumarin, flavonoids, fatty acids, sterols and proteins. The seeds, in addition to facilitate digestion, reduce flatulence and gastric dilatation, promoting lactation.
BIBLIOGRAPHY:
- Ernesto Riva - "L'universo delle PIANTE MEDICINALI trattato storico, botanico e farmacologico di 400 piante di tutto il mondo" - Ghedina & Tassotti editori s.r.l. - Bassano del Grappa (VI), Maggio 1995.
- Tina Cecchini – Enciclopedia delle erbe medicinali, ………… - DE VECCHI EDITORE
- Alberto Fidi - Erbe e Piante medicinali - FRATELLI MELITA EDITORI
- AA.VV. - Enciclopedia chimica – USES ed., Firenze
- Benigni R., Capra C., Cattorini P.E. – Piante medicinali: chimica, farmacologia e terapia – Inverni della beffa ed, Milano.
- Duraffourd C., D'Ervicourt L., Lapraz J.C. – Cahieres de Phytotérapie clinique – Masson ed., Paris 1983
- Maugini E. – Botanica farmaceutica – CLUSF ed., Firenze 1976
- Pomini L. – Erboristeria italiana – Vitalità ed
- Penso G. – Piante medicinali nella terapia medica – Org. Med. Farm. Ed., Milano
- Enrica Campanili – Dizionario di fitoterapia e piante medicinali – Tecniche Nuove - MI
- Larousse - "Encyclopédie des PLANTES MÉDICINALES identification, préparations, soins" - Larousse-Bordas – 1997
- Tom Wilsons - "Guarire con le erbe, i consigli, le malattie, le ricette, le dosi nella più ricca raccolta di erboristeria" - Fratelli Melita Editori
---