IMMUNOSOL C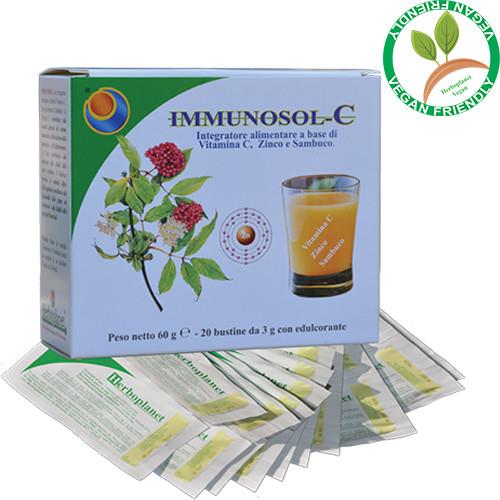 INGREDIENTS FOR 1 SACHET: Maltodextrin, Vitamin C (L-Ascorbic Acid) 1000 mg, Zinc gluconate (bringing in zinc 10 mg), Aroma, Elder fruit dry extract (Sambucus nigra L.) titrated at 15% in Anthocyanins 50 mg (bringing in Anthocyanins 7 mg), Carbonate sodium acid, Antiagglomerant agent: Silicon dioxide. Sweetener: Sucralose.

IMMUNOSOL C is a dietary supplement based on Vitamin C, Zinc and Elder extract. Vitamin C contributes to the normal function of the immune system and reduction of tiredness and fatigue. Zinc contributes to the protection of cells from oxidative stress. Elder promotes the body's natural defenses and contributes to the functionality of the first respiratory tract and the fluidity of bronchial secretions.

RECOMMENDATIONS FOR USE: 1 sachet per day to be dissolved in a glass of water (100-200 ml).

CAUTIONS: Keep children under three out of reach. Do not exceed the recommended daily dose. The product must be used as part of a varied and balanced diet and a healthy lifestyle. The use of the product is not recommended in case of allergy, presumed or verified, to one of its components.

NOTES:
VITAMIN C
belongs to the group of so-called water-soluble vitamins. A type of vitamins that can not be accumulated in the body, but must be regularly taken through nutrition. Vitamin C, or ascorbic acid, participates in many metabolic reactions and biosynthesis of amino acids, hormones and collagen. Thanks to its strong antioxidant powers
it raises the barriers of the immune system
and helps the body to prevent the risk of tumors, especially in the stomach, inhibiting the synthesis of carcinogenic substances. Its contribution is also essential for the
neutralisation of free radicals
. Vitamin C
is the most powerful antioxidant present in the blood plasma; it increases the immune defenses and inhibits the release of histamine, a molecule that is released when you have an allergic reaction and triggering the typical symptoms of an allergy, therefore it has an antiallergic action and helps to reduce the symptoms of asthma, often associated with allergies.
The benefits against bronchial hypersensitivity are also known. Several studies have suggested that Vitamin C
helps to control colds by shortening their course
, thus also relieving the symptoms of cold-induced asthma. In addition, other studies have shown that prophylaxis with
1 gram per day of Vitamin C can help to reduce the duration and severity of respiratory symptoms
(
cold, sore throat, bronchitis), thus indicating that Vitamin C plays a role in the mechanisms of respiratory defense
. It was already known since the '70s that ascorbic acid could affect the immune system. The effect on the production of certain immunoglobulin isotypes has been recognized, for example, by Prinz et al (1). Numerous clinical trials have confirmed the anti-inflammatory effects of ascorbic acid in human volunteers, the intake of this after stimulation of the immune system by a beat or virus has been shown to cause multiple movements of cytokines analyzed, leading to a reduction of IL-6 and TNF- alpha (2).
Webb and Villamor reported in their scientific publication that ascorbic acid supplements are convenient pharmacological tools for modulation of adaptive and innate immunity. Integration of natural products containing ascorbic acid leads to inhibitory effects on the replication of flu virus (3).
It improves the assimilation of iron and calcium
, fights free radicals, fortifies the walls of the arteries and capillary vessels, contributing to the production of collagen that constitutes the structure of all tissues of the body
(muscles, epidermis, blood vessels, bones, cartilage, teeth
)
and is necessary for their normal functions.
A clinical trial in 2016 showed, for the first time, that
a low concentration of Vitamin C is linked to a reduction in physical performance and an increase in oxidative stress (4
). Discoveries of scientists such as U. Weser, D. Seeber and R. Warnecke confirm the hypothesis, formulated in previous studies, that "
ZINC
,
a trace mineral, is involved in every aspect of the health of every living being
". Zinc
contributes to normal cognitive function, normal DNA synthesis, normal fertility and normal reproduction, normal vitamin A metabolism, normal protein synthesis, maintenance of normal hair, nails and skin. Zinc also contributes to the maintenance of normal testosterone levels in the blood, the maintenance of normal visual capacity as well as the normal function of the immune system and the protection of cells from oxidative stress.
ELDER
(Sambucus nigra) contributes to the body's natural defenses, drainage of body fluids, fluidity of bronchial secretions and function of the first respiratory tract. Not to be forgotten is also its contribution to the regularity of the sweating process.
1). (Prinz, W.; Bortz, R.; Bregin, B.; Hersch, M. "
The effect of ascorbic acid supplementation on some parameters of the human immunological defence system
". Int J. Vitam. Nutr. Res., 1977, 47,248-257.)
2). (Tan, P.H.; Sagoo, P.; Chan, C.; Chan, C.; Yates, J.B.; Campbell, J.; Beutelspacher, S.C.,; Foxwell, B.M.; Lombardi, G.; George, A.J. "
Inhibition of NF-kappa B and oxidative pathways in human dendritic cells by antioxidative vitamins generates regulatory T cells
." J. Immunol., 2005, 174, 7633-7644)
3). (Jariwalla, R.J.; Roomi, M.W.; Gangapurkar, B.; Kalinovski, T.; Niedzwiecki, A.; Rath, M. "
Suppression of influenza A virus nuclear antigen production and neuraminidase activity by a nutrient mixture containing ascorbic acid, green tea extract and amino acids
." Biofactors, 2007, 31, 1-15.)
4). (Webb, A.L.; Villamor, E. Update: "
Effects of antioxidant and nonantioxidant vitamin supplementation on immune function
." Nutr. Rev., 2007, 65, 181-217.)
5). Randomized Controlled Trial Eur J Nutr . 2016 Feb;55(1):45-53. doi: 10.1007/s00394-014-0821-x. Epub 2014 Dec 20. "
Low Vitamin C Values Are Linked With Decreased Physical Performance and Increased Oxidative Stress: Reversal by Vitamin C Supplementation
"
Vassilis Paschalis 1 2, Anastasios A Theodorou 2, Antonios Kyparos 3, Konstantina Dipla 3, Andreas Zafeiridis 3, George Panayiotou 2, Ioannis S Vrabas 3, Michalis G Nikolaidis 4 6). Cochrane Database Syst Rev. 2013 Jun 18;(6):CD001364. doi: 10.1002/ 14651858.
CD001364.pub4. "
Zinc for the common cold
" Meenu Singh 1, Rashmi R Das Affiliations expand PMID: 23775705 DOI: 10.1002/14651858.CD001364.pub4
---