FIBROALGIL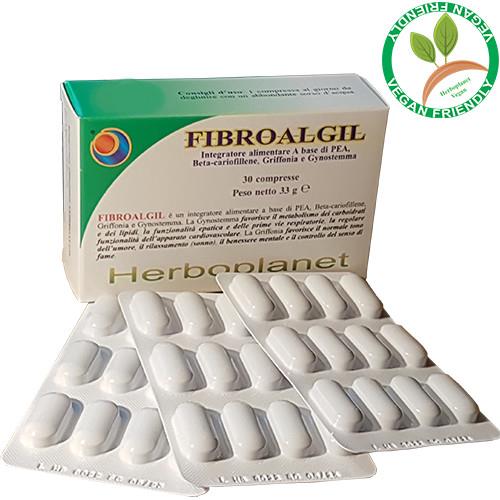 VEGAN FRIENDLY Product
To be purchased in Pharmacy or Herbalist's Shop

INGREDIENTS FOR 1 TABLETS:
PEA (
Palmitoilelalamide
). REPHYLL®: Black pepper dried extract entitled at 6% in Beta-cariophillene (
Piper nigrum L.
oil, Sunflower Lecithin, Modified Starch,
Curcuma longa L
. rhizome aqueous exstr.) 300 mg (
bringing in Beta-cariophillene 18 mg
). Griffonia seeds dry extract (
Griffonia Simplicifolia (DC.) Baill
.) titrated at 20% in 5- Hydroxytriptophan (
bringing in 5- Hydroxytriptophan 50 mg
). Charge agent: cellulose microcrystalline. Gynostemma grass dry extract (
Gynostemma pentaphyllum Thunb makino
) titrated at 80% gypenosides (
bringing in Gypenosides 80 mg
), Anticaking Agents: silicon dioxide, fat acid of magnesium salts.
FIBROALGIL
is a dietary supplement based on PEA, Beta-cariophyll, Griffonia and Gynostemma. Gynostemma
promotes liver function and regular cardiovascular function
. Griffonia
promotes normal mood tone, relaxation (sleep) and mental well-being.
RECOMMENDATIONS FOR USE:
1 tablet a day to be swallowed with a generous sip of water.
CAUTIONS:
Keep out of reach of children under the age of three. Do not exceed the recommended daily dose. The product should be used as part of a varied and balanced diet and a healthy lifestyle. The product does not replace a varied diet. It must be used as part of a proper low-calorie diet following a healthy lifestyle with a good level of physical activity. If the diet is followed for prolonged periods, more than three weeks, it is advisable to hear the advice of the doctor.
NOTES ON SOME PLANTS AND MOLECULES:
PALMITOILETANOLAMIDE
(PEA)
is a fatty acid with proven anti-inflammatory and pain-relieving properties, particularly at the level of nervous system
.
BETA-CARYOPHYLLENE
is a terpene, synthesized by some plants such as
Cannabis sativa and Piper nigrum. This molecule has numerous pharmacological properties such as anti-inflammatory, neuroprotective, antioxidants, gastro-protective and potentially anti-cancer properties that are relevant.
These are due to numerous mechanisms of action. Among these mechanisms is we highlight its
ability to act as agonist
(at endocannabinoid system level)
of CB2 receptors present in the immune system, bones, skin and glial cells of the nervous system. It does not bind to CB1 receptors, so it is not psychotropic. The role of CB2 receptors in nociception is widely documented, so the pain-relieving abilities of this molecule are not surprising. More and more evidences are emerging about the possibility of using Beta-Caryophyllene in the integrated treatment of numerous chronic diseases.
GRIFFONIA SIMPLICIFOLIA
is a plant from Africa, it is used because in its principles is present the
5-hydroxytryptophan
(5-HT),
precursor of serotonin, neurotransmitter responsible for mood tone at central nervous system level.
Low levels of 5-HT are associated with various forms of depression, anxiety, panic attacks, headache and insomnia. In particular with regard to the circadian cycle, we know that 5-HTP is also the precursor to melatonin,
which is crucial for good quality sleep,
and also interesting because of its function as a cerebral detoxifying. Finally, 5-HTP is also effective in neurological abdominal pains.
There are countless properties of the
GYNOSTEMMA PENTAPHYLLUM
(
also called jiaogulan
), already known at the time of the Ming Dynasty (1300 BC) and cited as "the
herb of immortality
".
Gynostemma
, rich in triterpene soaps, various flavonoids and gypenosides, is a
powerful anti-inflammatory that can reduce pain and inflammation.
The plant has adaptogen properties, capable of modulating the resistance and defenses of the body, stimulating it to react to stressful situations. It increases immune defenses, reduces cholesterol and blood sugar levels and counteracts free radicals by performing an important anti-ageing action.
The leaves of the plant act in different parts of the body mitigating pains: headaches, rheumatic pains, etc..
Most of its "beneficial" effects come from induction of antioxidant enzymes and from the protection of cells from oxidative damage over time.
Gynostemma
protects and purifies the body from toxins.
BIBLIOGRAPHY
:
1. "Characterization of a novel alkali-soluble heteropolysaccharide from tetraploid Gynostemma pentaphyllum Makino and its potential anti-inflammatory and antioxidant properties"; Niu Y et al.; Apr 30;62(17):3783-90. doi: 10.1021/jf500438s. Epub 2014 Apr 18.
2. "Immunomodulatory and Antioxidant Effects of Polysaccharides from Gynostemma pentaphyllum Makino in Immunosuppressed Mice"; Shang X et al.; Molecules. 2016
3. "An HPLC method for the direct assay of the serotonin precursor, 5-hydroxytrophan, in seeds of Griffonia simplicifolia". Lemaire PA & Adosraku RK.; Phytochem Anal. 2002
4. "Anxiolytic-like effect of Griffonia simplicifolia Baill. seed extract in rats". Carnevale G et al.; Phytomedicine. 2011.
5. Phytother Res. 2018 Dec;32(12):2376-2388. doi: 10.1002/ptr.6199. Epub 2018 Oct 3. "A systematic review on the neuroprotective perspectives of beta-caryophyllene." Machado KDC1 et al.
6. Curr Pain Headache Rep (2014) 18:451 DOI 10.1007/s11916-014-0451-2. "Cannabinoids for Neuropathic Pain". Perry G. Fine & Mark J. Rosenfeld
7. Curr Pharm Des. 2016;22(21):3237-64. "Polypharmacological Properties and Therapeutic Potential of -Caryophyllene: A Dietary Phytocannabinoid of Pharmaceutical Promise." Sharma C, Al Kaabi JM, Nurulain SM, Goyal SN, Kamal MA, Ojha S1
8. Proc Natl Acad Sci U S A. 2008 Jul 1; 105(26): 9099–9104. "Beta-caryophyllene is a dietary cannabinoid". Jürg Gertsch, et al.
9. Pain Physician. 2017 Jul;20(5):353-362. "Efficacy of Palmitoylethanolamide for Pain: A Meta-Analysis." Artukoglu BB1, Beyer C1, Zuloff-Shani A2, Brener E2, Bloch MH1.
10. Syst Rev. 2019; 8: 9. . Published online 2019 Jan 8. doi: 10.1186/s13643-018-0934-z "Clinical applications of palmitoylethanolamide in pain management: protocol for a scoping review Maria Beatrice Passavanti,1 Aniello Alfieri,1 Maria Caterina". Pace,1 Vincenzo Pota,1 Pasquale Sansone,1 Giacomo Piccinno,1 Manlio Barbarisi,2 Caterina Aurilio,1 and Marco Fiore 1
---