DISBIO-M - Lipid Metabolism, Body Weight Balance, Digestive Function.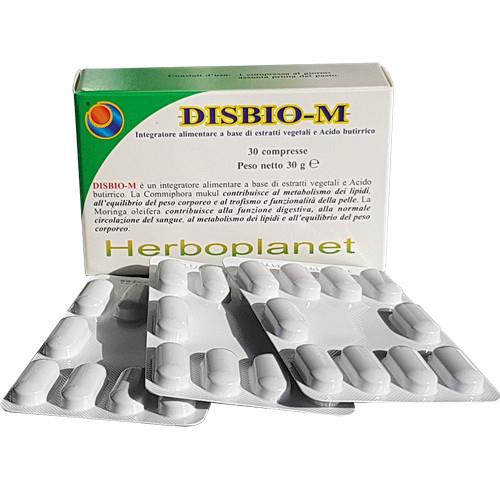 INGREDIENTS FOR 1 TABLET:
Dry extracts of: Indian barberry (
Berberis aristata DC
)
bark titrated at 85% in Berberine
335 mg (
bringing in Berberine 300 mg
), Guggul (
Commiphora mukul Engl
.) Oleum-gummi-resin
titrated at 10% in guggulipids
200 mg (
bringing in guggulipids 20 mg
). Sodium butyrate 79,1% (butyric acid) 189,6 mg (
bringing in Butyric acid 150 mg
). Bulking agent: microcrystalline cellulose. Horseradish tree (
Moringa oleifera Lam
.) seeds, dry
extract titrated at 10% in glycoside and 40% in polysaccharides
100 mg (
bringing in glycosides 10 mg and in polysaccharides 40 mg
). Anti-caking agents: silicon dioxide, magnesium salts of fatty acids.
VEGAN FRIENDLY
product - Product included in the Italian Ministry of Health's Supplement Register,
code 126778
.
DISBIO-M
is a dietary supplement based on plant extracts and butirric acid.
Commiphora mukul
contributes to lipid metabolism, body weight balance and skin trophism and functionality.
Moringa oleifera
contributes to digestive function, normal blood circulation, lipid metabolism and body weight balance.
RECOMMENDATIONS FOR USE:
1 tablet a day or according to the prescriber's advice.
CAUTIONS:
Keep out of reach of children under the age of three. Do not exceed the recommended daily dose. The product should be used as part of a varied and balanced diet and a healthy lifestyle. The use of the product is not recommended in the event of a supposed or proven allergy to one of its components.
BARBERRY
(
Berberis aristata DC
) contains
Berberine
which has been experimentally shown
being able to increase the thickness of the hydrogel
(
mucus layer
) present on the surface of the enterocytes so directly
inducing an increase in mucin secretion MUC 2 and in the number of Mucipar goblet cells.
GUGGUL
(
Commiphora mukul Hook
.) contains guggulsterones E and Z which are
able to increase the expression of MUC 2 thus producing an increase and improvement of the gastro-intestinal mucus layer.
At the same time, these components of Gugul are
able to reduce the expression of the oncogenic mucins MUC1, MUC4 and MUC 16.
BUTYRIC ACID
acts in the intestine by stimulating subepithelial fibroblasts to release prostaglandins E1 and E2.
These induce the increased production of MUC2 and Mucipar goblet cells.
As a result,
Butyric Acid
supports the physiology and normal thickness of the intestinal mucus layer. In the same way, it increases the expression of the proteins constituting the tight junctions by counteracting the phenomena of increase in intestinal permeability.
HORSERADISH TREE
(
Moringa oleifera Lam
.) seeds extract
increases the secretion of mucin, producing an increase in the layer of gastro-intestinal mucus
. Similarly, the active ingredients present in this plant
increase the expression of the Occludine and ZO-1 proteins by improving the competence of the tight junctions.
This effect is also enhanced by a protective action of these junctional systems against bacterial LPS and a reduction in the levels of proinflammatory cytokines with significant gastro-intestinal anti-inflammatory actions.
---