SERO-RADICI - Psychophysical well-being. Pleasant and relaxed body perception. Serotonin stimulus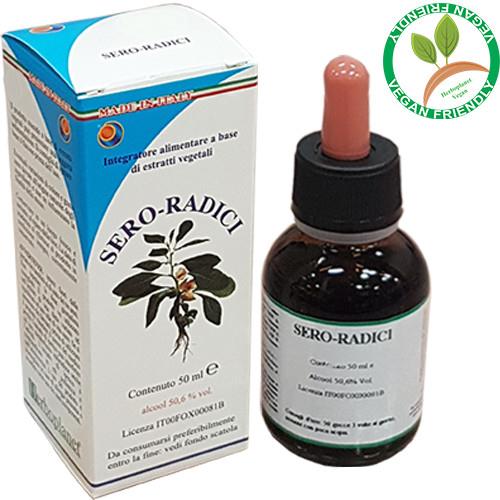 VEGAN FRIENDLY
product
To be purchased in Pharmacy or Herbalist's Shop
HERBAL COMPONENTS CONTENT FOR 150 DROPS:

TSA
(
Spagyric-Alchaemic Tincture by Solanimus E.R. 1/5
) of: Rhodiola (
Rhodiola rosea L.)
root 0,839 g, Griffonia (
Griffonia simplicifolia (DC.) Baill
.) seed 0,839 g, Ashwagandha (
Withania somnifera (L.) Dunal
) root 0,839 g.
TSA
(
Spagyric-Alchaemic Tincture by Solanimus E.R. 1/8
) of St. John's wort (
Hypericum perforatum L
.) apex 0,839 g (
bringing in hypericin 0,125 mg
).
MSA
(
Spagyric-Alchaemic Macerate by Solanimus E.R. 1/50
) Birch (
Betula pendula Roth
) buds 0,839 g. Rosemary (
Rosmarinus officinalis L
.) essential oil 0,021 g.
SERO-RADICI
is a dietary supplement based on plant extracts. Rhodiola is a Tonic-adaptogen. Ashwagandha is a
useful tonic in physical fatigue and physical fatigue
. Griffonia and Hypericum
contribute to normal mood tone, relaxation and mental well-being.
RECOMMANDATIONS FOR USE:
50 drops up to 3 times a day with some water.
CAUTIONS:
keep out of reach of children under the age of three. Do not exceed the recommended daily dose. The product should be used as part of a varied and balanced diet and a healthy lifestyle. If you take medications, ask your doctor for advice before using the product because hypericum extract can interfere with their metabolism by also inhibiting their activity. Hypericum extract is contraindicated in pediatric age and adolescence. The use of the product is not recommended in the event of a supposed or proven allergy to one of its components.
NOTES:
Serotonin is the hormone of good mood
and especially the main hormone of neuro-hormonal rebalancing and harmonization as well that is reflected throughout the PNEI axis allowing the feeling of a
psychophysical well-being
that originates from a
deep-rooted, pleasant and relaxed body perception.
The association of plants allows a
serotonin-energetic stimulus
and all the psychosomatic functions associated with it in the Essential Psychosomatic System "
Pleasure
".
In addition to serotonin action, the essential psychosomatic remedy
SERO-RADICI
also acts as an
anti-stress adaptogen
.
It is the basic remedy to reactivate bodily energies and support the resources of the individual. It is the remedy to support the presence that is the essential quality so necessary to deal with all other situations of imbalance
, it is the safe base which starting from, the anchor allowing us to feel rooted and free to float. It is the roots of the tree and so deep in the ground that allow foliage to let itself move in the wind. In
Neurosciences
of
Panksepp
and
Montecucco
, the
SERO-RADICI
Remedy supports systems called
Brain Regulatory System
or
Basic Body Pleasure
.
SERO-RADICI
supports the
Essential Psychosomatic System of "Pleasure
" that is described as: Relaxed body security, physical well-being, serene dominance without aggression. Body presence, stability. The divine will embodied with clarity and effortlessly determination. The support of existence. Constance on the path to Self. Connected to good quality of sleep and rest, to digestion. It is avoidance of the real danger and well-being enjoy even in the comfort zone. Body satisfaction, relaxation. It connects to the
White Essence of Sufis
that is described as: non-egoic Will, the divine Will that Christianity sums up in "thy will be done". Its characteristics are rooting, stability, integration, presence to ourselves and our feeling. It is connected to the sense of flow, relaxation, confidence in what existence brings as a gift. It is lack of effort, a sense of centering and support. It's what makes us feel fulfilled as we are. On the other hand, the themes characterizing distortion, responsiveness or lack of the essential quality of white are: effort, lack of confidence, lack of support, anxiety and fear
.
BIBLIOGRAPHY
:
Firenzuoli F., Fitoterapia, guida all'uso clinico delle piante medicinali, 4° Edizione, Milano, Elsevier edizioni, 2009 ISBN 978-88-214-2981-1
Campanini E., Dizionario di fitoterapia e piante medicinali, 3° edizione, Tecniche Nuove, Milano, 2012 ISBN 978-88-481-2734-9
Capasso F., Grandolini G., Izzo A.A., Fitoterapia Impiego razionale delle droghe vegetali, Springer, II ed., 1999, Milano
Jerome Sarris at al, Herbal medicine for depression, anxiety and insomnia: A review of psychopharmacology and clinical evidence, European Neuropsychopharmacology (2011) 21, 841–860
Jerome Sarris et al., Plant-Based Medicines for Anxiety Disorders, Part 1 and Part 2: A Review of Clinical Studies with Supporting Preclinical Evidence Springer International Publishing Switzerland 2013 CNS Drugs (2013) 27:301–319 DOI 10.1007/s40263-013-0059-9
Patel Shanti1 , De Sousa Avinash2 * HERBAL MEDICINES FOR DEPRESSION AND ANXIETY: A COMPREHENSIVE STATE OF THE ART REVIEW Global J Res. Med. Plants & Indigen. Med., Volume 2, Issue 5, May 2013, 317–336, ISSN 2277-4289, www.gjrmi.com
Ji Hyun Baek et al., Clinical application of herbal medicines for anxiety and insonnia; targeting patiernts with bipolar disorder, Australian and New Zeland Journal of Psychiatry, 2014, Vol.48(8) 705-715, DOI 10.1177/0004867414539198
Ishaque S1 at al., Rhodiola rosea for physical and mental fatigue: a systematic review. BMC Complement Altern Med. 2012 May 29;12:70. doi: 10.1186/1472-6882-12-70.
A. Panossian et al., Rosenroot (Rhodiola rosea): Traditional use, chemical composition, pharmacology and clinical efficacy, Phytomedicine, Volume 17, Issue 7, June 2010, Pages 481–493
Hung SK et al., The effectiveness and efficacy of Rhodiola rosea L.: a systematic review of randomized clinical trials, Phytomedicine. 2011 Feb 15;18(4):235-44. DOI: 10.1016/j.phymed.2010.08.014. Epub 2010 Oct 30.
Ioveno N, Dalton ED, Fava M, Mischoulon DJ, Second-tier natural antidepressants: Review and critique. Affect Disord. 2010
Pathak Suresh Kumar, Tahilani Praveen, Jain, NishiPrakash and Banweer Jitendra A review on Griffonia simplicifollia - an ideal herbal antidepressant INTERNATIONAL JOURNAL OF PHARMACY & LIFE SCIENCES IJPLS, 1(3):174-181 July, 2010 Review Article ISSN 0976-7126
---