MRG-SOL oral solution - Emollient and lenitive action to the digestive system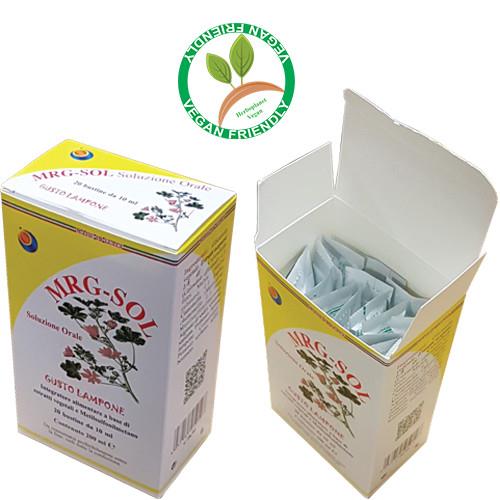 VEGAN FRIENDLY
product
to be purchased in Pharmacy or Herbalist's shop
HERBAL COMPONENTS CONTENT FOR 20 ml:
Vegetable glycerol. Aquous extracts E.R. 1/8 of: Marigold (
Calendula officinalis L
.) flowers 3,76 g, Mauve (
Malva sylvestris L
.) leaves 3,76 g, Chamomile (
Matricaria chamomilla L
.) flowers 3,76 g.
Methyl Sulphonyl Methane
0,6 g, Sodium Alginate 0,3 g. Raspberry aroma. Preservatives: Sorbate potassium, sodium benzoate.
MRG-SOL
oral solution is a dietary supplement based on plant extracts and Methyl Sulphonyl Methane.
MAUVE
has emollient and lenitive action on the digestive system. It contributes to the normal consistency of feces and the regularity of intestinal transit.
CHAMOMILE
contributes to regular gastrointestinal motility and elimination of gases and has emollient and
LENITIVE
action on the digestive system.
RECOMMENDATIONS FOR USE

:
5 or 10 ml in the morning or before bedtime.
CAUTIONS:
Keep out of reach of children under the age of three. Do not exceed the recommended daily dose. Do not give to children under the age of three. The product should be used as part of a varied and balanced diet and a healthy lifestyle. The use of the product is not recommended in the event of a supposed or proven allergy to one of its components.
NOTES ON SOME PLANTS:
CALENDULA OFFICINALIS
is known for its myo-relaxing (on smooth muscles), diuretic ,astringent, emmenagogues, antiseptics, mildly stimulating the production of estrogen effects. Of course it is a source of mucilage, carrots, flavonoids sterols and triterpenes to which it owes its
anti-inflammatory, easing muscle contractions, soothing and decongestant abilities.
Polyacetynians, phenolic acids, polysaccarides and triterpenic saponosides
contained in the plant exert a
bacteriostatic action against Staphylococcus aureus and some streptococcus
, so producing, at the same time, the induction of leucocyte activity and therefore a
rapid healing of wounds and inflammations
(M. Rossi,
Erb. Domani
mag. 87).
MALVA SYLVESTRIS
contains mucilage acting by coating mucous with a sticky layer that protects them from irritant agents and is useful in gastric problems such as gastric or gastric heartburn. Mucilage act by calming the inflammatory state of mucous, protecting them from stimuli so preventing them from reabsorbing irritant substances coming into contact with their surface. Malvine has strong anti-inflammatory action
. It also contains pectins, tannins and, especially in leaves and flowers, contains anthococines belonging to the family of flavonoids (
malvine, malvidine, etc
.), polysaccaids.
Mauve has emollient, soothing, expectorant, anti-inflammatory properties.
MATRICARIA CHAMOMILLA
, thanks to apigenine and other glucosids, has on the gastrointestinal system both a spasmolytic and anti-inflammatory action, to which is added a sedative capacity superior to papaverine. The plant contains bisabolol, a component of its essential oil. The plant also has digestive, carminative, diaphoretic and disinfectant properties (
azulene
).
METHYL SULPHONYL METHANE
is the form in which sulfur is present in nature within all living organisms. After calcium and phosphorus, sulfur is, in order of quantity, the third mineral present in the human body, almost half used by muscle tissues, skin and bones. Beyond the undoubted benefits on nails, hair, connective tissue and cartilage,
Methyl Sulphonyl Methane binds to mucous and in particular on intestinal mucosa and urogenital surface, and respiratory system, constituting a protection between the host and the external environment.
In this composition it is then
used to protect the mucosa from allergens and parasites, as an antioxidant and for its stimulating abilities to repair 'mucous wounds'
.
BIBLIOGRAPHY

:
- Ernesto Riva - "
L'universo delle PIANTE MEDICINALI trattato storico, botanico e farmacologico di 400 piante di tutto il mondo
" - Ghedina & Tassotti editori s.r.l. - Bassano del Grappa (VI), Maggio 1995.
- Tina Cecchini –
Enciclopedia delle erbe medicinali
, ………… - DE VECCHI EDITORE
- Padre Gianfranco Lazzari –
L'Erbario del Frate
– EDIZIONI S. MARCO LITOTIPO
- Alberto Fidi –
Erbe e Piante medicinali
- FRATELLI MELITA EDITORI
- AA.VV. –
Enciclopedia chimica
– USES ed., Firenze
- Benigni R., Capra C., Cattorini P.E. –
Piante medicinali: chimica, farmacologia e terapia
– Inverni della beffa ed, Milano.
- Duraffourd C., D'Ervicourt L., Lapraz J.C. –
Cahieres de Phytotérapie clinique
– Masson ed., Paris 1983
- Maugini E. –
Botanica farmaceutica
– CLUSF ed., Firenze 1976
- Pomini L. –
Erboristeria italiana
– Vitalità ed
- Valnet J., Duraffourd C., Lapraz J.C. –
Phytotérapie et aromatherapie
– Presse de la Renaissance, Paris 1978
- Massari E. –
Erbe in Cina
– Milano 1981
- Penso G. –
Piante medicinali nella terapia medica
– Org. Med. Farm. Ed., Milano
- Enrica Campanili –
Dizionario di fitoterapia e piante medicinali
– Tecniche Nuove - MI
- Larousse - "
Encyclopédie des PLANTES MÉDICINALES identification, préparations, so
ins" - Larousse-Bordas – 1997
- Tom Wilsons - "
Guarire con le erbe, i consigli, le malattie, le ricette, le dosi nella più ricca raccolta di erboristeria
" - Fratelli Melita Editori
---