MRG-SOL gocce - Digestive function, liver function, regularity of intestinal transit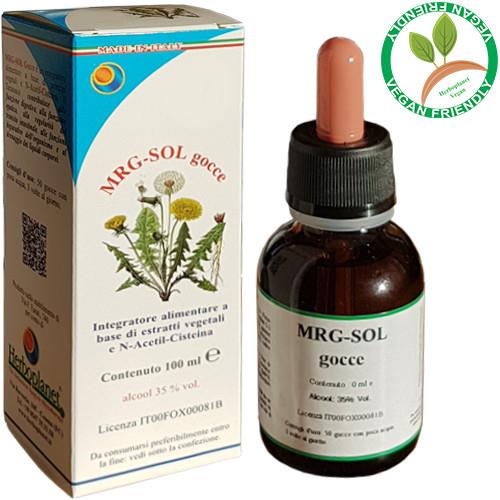 VEGAN FRIENDLY product
To be purchased inPharmacy or Herbalist's shop

INGREDIENTS FOR 150 DROPS:

MSA
(
Spagyric-Alchemic Macerates by Solanimus E.R. 1/50
) by: Fig (Ficus Charge L.) buds 1,30g, Black Ribes (Ribes nigrum L.) buds 1,30 g, Silver Linden (
Tilia tomentosa Moench
) buds 1,30 g.
TSA
(
Sygyric-Alchemic Tincture by Solanimus E.R. 1/5
) by Dandelion (
Taraxacum Officinale (L.) Weber ex F.H. Wigg
.) root 0,44 g. N-Acetil-Cysteine 0,088 g.
MRG-SOL
drops is a dietary supplement based on plant principles and N-Acetil-Cysteine. Dandelion
contributes to digestive function, liver function, regular bowel transit, purifying functions of the body and drainage of bodily fluids.
RECOMMENDATIONS FOR USE:
25-50 drops before lunch and dinner.
CAUTIONS:
Keep out of reach of children under the age of three. Do not exceed the recommended daily dose. The product should be used as part of a varied and balanced diet and a healthy lifestyle. Do not give to children under the age of three. The use of the product is not recommended in the event of a supposed or proven allergy to one of its components.
NOTES:
FICUS CARICA
is used for its elective action on the cortico-diencephalic axis whose it normalizes function. Being a regulator of this axis, it is useful in the disorders of gastric secretion where it
helps to regularize the production of gastric juice
(
both in cases of sub and over production
), in
chronic gastritis with sideropenic anemia, in duodenal ulcer, in esophageal dysphagia due to altered motility
. Also useful in
colitis and sigmoiditis
(in synergy with
tilia tomentosa
).
It promotes scarring of ulcers and trophism of mucous
.
TILIA TOMENTOSA
spagyric alchemical macerate is
useful in neurovegetative dystonias and functional manifestations of anxiety. Useful if associated with the ficus carica in esophageal disphages and gastralgies.
RIBES NIGRUM
spagyric alchemical macerate is a systemic adrenal and anti-inflammatory stimulant. Mucous protective and immune stimulant. The medicine, so-called gemmotherapic, would exploit the cortisone-like effect of the active ingredients - probably of steroid nature - contained in significant amounts in the plant's growth tissues. This is why buds and shoots are used and immediately processed in the fresh state to avoid enzyme degradation. From the plants described above you can get MSA (Spagyric-Alchemical Macerates) with extraction ratio 1 to 50 (R.E. 1/50) if you follow the indications given by Solanimus in his book '
ALCHIMIA and SPAGYRIA: admirabiles et inseparabiles Artes!
', where some practical notions of Spagiria or Spagyrya and Alchimia are well described.
DANDELION
(Taraxacum) has got action of protection against free radicals.
Useful as a drainage and hepato-renal detox.

BIBLIOGRAFIA:
- Fernando Piterà - "Compendio di GEMMOTERAPIA CLINICA" - De Ferrari Editor
- Ernesto Riva - "L'universo delle PIANTE MEDICINALI trattato storico, botanico e farmacologico di 400 piante di tutto il mondo" - Ghedina & Tassotti editori s.r.l. - Bassano del Grappa (VI), Maggio 1995.
- Tina Cecchini – Enciclopedia delle erbe medicinali, ………… - DE VECCHI EDITORE
- Padre Gianfranco Lazzari - L'Erbario del Frate - EDIZIONI S. MARCO LITOTIPO
- Alberto Fidi - Erbe e Piante medicinali - FRATELLI MELITA EDITORI
- AA.VV. - Enciclopedia chimica – USES ed., Firenze
- Benigni R., Capra C., Cattorini P.E. – Piante medicinali: chimica, farmacologia e terapia – Inverni della beffa ed, Milano.
- Duraffourd C., D'Ervicourt L., Lapraz J.C. – Cahieres de Phytotérapie clinique – Masson ed., Paris 1983
- Maugini E. – Botanica farmaceutica – CLUSF ed., Firenze 1976
- Pomini L. – Erboristeria italiana – Vitalità ed
- Valnet J., Duraffourd C., Lapraz J.C. – Phytotérapie et aromatherapie – Presse de la Renaissance, Paris 1978
- Massari E. – Erbe in Cina – Milano 1981
- Penso G. – Piante medicinali nella terapia medica – Org. Med. Farm. Ed., Milano
- Enrica Campanili – Dizionario di fitoterapia e piante medicinali – Tecniche Nuove - MI
- Max Tètau - "Gemmoterapia nuovi studi clinici" - NUOVA IPSA Editore srl - Palermo, 1989
- Larousse - "Encyclopédie des PLANTES MÉDICINALES identification, préparations, soins" - Larousse-Bordas – 1997
- Tom Wilsons - "Guarire con le erbe, i consigli, le malattie, le ricette, le dosi nella più ricca raccolta di erboristeria" - Fratelli Melita Editori
- Dr. G. Fort - "Guide de traitement par les plantes médicinales et phytocosmétologie, soins de beauté" - Editions Heures de France - Paris, 1976
---