BODYTHIN - Body fluid drainage, urinary tract function and purifying functions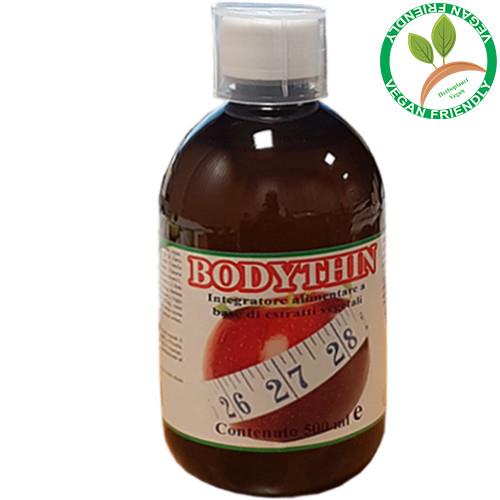 HERBAL COMPONENTS CONTENT FOR 2 MEASURES (30 ml)

:
Water, Mouse-ear hawkweed (
Hieracium pilosella L
.) apexes 112,5 mg, Javan tea (
Orthosiphon stamineus Benth
) leaves 37,5 mg, Green Tea (
Camelia sinensis (L
.)
Kuntze
) leaves 37,5 mg, fructose, Fumitory (
Fumaria officinalis L
.) apexes 26,3 mg, Mealberry (
Arctostaphylos grapes-ursi (L.) Spreng
) leaves 26,3 mg, DogRose (
Rose canine L
.) fruits 26,3 mg, Asparagus (
Asparagus officinalis L
.) root 26,3 mg, Burdock (
Arctium lappa L
.) root 26,3 mg, Black Ribes (
Ribes nigrum L
.) leaves 18,7 mg, Guaranà (
Paullinia sorbilis H.S.K
.) seeds 18,7 mg, Anise (
Pimpinella anisum L
.) fruits 18,7 mg. Acidifying: citric acid. Orange aroma. Antioxidant: ascorbic acid. Preservatives: sorbate potassium, sodium benzoate.
Product included in the Italian Ministry of Health Supplement Register,
code 372703
.
VEGAN FRIENDLY
Product - Product included in the Italian Ministry of Health's Supplement Registry, code 372703.
BODYTHIN
is a food supplement based on vegetable principles. Pilosella and Black Ribes
contribute to the drainage of fluids
. Uva ursina and Javan tea contribute to the
drainage of fluids and functionality of the urinary tract
. Fumaria, Asparagus and Bardana contribute to
depurative functions
.
RECOMMENDATIONS FOR USE:
2 measures (30ml) diluted in a liter of water to drink throughout the day are recommended.
CAUTIONS:
Keep out of reach of children under 3 years old. Do not exceed the recommended daily dose. The product should be used as part of a varied and balanced diet and a healthy lifestyle.
NOTES:
MOUSE-EAR HAWKWEED
(
Hieracium pilosella
)
has got diuretic properties, both from the selection of eliminated catabolites point of view and from a volumetric point of view; because of this, it is
adjuvant in the treatment of slimming and cellulite.
JAVAN TEA
(Orthosiphon stamineus) has diuretic , colagogues, hypocholesterolemizers properties; for its diuretic action it falls into kind of plants used in the treatment of slimming regimens.
GREEN TEA
(
Camelia sinenis
) has a similar function to coffee, in fact, it is
stimulating of digestive, diuretic and diaphonic function
,
stimulating the nervous system
as well. In vitro studies have revealed that some catechins, in it, are antioxidants and ten times more efficient than vitamin E,
reducing cholesterol build-up
, particularly low-density lipoproteins (
LDL-cholesterol
).
FUMITORY
(Fumaria officinalis
) is a
regulator of bile secretion, both hyper and hypo
thanks to the presence of protopine in the plant;
good diuretic and depurant.
MEALBERRY
(Arctostaphylos grapes-ursi) contains ursolic acid, hyperine and isoquercitin,
principles that give the drug
anti-inflammatory and diuretic activity.
DOG ROSE
(Rose canina)
is rich in tannic substances, resin
, chlorophyll, malic and citric acid,
pectins and, especially in berries
, Vitamin C, K, A, B1, B2, PP,
which give vitamin
, diuretic and anti-inflammatory properties to the plant
; useful for increasing the body's defences in case of infectious diseases. The roots of
ASPARAGUS
(
Asparagus officinalis
) contain
asparagine, amino acids, Vitamin C, B1, B2
and resinous substances, attributing to the plant
diuretic properties, along with liver, kidney, lung, skin and intestinal draining properties; good blood fluidifying.
BURDOCK
(Arctium lappa
) is one of the most widely used plants in popular medicine
("Bardana that heals every evil").
It has
diaphonic (increases sweat secretion), diuretics, purifiers, detergents properties, and stimulating liver function.
RIBES
(Ribes nigrum)
is rich in
Vitamin C, carotene,
tannins, an essence and perhaps even
salicylic acid.
Remedy of allergies, chronic gotthuts and minor hyperazothemic kidney failure.
GUARANA'
(
Paullinia sorbilis
) has a fundamentally similar action to coffee, but with a greater tonic and stimulating effect, due to the higher caffeine content (from 2 up to 5 times). Tonic and
stimulant
(
used against general weakness, asthenia and nervous depression
),
stomachic (used in gastrointestinal disorders with dyspepsia, abnormal fermentations and diarrhea).
It stimulates brain function and intellectual activity, fighting migraines and neuralgia without causing insomnia or nervous agitation. The fruits of
ANICE
(
Pimpinella anisum
) are
carmineative, digestive
, and part of the so called "
Hot Seeds", able to reduce flatulence, gastric dilation, facilitating digestion and effectively fighting intestinal spasms
.
BIBLIOGRAPHY:
- Ernesto Riva - "
L'universo delle PIANTE MEDICINALI trattato storico, botanico e farmacologico di 400 piante di tutto il mondo
" - Ghedina & Tassotti editori s.r.l. - Bassano del Grappa (VI), Maggio 1995.
- Tina Cecchini –
Enciclopedia delle erbe medicinali
, ………… - DE VECCHI EDITORE
- Padre Gianfranco Lazzari -
L'Erbario del Frate
- EDIZIONI S. MARCO LITOTIPO
- Alberto Fidi -
Erbe e Piante medicinali
- FRATELLI MELITA EDITORI
- AA.VV. -
Enciclopedia chimica
– USES ed., Firenze
- Benigni R., Capra C., Cattorini P.E. –
Piante medicinali: chimica, farmacologia e terapia
– Inverni della beffa ed, Milano.
- Duraffourd C., D'Ervicourt L., Lapraz J.C. –
Cahieres de Phytotérapie clinique
– Masson ed., Paris 1983
- Maugini E. –
Botanica farmaceutica
– CLUSF ed., Firenze 1976
- Pomini L. –
Erboristeria italiana
– Vitalità ed
- Valnet J., Duraffourd C., Lapraz J.C. –
Phytotérapie et aromatherapie
– Presse de la Renaissance, Paris 1978
- Massari E. –
Erbe in Cina
– Milano 1981
- Penso G. –
Piante medicinali nella terapia medica
– Org. Med. Farm. Ed., Milano
- Enrica Campanili –
Dizionario di fitoterapia e piante medicinali
– Tecniche Nuove - MI
- Larousse - "
Encyclopédie des PLANTES MÉDICINALES identification, préparations, soins
" - Larousse-Bordas – 1997
- Tom Wilsons - "
Guarire con le erbe, i consigli, le malattie, le ricette, le dosi nella più ricca raccolta di erboristeria
" - Fratelli Melita Editori
---