DISBIOFERM - Digestive function, regularity of intestinal transit and gas elimination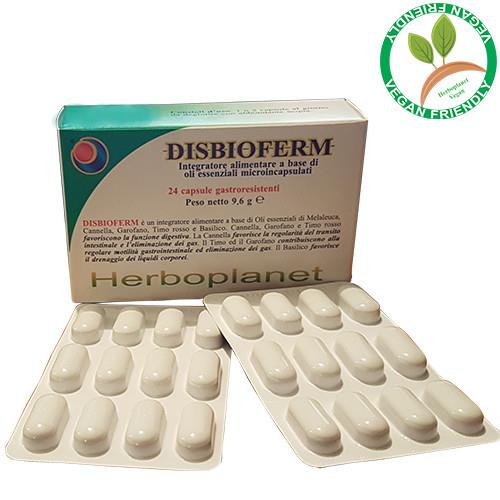 VEGAN FRIENDLY
and
GLUTEN FREE
product

GASTRO-RESISTANT CAPSULES STUFFED WITH
MICROGRANULES WITH SLOW-RELEASE ESSENCES

HERBAL CONTENT FOR 2 GASTRO-RESISTANT CAPSULES:
Tea tree essential oil (
Melaleuca alternifolia Cheel
) 240 mg, Indian Gewranium (
Cymbopogon martinii(Roxb.) Will. Watson
) 60 mg, Cinnamon essential oil (
Cinnamomum zeylanicum Blume
.) 40 mg, Carnation essential oil (
Eugenia caryophyllata Thunb
) 40 mg, red Thyme essential oil (
Thymus vulgaris L
.) 40 mg, Basil leaves (
Ocimum basilicum L
.) 20 mg. Charge agent: cellulose microcrystalline; Hydrossipropilmetilcellulose. Anti-cake agents: silicon dioxide, fatty acid of magnesium salts.
DISBIOFERM
is a food supplement based on essential oils of tea tree, geranium of the indies, cinnamon, carnation and red thyme. The Geranium of the Indies
promotes digestive function
. Cinnamon
promotes the regularity of intestinal transit and the elimination of gases
. Red Thyme and Carnation
contribute to regular gastrointestinal motility and gas eliminatio
n.
USE
:
1 capsule, 1 or 2 times daily, with lot of water.
TEA TREE OIL
has got experimentally demonstrated to exert a
strong antimicrobial action towards bacteria, fungi and viruses.
Its contemporary immunostimulating action makes it particularly effective in the treatment of:
cystitis, intestinal infections, intestinal dysbiosis, SIBO, permeable bowel syndrome, intestinal mycosis.
INDIAN GERANIUM
has
anti-inflammatory, bacterial, antimicrobial and disinfectant properties.
CINNAMON
has got
antimicrobial, antispasmodic, antisemintic, carmineative, digestive, antidisbiotic, antiviral and vermifugal properties.
Useful for:
digestive disorders
, intestinal-urogenatal-systemic dysbiosis, SIBO, food intolerances and irritable intestinal syndrome.
CLOVE
is
particularly suitable for the treatment of intestinal dysmicrobisms such as: dysbiosis, parasoxysis, gastro-enterites, SIBO, cystitis, urethritis from microorganisms, balniths and vaginitis.
THYME
is able to exert a
strong anti-inflammatory and antimicrobial and aspecifiable action towards bacteria, mycetes
(
species Candida sp.)
and
virus
. This makes this plant extract particularly suitable for the
treatment of bacterial, viral and mycotic gastro-intestinal infections (
especially from Candida sp.).
BASIL
is able to express antibacterial, anti-parasitic, antiviral, anti-inflammatory, antispastic and carminative properties. This plant extract is well applied in
infections and gastro-intestinal inflammation such as: intestinal dysbiosis, SIBO, intestinal-systemic-epidermal-urogenitis candidosis, intestinal parasitosis, bacterial or viral gastro-enteritis.
BIBLIOGRAPHY
:
- Ernesto Riva - "
L'universo delle PIANTE MEDICINALI trattato storico, botanico e farmacologico di 400 piante di tutto il mondo
" - Ghedina & Tassotti editori s.r.l. - Bassano del Grappa (VI), Maggio 1995.
- Tina Cecchini –
Enciclopedia delle erbe medicinali
, ………… - DE VECCHI EDITORE
- Padre Gianfranco Lazzari -
L'Erbario del Frate
- EDIZIONI S. MARCO LITOTIPO
- Alberto Fidi -
Erbe e Piante medicinali
- FRATELLI MELITA EDITORI
- AA.VV. -
Enciclopedia chimica
– USES ed., Firenze
- Benigni R., Capra C., Cattorini P.E. –
Piante medicinali: chimica, farmacologia e terapia
– Inverni della beffa ed, Milano.
- Duraffourd C., D'Ervicourt L., Lapraz J.C. –
Cahieres de Phytotérapie clinique
– Masson ed., Paris 1983
- Maugini E. –
Botanica farmaceutica
– CLUSF ed., Firenze 1976
- Pomini L. –
Erboristeria italiana
– Vitalità ed
- Valnet J., Duraffourd C., Lapraz J.C. –
Phytotérapie et aromatherapie
– Presse de la Renaissance, Paris 1978
- Massari E. –
Erbe in Cina
– Milano 1981
- Penso G. –
Piante medicinali nella terapia medica
– Org. Med. Farm. Ed., Milano
- Enrica Campanili –
Dizionario di fitoterapia e piante medicinali
– Tecniche Nuove - MI
- Larousse - "
Encyclopédie des PLANTES MÉDICINALES identification, préparations, soins
" - Larousse-Bordas – 1997
- Tom Wilsons - "
Guarire con le erbe, i consigli, le malattie, le ricette, le dosi nella più ricca raccolta di erboristeria
" - Fratelli Melita Editori
- Dr. G. Fort - "
Guide de traitement par les plantes médicinales et phytocosmétologie, soins de beauté
" - Editions Heures de France - Paris, 1976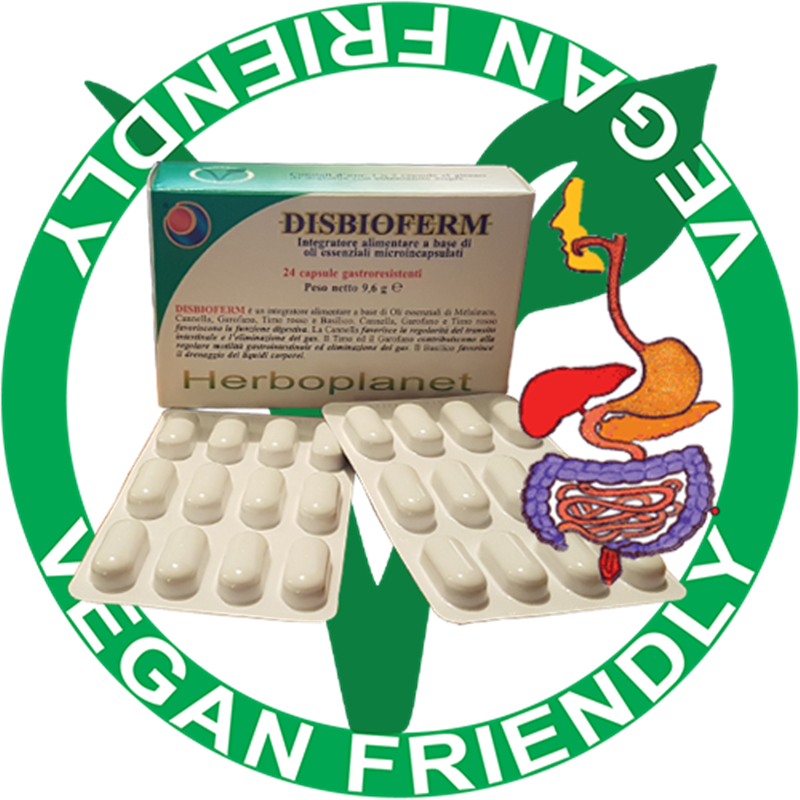 ---