NACSOL 600 mg - NAC - N-Acetylcysteine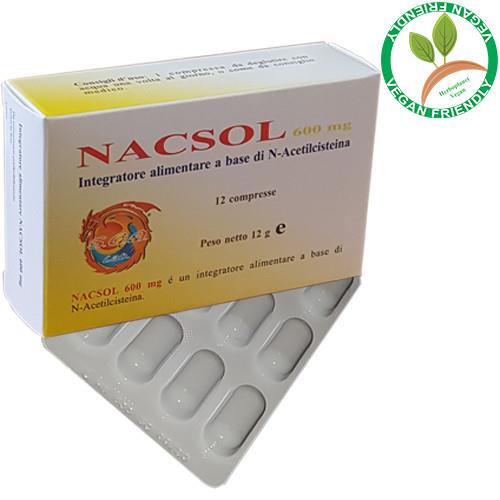 VEGAN FRIENDLY
product
To be purchased in Pharmacy or Herbalist's shop
COMPONENTS CONTENT FOR 1 TABLET

: N-acetylcysysteine 600 mg.
Charge agent: cellulose microcrystalline. Antiagglomerant agents: silicon dioxide, magnesium salts of fatty acids.
Product included in the Italian Ministry of Health's Supplement Registry,
code 10347.
NACSOL 600 mg
is a dietary supplement based on N-Acetylcysteine.
RECOMMANDATIONS FOR USE:
1 tablet to be swallowed with water once a day.
NOTES:
The acetylated form of the most common cysteine has significant advantages in terms of bioavailability over non-acetylated form. NAC is absorbed more quickly after its oral administration, recording a maximum blood peak after 2-3 hours of ingestion, with a half-life around 6 hours; as opposed to the non-acetylated shape. It is an N-acetylated derivative of the "sulfurate" natural amino acid cysteine.
CAUTIONS:
Keep out of reach of children under the age of 3. Do not exceed the recommended daily dose. Store in a cool, dry place. The product should be used as part of a varied and balanced diet and a healthy lifestyle. Do not give to children under the age of 3. The use of the product is not recommended in the event of a supposed or proven allergy to one of its components.
---