OLEA D3 max - Normal absorption and use of calcium and phosphorus. Normal bone and muscle function maintenance.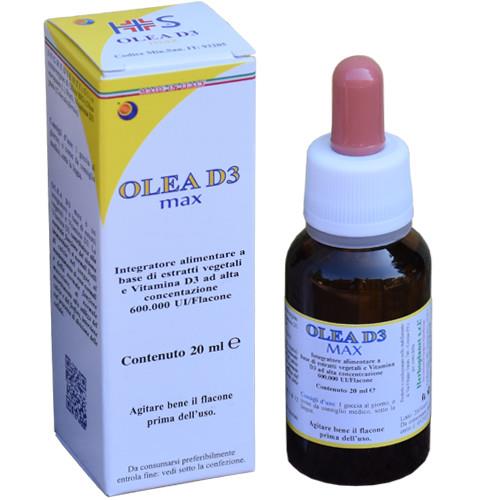 COMPONENTS CONTENT FOR 1 DROP: Extra virgin olive oil BIO cold squeezing, Vitamin D3 (Colecalcipherol) 25µg (1000 UI - 500% VNR).
Product included in the Italian Ministry of Health Supplement Register,
code 93205.
Product included in the Spanish Ministry of Health Supplement Registry, code
599E/6848/2017.
Product included in the Ministry of Health French Supplement Registry,
code 2018-6-394.
OLEA D3 Max
is a supplement based on plant extracts and Vitamin D3. Vitamin D3
contributes to the normal function of the immune system, intervenes in the process of dividing cells, contributes to the normal absorption/use of calcium and phosphorus, maintains normal levels of calcium in the blood, maintains normal bones and maintains normal muscle function.
RECOMMENDATIONS FOR USE:
It is recommended to take 1 drop once a day, or as recommended by the doctor, under the tongue.
CAUTIONS:
Keep out of reach of children under the age of three. Do not exceed the recommended daily dose. The product should be used as part of a varied and balanced diet and a healthy lifestyle. The use of the product is not recommended in the event of a supposed or proven allergy to one of its components.
NOTES:

Assimilation:
Strongly lipsoluble, it is absorbed at duodenal level. The formulation of Olea D3, using extra virgin olive oil, allows a maximum absorption. With a dosage of 10,000 U.I. per day, corresponding to 10 drops, administered during lunch, you can get increases in serum levels from 20ng/ml to 80 ng/ml in 3 months (from clinical experience). Colecalcipherol has a half-life of 12-18 days, while 1-25 (OH)2 cholecalcipherol has a very short half-life and is not deposited in tissues. The process of 1α hydroxylation is limited, but this guarantees us protection from possible intoxication.
Toxicity:
Extremely rare, only for levels above 200 ng/ml for long periods.
Actions:
Vitamin D is a hormone that interacts with all cells that have the specific receptor called VDR on their membrane. These receptors are found in many tissues on which vitamin D acts as a metabolic regulator or stimulant of repair in cases of inflammation.
VDRs are present in all lymphocyte populations where vitamin D performs an important regulation of the immune system. In fact:
1.
plays a key role in the initial non-specific immune response to pathogenic organisms or tissue damage;
2.
in the cells of Langerhans of the skin (dendritic cells), Vit. D attenuates the presentation of the antigen to T lymphocyte;
3
. promotes the differentiation of T-cells towards Th2 rather than Th1 resulting in less tissue damage by the Th1 immune response;
4.
regulates Th17 lymphocytes and therefore their production of IL17 which is crucial to reduce inflammation and tissue damage in autoimmune disease;
5.
stimulates the generation of T-regulatory lymphocytes that produce IL10, which leads to beneficial effects in autoimmunity and transplant rejection.
Vitamin D is used to treat osteoporosis, osteomalacia and rickets (
see Fig.
)
BIBLIOGRAPHY
:
1. Association between vitamin D receptor gene polymorphisms and breast cancer in a Chinese population. Bingjun Guo, Xin Jiang, Xiaoqiao Hu, Fan Li, and Xiaopin Chen. Int J Clin Exp Med. 2015; 8(5): 8020–8024.Published online 2015 May 15. PMCID: PMC4509310
2. Vitamin D receptor gene polymorphisms and the risk for female reproductive cancers: A meta-analysis.) Mun M, Kim TH, Hwang JY, Jang WC. Maturitas. 2015 Jun;81(2):256-65. doi: 10.1016/j.maturitas.2015.03.010. Epub 2015 Mar 21.
3. A phase I/II dose-escalation trial of vitamin D3 and calcium in multiple sclerosis. J.M. Burton, MD, MSc, FRCPC, S. Kimball, MSc, MLT, R. Vieth, PhD, A. Bar-Or, MD, MSc, FRCPC, H.-M. Dosch, MD, PhD, R. Cheung, MSc, D. Gagne, C. D'Souza, PhD, M. Ursell, MS, MSc, FRCPC, and P. O'Connor, MS, MSc, FRCPC. Neurology. 2010 Jun 8; 74(23): 1852–1859.doi: 10.1212/WNL.0b013e3181e1cec2)
4. Clinical implications of a possible role of vitamin D in multiple sclerosis. Charles Pierrot-Deseilligny. Published online 2009 Apr 28. doi: 10.1007/s00415-009-5139-x
5. Nontoxic cases of vitamin d toxicity. Chakraborty, Sarkar , Bhattacharya , Krishnan , Chakraborty. Lab Med. 2015 Spring;46(2):146-9. doi: 10.1309/LM5URN1QIR7QBLXK.
6. Journal of Endocrinology & Methabolism: Evaluation, treatment and prevention of Vitamin D deficiency: An Endocrine Society Clinical Practice Guideline (July 2011, 96(7):1911-1930)
---