MANNOSYL New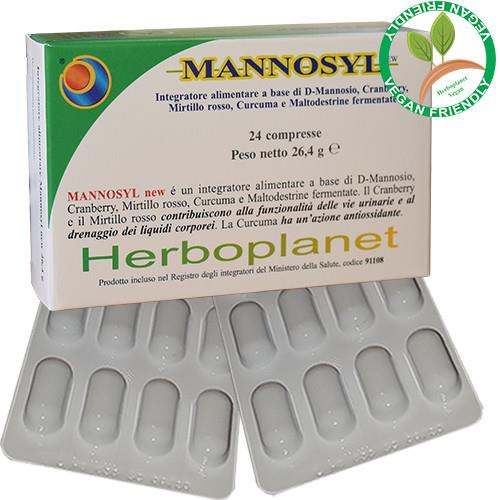 VEGAN FRIENDLY product

HERBAL COMPONENT CONTENT FOR 2 TABLETS:
D-Mannose 600 mg. Bulking agent: microcrystalline cellulose. Dry extract of Cranberry fruits (Vaccinium Macrocarpon Aiton) titrated at 30% in proanthocyanidins 400 mg (bringing in type A Proanthocyanidins 120 mg), dry extract of Blueberry (Vaccinium Vitis Idaea L.) leaves 400 mg, dry extract of Curcuma rhizome (Curcuma longa L.) titrated at 95% in curcumin 100 mg (bringing in Curcumin 95 mg). Fermented maltodextrins 100 mg (bringing in enzymes: Amylase 3000 DU, Protease 6000 HUT, Protease concentrated 2500 HUT, Glucoamylase 4 AGU, Lipase 150 FCCLU, Cellulase 333 CU, Lactase 1000 ALU, Endophytase 14 endo-PG). Anti-caking agents: silicon dioxide, magnesium salts of fatty acids.
Product included in the Italian Ministry of Health Supplement Register,
code 76073.
Product included in the Spanish Ministry of Health Supplement Register,
code 0599E/13272/2015
. Product included in the French Ministry of Health Supplement Registry,
code 2017-10-246.
Product included in the Belgian Ministry of Health Supplement Register,
code PL/AS 1653/99.
MANNOSYL New
is a supplement based on D-Mannose, Cranberry, Cranberry, Blueberry, Curcuma and Fermented Maltodestrine. Cranberry and blueberry c
ontribute to urinary tract function and drainage of bodily fluids. Curcuma has antioxidant action.
RECOMMENDATIONS OF USE:
1-2 tablet a day. 1 in the morning on waking up and 1 in the evening before bedtime, preferably after emptying the bladder.
CAUTIONS:
Keep out of reach of children under the age of three. Do not exceed the recommended daily dose. The product should be used as part of a varied and balanced diet and a healthy lifestyle. Do not use during pregnancy and breastfeeding. In the case of alteration of liver function, bile or calculation of the bile tract, the use of the product is not recommended. The use of the product is not recommended in the event of a supposed or proven allergy to one of its components.
NOTES:
Cystitis is an inflammation of the urinary bladder that mainly affects women. The most common trigger of cystitis is a bacterial infection and the first defendant is
Escherichia coli
, a bacterium capable of colonizing the bladder by adhering to its walls. The ability of a microorganism to adhere to the surface is one of the most important factors of pathogenesis.
D-MANNOSE
:
Escherichia coli
bacterium is coated with micro lashes equipped with lectins that bind to the mannose present on the mucous membranes of the bladder or urinary tract. In the majority of cases after the initial infection,
relapses are due to the survival of the bacterium in the mucous membranes of the bladder where it remains in a latent state.
Under certain favorable conditions, it can reactivate and multiply.
Hence the resistance of the bacterium and each time it becomes more and more resistant. Escherichia
coli tends to bind to the mannose molecules present in the mucous membranes;
therefore d-mannose goes and takes the place of the tissue mannose molecules, thus preventing the bacteria from clinging to the mucous membranes and slipping away in the urine.
FERMENTED MALTODEXTRINS
are a mine of digestive enzymes
. There is a close relationship between digestive enzymes and other antioxidant and systemic enzymes.
When there is a shortage of digestive enzymes, leukocytes cease to function as immune agents and release their enzymes to the digestive process.
Immediately after a large meal we will therefore be more vulnerable to viral attacks.
CRANBERRY
(
Vaccinium macrocarpon, Aiton
), belonging to the Ericaceae family, is an evergreen small size plant of American origin.
The fruits have disinfectant and anti-inflammatory activity and are particularly active in urinary tract infections (cystitis). In particular, this would happen thanks to the type A pro-anthocyanidins (PACs) whose the fruit is rich, acting by adhering to the tissues and forming a sort of "protective molecular layer" that counteracts and rejects the adhesion of pathogenic bacteria.
Initially, it was hypothesized that the antiseptic action of Cranberry at the urinary level was related to its ability to acidify the urine, making it less hospitable for the proliferation of bacteria. Subsequent experimental studies have shown, however,
that the main mechanism of action does not depend so much on the ability to acidify the urine, but rather to inhibit the adhesion of the Escherichia coli to the urinary epithelial cells.
BLUEBERRY
(Vaccinium Vitis Idaea L.) leaves are rich in arbutin (from 4% up to 9%) which has a
strong antibacterial activity in the urinary tract
. Arbutin is hydrolyzed by enzymes in the intestine, thus releasing hydroquinone.
The bacteriostatic properties of hydroquinone against some bacterial strains such as Escherichia coli, Staphylococcus aureus and Proteus vulgaris, have been shown in vitro (Bruneton J, 2009, Pharmacognosie…., Op. Cit., P. 280 ).
CURCUMA
(
Curcuma longa L.)
has
anti-inflammatory and antioxidant properties
due to its main active ingredient (50-60%):
curcumin (diferuloylmethane).
Its anti-inflammatory property is manifested both in the acute phase of inflammation and in the chronic phase.
Curcuma is an anti-inflammatory that has very low toxicity; which should not be underestimated
. Curcuma
also has antioxidant properties and its immunomodulatory property
has also recently been highlighted
. Another interesting property given by the curcumenoids contained in curcuma is bactericidal and antiviral.
BIBLIOGRAPHY
:
- Guay DR. Cranberry and urinary tract infections. Drugs. 2009;69(7):775-807. 2009.
- Jepson R, Mihaljevic L, Craig J. Cranberries for preventing urinary tract infections. Cochrane Database Syst Rev. 2004;1:CD001321. 2004.
- Liu Y, Black MA, Caron L, et al. Role of cranberry juice on molecular-scale surface characteristics and adhesion behavior of Escherichia coli. Biotechnol Bioeng. 2006 Feb 5;93(2):297-305. 2006.
- Reid G. The role of cranberry and probiotics in intestinal and urogenital tract health. Crit Rev Food Sci Nutr 2002;42(3 Suppl):293-300. 2002.
- Tempera G, Corsello S, Genovese C et al. Inhibitory activity of cranberry extract on the bacterial adhesiveness in the urine of women: an ex-vivo study. Int J Immunopathol Pharmacol. 2010 Apr-Jun;23(2):611-8. 2010.
- Trivedi A. Role of cranberry juice in preventing recurrent urinary tract infections in the pediatric population. Asian J Pharm 2009;3:161. 2009.
-. Vidlar A, Vostalova J, Ulrichova J et al. The effectiveness of dried cranberries (Vaccinium macrocarpon) in men with lower urinary tract symptoms. Br J Nutr. 2010 Oct;104(8):1181-9. Epub 2010 Aug 31. 2010.
- Zhang L, Ma J, Pan K et al. Efficacy of cranberry juice on Helicobacter pylori infection: a double-blind, randomized placebo-controlled trial. Helicobacter. 2005;10:139-45. 2005.
- Shmuely H, Yahav J, Samra Z, Chodick G, Koren R, Niv Y, Ofek I. Effect of cranberry juice on eradication of Helicobacter pylori in patients treated with antibiotics and a proton pump inhibitor. Mol Nutr Food Res. 2007 Jun;51(6):746-51. 2007. PMID:17487928.
- Burger O, Weiss E, Sharon N, et al. Inhibition of Helicobacter pylori adhesion to human gastric mucus by a high-molecular-weight constituent of cranberry juice. Crit Rev Food Sci Nutr. 2002;42(3 Suppl):279-84. 2002. 2002.
- Cheng H, Lin T, Yang C, et al. In vitro HSV-2 activity and mechanism of action of proanthocyanidin A-1 from Vaccinium vitis-idaea. J Sci Food Agric 2004 Oct;85(1):10-15. 2004. 2004.
- Mahady, Gail B., et al. Turmeric (Curcuma longa) and curcumin inhibit the growth of Helicobacter pylori, a group 1 carcinogen. Anticancer research 22.6C (2001): 4179-4181.
- Chainani-Wu, Nita. Safety and anti-inflammatory activity of curcumin: a component of tumeric (Curcuma longa). The Journal of Alternative & Complementary Medicine 9.1 (2003): 161-168.
---