ANSITOL - Promotes sleep and mental well-being, relaxation and recovery of normal mood.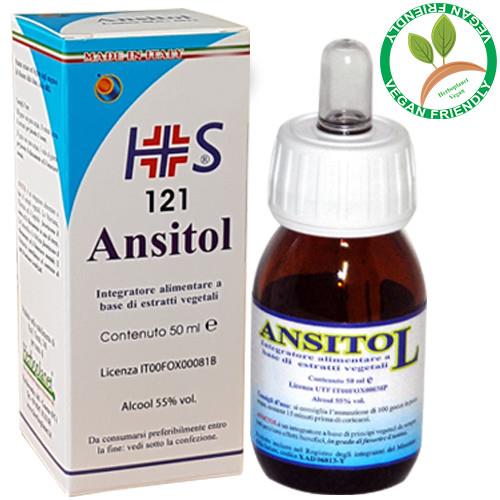 Product VEGAN FRIENDLY
CONTRIBUTION OF HERBORISTIC COMPONENTS FOR

100

DROPS:
TSA
(
Spagyric-Alchemic Tincture with
extraction ratio
1/5
) of: root of Valerian (
Valeriana Oficinalis L.
)
1.75
g, flowers of Californian Poppy (
Eschscholtzia californica Cham.
)
0.70
g, flowers of Camomile (
Matricaria chamomilla L.
)
0,35
g, whole plant of Field melilot (
Melilotus officinalis Pallas
)
0.28
g, flowers of Common Hop (
Humulus lupulus L.
)
0.14
g, leaves of Lemon Balm (
Melissa officinalis L.
)
0.14
g, petals of Red Poppy (
Papaver rhoeas L.
)
0.14
g.
Product included in the Register of supplements of the Italian Health Ministry,
Code
6813
.
Product included in the Register of supplements of the French Health Ministry,
Code 2017-3-153
.
Product included in the Register of supplements of the Belgian Health Ministry,
Code PL
1653/10.
ANSITOL
is a supplement based on herbal ingredients. CALIFORNIAN POPPY, VALERIAN and HOP
contribute to the relaxation and promote sleep in case of stress
. CAMOMILE
promotes relaxation, sleep and mental well-being
. LEMON BALM
contributes to the restoration of normal mood, it promotes relaxation and mental well-being
. RED POPPY
contributes to the contrast of localized states of tension
.
SUGGESTIONS OF USE
: 30 drops 3 time daily.
To facilitate the sleep
:
100 drops in some water, to be taken 15 minutes before bedtime.
WARNINGS
: Keep out of reach of children under three years. Do not exceed the recommended daily dose. The product should be used in a varied and balanced diet and a healthy lifestyle.
NOTES ON SOME PLANTS: The VALERIAN (Valerian officinalis) contains foreign borneol's that attributes the characteristic to the plant action sedative. The pharmacological action of the plant doesn't depend on an only substance, but from a complex of mixtures. The plant acts on the nervous system with depressive effect towards the cerebral-spinal axle and on the cardiovascular system it produces a diminution of the pressure in relationship to an excitement parasympathetic and a central depression (M. PEDRETTI, la valeriana, in Erb. Domani 5/86). CALIFORNIAN POPPY (Eschscholtzia californica) is the classic phytotherapic remedy for insomnia. The hydro-alcoholic solutions of its bloomy apexes is used because of its antispasmodic properties against insomnia and anxiety states, for it acts on central nervous system, and against neuropathies in children. The CAMOMILE (Matricaria chamomilla) has a spasmolytic and sedative action. The FIELD MELILOT (Melilotus officinalis) has ownership antispasmodic and sedative to visceral level and of the central nervous system. the COMMON HOP (Humulus lupulus) contains the bitter phloroglucinolic acids and 2-metil-3-buten-2-olo that they have a sedative ownership, boring and antispasmodic. Profit therefore in the insomnias. The LEMON BALM (Melissa officinalis) has ownership antispasmodics and sedatives due to her content in flavonoidis and triterpenes.
BIBLIOGRAPHY
:
- Ernesto Riva - "
L'universo delle PIANTE MEDICINALI trattato storico, botanico e farmacologico di 400 piante di tutto il mondo
" - Ghedina & Tassotti editori s.r.l. - Bassano del Grappa (VI), Maggio 1995.
- Tina Cecchini –
Enciclopedia delle erbe medicinali
, ………… - DE VECCHI EDITORE
- Padre Gianfranco Lazzari -
L'Erbario del Frate
- EDIZIONI S. MARCO LITOTIPO
- Alberto Fidi -
Erbe e Piante medicinali
- FRATELLI MELITA EDITORI
- AA.VV. -
Enciclopedia chimica
– USES ed., Firenze
- Benigni R., Capra C., Cattorini P.E. –
Piante medicinali: chimica, farmacologia e terapia
– Inverni della beffa ed, Milano.
- Duraffourd C., D'Ervicourt L., Lapraz J.C. –
Cahieres de Phytotérapie clinique
– Masson ed., Paris 1983
- Maugini E. –
Botanica farmaceutica
– CLUSF ed., Firenze 1976
- Pomini L. –
Erboristeria italiana
– Vitalità ed
- Valnet J., Duraffourd C., Lapraz J.C. –
Phytotérapie et aromatherapie
– Presse de la Renaissance, Paris 1978
- Massari E. –
Erbe in Cina
– Milano 1981
- Penso G. –
Piante medicinali nella terapia medica
– Org. Med. Farm. Ed., Milano
- Enrica Campanili –
Dizionario di fitoterapia e piante medicinali
– Tecniche Nuove - MI
- Larousse - "
Encyclopédie des PLANTES MÉDICINALES identification, préparations, soins
" - Larousse-Bordas – 1997
- Tom Wilsons - "
Guarire con le erbe, i consigli, le malattie, le ricette, le dosi nella più ricca raccolta di erboristeria
" - Fratelli Melita Editore
---