LICRIVEN - Microcircle, heaviness of the legs, functionality of venous circulation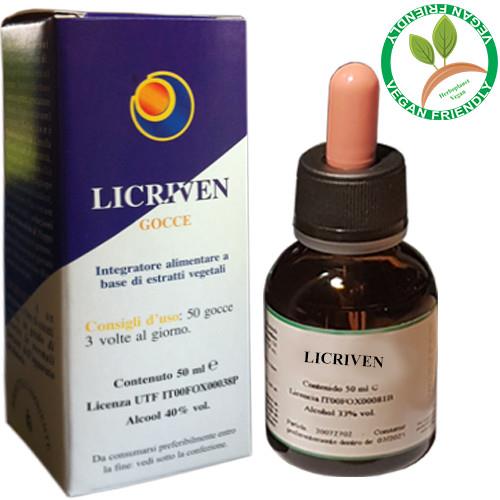 VEGAN FRIENDLY
product
to be purchased in Pharmacy or Herbalist's shop
HERBAL COMPONENTS CONTENT FOR 150 DROPS:

MSA
(
Spagyric Alchaemic D.E.: 1/50
) of: Chestnut (
Castanea vesca
) buds 1,160 g, Whitebeam (
Domestic Sorbus
) buds 0,846 g, Horse-chestnut (
Aesculus hippocastanum
) buds 0,725 g.
TSA
(
Spagyric Alchaemic Tincture E.R.: 1/5
) of: Asiatic pennywort (
Asian Centella
) apex 0,483 g, Witch Hazel (
Hamamelis virginiana
) leaves 0,483 g, Butcher's broom (
Ruscus aculeatus
) root 0,362 g, Black blueberry (
Vaccinium myrtillus
) 0,362 g.
MSA
(
Spagyric Alchaemic Macerate E.R.: 1/50
) of: Black Poplar (
Populus nigra
) buds 0,241 g, Olive (
European Oil
) young spurs 0,120 g, Dog Rose (
Rosa canina
) young spurs 0,048 g.
Product included in the Italian Ministry of Health Supplement Register,
code 55020.
LICRIVEN
is a dietary supplement based on plant extracts. Asiatic Pennywort and Black blueberry are
useful for the functionality of the microcircle and heaviness of the legs.
Witch Hazel and Butcher's broom are
useful for the functionality of venous circulation (functionality of the emmorroid plexus).
RECOMMENDATIONS FOR USE:
50 drops, in some water, 3 times daily.
CAUTIONS:
Keep out of reach of children under the age of three. Do not exceed the recommended daily dose. The product should be used as part of a varied and balanced diet and a healthy lifestyle. The use of the product is not recommended in the event of a supposed or proven allergy to one of its components.
NOTES ON SOME PLANTS:
CASTANEA VESCA
is an
exceptional lymphatic drainage in vasculopathies and edema of the lower limbs.

WHITEBEAM

has got its maximum tropism is at venous circulation level in the lower limbs.

HORSE-CHESTNUT
preparations have long been
used in the therapeutic of vascular pathologies
(
decrease in permeability and capillary fragility
), in fact,
it activates blood circulation and promotes venous return.
If Hippocastum is taken daily, there is a reduction in the activity of the enzymes responsible for the degradation of proteoglycans, thus ensuring the cohesion of the vascular wall.
In individuals with varicose, the concentration of these enzymes, lysosomial origined, increases significantly (Rombi M., 100
Plantes Médicinales
, Ed. Romart, Nice, 1991, p. 169).
ASIATIC PENNYWORT
is indicated in circulatory diseases for it is able to improve vascular-connective trofism, while restoring hemodynamic balance at micro-vasculo-tissue system level.
The plant contains triterpenic (
asiaticoside
) derivatives with modulative properties on the development of connective tissue; it regularizes the growth of fibroblasts by avoiding excessive proliferation and consequent formation of
keloids and hypertrophic scars.
WITCH HAZEL
is used in venous insufficiency and hemorroid symptoms because it has got tonic-astringent and vasoregular action similar to vitamin P
. The presence of flavonoids and triterpenic compounds contributes to the regulation of muscle and venous walls tone. This property makes it useful in some disorders when you need an astringent action:
phlebits, varicose and hemorrhoids.
By
means of gaseous plethysmography tecnique, it is observed that a compound containing Witch
hazel, Horse-chestnut and Orange root causes the increase in venous tone in subjects with varicose [Rohyer R., Schmidt C.L.,
Semaine des Hôpitaux
, Paris 57, 2009-2013 (1981)].
BUTCHER'S BROOM
contains an active ingredient called ruscogenine that has
anti-oedematigenous, anti-inflammatory, vasoconstrictor properties on microcirculation and is able to modulate permeability and capillary resistance with action similar to vitamin P
(M. Pedretti,
Chimica e farmacologia delle piante medicinali
). Rusco is used as a top remedy in the treatment of
hemorrhoids and varicists
because of its vesseltonic, anti-inflammatory and astringent properties.
Weiss points out that Ruscus is effective in anorectal syndromes, especially in hemorrhoids, where there is a decongestion of inflamed hemorrhythmal nodules that deflate thus giving the patient a sense of relief.
Also Leclerc pointed out the use of Ruscus in
hemorrhoids cases
, reporting the experience of Caujolle and collaborators (
Toulouse médical, 1952
)
who have proved that there are considerable, rapid and lasting improvements and that in some cases, these improvements have the value of a real cure and this by means of an administration of 30-50 drops of a 10% hydroalcoolic solution, and extraction ratio of 1/10 of Rusco roots (E.R.. of the TSA 1/5 - double concentration of active ingredients compared to E.R. 1/10).
There are now numerous clinical observations highlighting the
vascularprotective and vessel tonic properties
of Ruscus,
demonstrating the effectiveness of the phytocomplex in improving symptoms linked to venous insufficiency and hemorrhoid crisis
(
Bruneton
, 1993).
BIBLIOGRAPHY
:
- Fernando Piterà - "
Compendio di GEMMOTERAPIA CLINICA
" - De Ferrari Editor
- Ernesto Riva - "
L'universo delle PIANTE MEDICINALI trattato storico, botanico e farmacologico di 400 piante di tutto il mondo
" - Ghedina & Tassotti editori s.r.l. - Bassano del Grappa (VI), Maggio 1995.
- Tina Cecchini –
Enciclopedia delle erbe medicinali
, ………… - DE VECCHI EDITORE
- Padre Gianfranco Lazzari -
L'Erbario del Frate
- EDIZIONI S. MARCO LITOTIPO
- Alberto Fidi -
Erbe e Piante medicinali
- FRATELLI MELITA EDITORI
- AA.VV. -
Enciclopedia chimica
– USES ed., Firenze
- Benigni R., Capra C., Cattorini P.E. –
Piante medicinali: chimica, farmacologia e terapia
– Inverni della beffa ed, Milano.
- Duraffourd C., D'Ervicourt L., Lapraz J.C. –
Cahieres de Phytotérapie clinique
– Masson ed., Paris 1983
- Maugini E. –
Botanica farmaceutica
– CLUSF ed., Firenze 1976
- Pomini L. –
Erboristeria italiana
– Vitalità ed
- Valnet J., Duraffourd C., Lapraz J.C. –
Phytotérapie et aromatherapie
– Presse de la Renaissance, Paris 1978
- Massari E. –
Erbe in Cina
– Milano 1981
- Penso G. –
Piante medicinali nella terapia medica
– Org. Med. Farm. Ed., Milano
- Enrica Campanili –
Dizionario di fitoterapia e piante medicinali
– Tecniche Nuove - MI
- Max Tètau - "
Gemmoterapia nuovi studi clinici
" - NUOVA IPSA Editore srl - Palermo, 1989
- Larousse - "
Encyclopédie des PLANTES MÉDICINALES identification, préparations, soins
" - Larousse-Bordas – 1997
- Tom Wilsons - "
Guarire con le erbe, i consigli, le malattie, le ricette, le dosi nella più ricca raccolta di erboristeria
" - Fratelli Melita Editori
- Dr. G. Fort - "
Guide de traitement par les plantes médicinales et phytocosmétologie, soins de beauté
" - Editions Heures de France - Paris, 1976
---