BETAMIX PLUS - Normal homocysteine metabolism - Cell protection from oxidative stress - Normal immune system function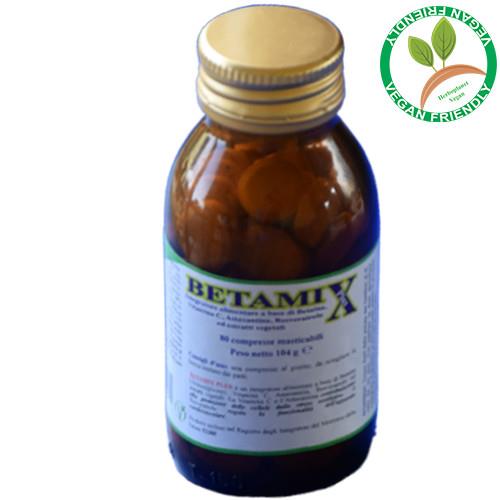 VEGAN FRIENDLY Product
HERBAL COMPONENTS CONTENT FOR 1 TABLET:
Fructose, Betaine anhydrous (
Trimethylglycine
) 250mg, microcrystalline cellulose, calcium phosphate, cornstarch, D.E. of Acerola (
Malpighia punicifolia L.
) fruits 60mg (
bringing in Vitamin C 30mg = 37,5% RDA
), natural aroma of berries 50mg, D.E. of Dog Rose (
Rosa canina L.
) fruits 50mg (
bringing in Vitamin C 5mg = 6.25% RDA
), maltodextrins. Anticakings: vegetable magnesium stearate, silicon dioxide. Acidifier: citric acid. Chlorella (
Chlorella vulgaris Species
) microalgae 5 mg (
astaxanthin
complex 0,5 mg), Resveratrol (
Polygonum cuspidatum Siebold & Zucc.
) root 4,2 mg (
bringing in Resveratrol 4,1 mg
), genuine wild berries flavour 3,9 mg.
Product included in the Ministry of Health Supplement Registry,
code 52388.
BETAMIX PLUS
is a supplement based on plant extracts, Betaine (
Trimethylglycine
), Vitamin C and Resveratrol. Betaine
contributes to the normal metabolism of homocysteine
. Vitamin C
helps to protect cells from oxidative stress
. Chlorella
contributes to the normal function of the immune system.
INSTRUCTIONS FOR USE
:
1 tablet to be dissolved in mouth, once a day, far from food.
CAUTIONS:
Keep out of reach of children under 3 years old. Do not exceed the recommended daily dose. The product should be used as part of a varied and balanced diet and a healthy lifestyle.
TRIMETHYLGLYCINE
(Betaina anidra
) is extracted from sugar beet. It is involved in transmethylation, that is the process by which methyl groups (CH3) are transferred from one molecule to another, this is a biochemical process so essential for cell metabolism. Together with Methionine and Choline, it provides methyl groups to cells. It is believed that the introduction of this food supplement in the diet
can help recovery processes in degenerative diseases
.
Basically,
Trimethylglycine is a methylating agent that plays an important role, especially in the process of detoxification of Homocysteine
(a powerful oxidant and free radical generator) into Methionine. In fact, the living organism metabolizes only small amounts of Homocysteine and we know that, in large quantities, it is toxic:
we can say that homocysteine is a good biochemical indicator about the efficiency of methylation by cells
. Methionine (
product of Homocysteine methylation
) produces high concentrations of SAME (S-adenosyl-methionine), a natural antidepressant and a donor of methyl groups
; the increase of SAME is useful both in prevention and treatment of several metabolic disorders, including those caused by severe deficiency states of organic deficit, such as in cancer patients.
It is an essential amino acid with antioxidant activity
. It 'very important for the functioning of the liver by preventing an abnormal accumulation of fat and production of antibodies.
DOG ROSE
brings vitamin C and thus has got an antioxidant effect.
CHLORELLA VULGARIS
algae contain natural astaxanthin (a carotenoid), organic pigment that is also found in phytoplankton and, to a lesser extent, in some fungi and bacteria. There are different kinds of Astaxanthin: the chemical Astaxanthin obtained by the yeast and natural Astaxanthin obtained by the microalgae
Haematococcus pluvialis
grown in the Hawaii islands.
The natural Astaxanthin has no toxicity, because it is a substance completely natural by which several studies have confirmed its absolute food safety.
The natural Astaxanthin is obtained by pulverizing the algae
Chlorella vulgaris
, after it remained in tanks of maturation and exposed to the sun and after that its sudden and strange color change has witnessed that the reaction took place and, because of this, the presence of astaxanthin. The alga
Chlorella vulgaris
produces Astaxanthin to defend itself and survive the strong stress condition, in fact, this antioxidant is able to keep the algae into life for forty years as well. One of the major applications in the medical field regards
its ability to counteract the damaging action of free radicals.
Its beneficial qualities to contribute to maintaining the state of health were widely demonstrated; it has a great antioxidant power; it is more effective than substances such as
beta-carotene
and
Vitamin E
which are universally considered as antioxidant molecules. Experiments were conducted in order to clarify the role of Astaxanthin in neoplasia states and the data show convincing results and establish that Astaxanthin is not only capable of modulating the progression of the disease, but it is a preventive and protection factor against the onset.
The main difference between the natural astaxanthin and other antioxidants and that many of these are not able to penetrate the organs and tissues of the body. Thanks to its particular structure and its esterified nature (with fatty acids to one or both ends of the molecule), Astaxanthin is able to reach the body in the depth and in each of its component (brain, heart, muscles and skin), preventing oxidation and inflammation, while protecting and optimizing their functions.
Its small molecular weight and high lipophilicity make possible to cross the blood-brain barrier, by exerting its effects at systems level so difficult to be reached by other antioxidants.
RESVERATROL
is a polyphenol found in grapes and other plants. One of these plants is the
Polygonum cuspidatum
present in our formula. Resveratrol is an important supplement
able to regenerate glutathione levels, have a powerful antioxidant action. The World Health Organization refers Resveratrol being a substance able to reduce cardiovascular risks by 40%.
---