SURCORTEX - Functionality of the prostate, physical and mental fatigue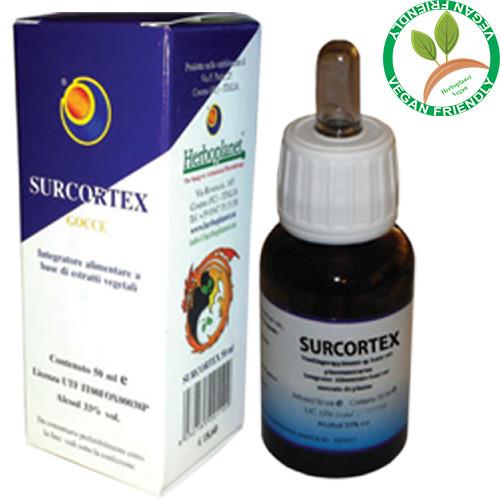 Product VEGAN FRIENDLY - Price: € 24,40
HERBAL COMPONENT CONTENT FOR

90

DROPS
:
Hydroglyceric-alcoholic solutions (R.E.

1:40

)
of: Giant Redwood (
Sequoiadendron giganteum (Lindl
.) J. Buchh.) young shoots
3,15
g, Oak (
Quercus robur L.
) buds
0,45
g, Rosemary (
Rosmarinus officinalis L.)
young shoots
0,45
g, Blackcurrant (
Ribes Nigrum L
.) buds
0,45
g.
Product included in the Register of supplements of the Italian Health Ministry,
code 61631
.
Product included in the Register of supplements of the Spanish Health Ministry,
code 0599E/13729/2015
.
Product included in the Register of supplements of the French Health Ministry,
code 2016-6-568
.
Product included in the Register of supplements of the Belgian Health Ministry,
code PL
1653/92
.
SURCORTEX
is a food supplement based on plant extracts. The GIANT REDWOOD
contributes to prostate function and as a tonic it helps to reduce the physical and mental fatigue
.
USE
:
25
drops in some water,
3
times daily.
WARNINGS: Keep out of reach of children under the age of three years. Do not exceed the recommended daily dose. The product should be used in the context of a varied and well-balanced diet and a healthy lifestyle.
NOTES
:
SEQUOIA
is the remedy of excellence in geriatic fields as invigorating and stimulating of neuro-sexual functions
.
It has an anti-aging action, as well as energetic, tonic and also stimulating in the senescent body.
In a no longer young subject
,
it causes a feeling of euphoria
and a recovery of the forces in neuroastenia states, acting both on the physical plane, and psychic
.
QUERCUS PEDUNCOLATA
,
thanks to its stimulatory action on cortico-adrenals
,
stimulates the production of urinary hydroxy corticoides
(
17

-OH
),
acts on the gonads of both sexes
.
It corrects the hormonal deficiency of the adrenal cortex by stimulating the secretion of corticoid-typed hormones, and
stimulates testosterone sec
retion.
ROSMARINUS OFFICINALIS
exerts an action on the adrenal-gonadal axis which makes it useful both in woman during her gonadal senescence
(
useful in premature senescence
,
frigidity
,
dyspareunia and dysmenorrhea
),
and man in andropause state (useful in the impotence
,
improves the prostatic congestion by re-establishing tone and libido
;
it reduces the irritability
).
RIBES NIGRUM
action mainly occurs at adrenal glands level where it stimulates the bark to release substances with strong anti-inflammatory properties and anti-allergic activity, that is why it's said that Ribes nigrum macerate has an cortisone-like action without, however, its toxicity
.
From the plants described above it is possible to obtain
MSA
(
Spagyric-Alchemical Macerates
)
with extraction ratio 1 to 50
(
RE 1/50
) if you follow the indications given by
Solanimus
in his book "
ALCHIMIA e SPAGYRIA: admirabiles et inseparabiles Artes!
", where some practical notions of Spagyria or Spagyrya and Alchemy are very well described.
BIBLIOGRAPHY
:
- Fernando Piterà - "
Compendio di GEMMOTERAPIA CLINICA
" - De Ferrari Editor
- Ernesto Riva - "
L'universo delle PIANTE MEDICINALI trattato storico, botanico e farmacologico di 400 piante di tutto il mondo
" - Ghedina & Tassotti editori s.r.l. - Bassano del Grappa (VI), Maggio 1995.
- Tina Cecchini –
Enciclopedia delle erbe medicinali
, ………… - DE VECCHI EDITORE
- Padre Gianfranco Lazzari -
L'Erbario del Frate
- EDIZIONI S. MARCO LITOTIPO
- Alberto Fidi -
Erbe e Piante medicinali
- FRATELLI MELITA EDITORI
- AA.VV. -
Enciclopedia chimica
– USES ed., Firenze
- Benigni R., Capra C., Cattorini P.E. –
Piante medicinali: chimica, farmacologia e terapia
– Inverni della beffa ed, Milano.
- Duraffourd C., D'Ervicourt L., Lapraz J.C. –
Cahieres de Phytotérapie clinique
– Masson ed., Paris 1983
- Maugini E. –
Botanica farmaceutica
– CLUSF ed., Firenze 1976
- Pomini L. –
Erboristeria italiana
– Vitalità ed
- Valnet J., Duraffourd C., Lapraz J.C. –
Phytotérapie et aromatherapie
– Presse de la Renaissance, Paris 1978
- Massari E. –
Erbe in Cina
– Milano 1981
- Penso G. –
Piante medicinali nella terapia medica
– Org. Med. Farm. Ed., Milano
- Enrica Campanili –
Dizionario di fitoterapia e piante medicinali
– Tecniche Nuove - MI
- Max Tètau - "
Gemmoterapia nuovi studi clinici
" - NUOVA IPSA Editore srl - Palermo, 1989
- Larousse - "
Encyclopédie des PLANTES MÉDICINALES identification, préparations, soins
" - Larousse-Bordas – 1997
- Tom Wilsons - "
Guarire con le erbe, i consigli, le malattie, le ricette, le dosi nella più ricca raccolta di erboristeria
" - Fratelli Melita Editori
- Dr. G. Fort - "
Guide de traitement par les plantes médicinales et phytocosmétologie, soins de beauté
" - Editions Heures de France - Paris, 1976
---