CAPITIS - Contrast of menstrual cycle disorders and localized states of tension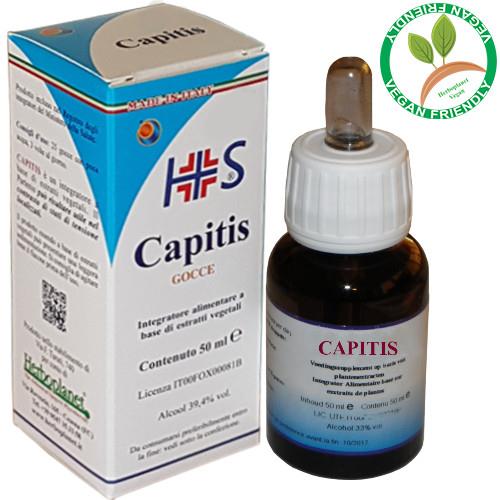 Product VEGAN FRIENDLY
HERBAL INGREDIENTS CONTENT FOR 75 DROPS
:
TSA
(
Alchemical Spagyric Tincture of Solanimus
)
E.R. 1/8
of Feverfew (
Tanacetum parthenium Sch. Bip
.) aerial parts 1.03 g.
MSA
(
Alchemical Spagyric Macerate of Solanimus
)
E.R. 1/40
of: Alder (
Alnus glutinosa Gaertn
.) buds 30 mg, black Currant (
Ribes nigrum L
.) buds 20 mg, Rose Hips (
Rosa canina L.
) young shoots 20 mg, silver Linden (
Tilia tomentosa Moench
) buds 10 mg.
Product included in the Register of supplements of the Italian Health Ministry,
Code 62436
.
Product included in the register of supplements of the Spanish Ministry of Health,
code 0599E/14853/2015
.
Product included in the register of supplements of the French Health Ministry,
code 2018-3-789
.
CAPITIS
is a food supplement based on plant extracts. FEVERFEW
can be useful in combating disorders of the menstrual cycle and in countering the localized states of tension
.
USE
: it is recommended
25
drops in some water,
3
times a day.
WARNINGS
: Keep out of reach of children under the age of three years. Do not exceed the recommended daily dose. The product should be used in the context of a varied and well-balanced diet and a healthy lifestyle.
NOTES
:
TANACETUM PARTHENIUM
had always been known for its antipyretic properties, but already since the XVII century, J. Parkinson began to give it a good efficacy with regard to the cephalalgic syndromes. We must thank Dr. E. Stewart Johnson if, at the end years '
70
, a first clinical trial of this remedy began at the "
City of London Migraine Clinic
"; experimentation by which were obtained the first very encouraging results that gave then inspiration and impetus to undertake other
double-blind
investigations with good results. One of these experiments ( its results were published on the medical journal "
Lancet
"), was done in
double-blind
on
72
patients: researchers gave
Tanacetum parthenium
powder,
4
months long.At the end, it was concluded that the plant
was able to control the frequency and the intensity and duration of migraine attacks
.
Parthenolide
, sesquiterpenic lactone so present in
Tanacetum parthenium
, reduce, in vitro, the secretory activity of the platelets, thereby inhibiting them the liberation of serotonin.This could be the mechanism of action implemented by
Tanacetum parthenium
to reduce attacks of migraine; in fact, studies have found an abnormal behavior of the platelets during a migraine attack: the platelets release serotonin.
From here we can understand the usefulness of the serotonin antagonists for the prevention of migraine
. In other bibliographies about migraine, where it is and highlighted the use of
Tanacetum parthenium
, unquestionably emerges its
antispasmodic properties on the smooth muscle which would also give rise to a mild tranquilizing effect
. The plant is also used in dysmenorrhoea and as emmenagogue, i.e. capable of facilitating the normal functions of the uterus during menstruation, thus facilitating relaxation.
ALNUS GLUTINOSA
contains
Alnulina, Emodin
, tannins, mineral salts, tannic acid. Alder, this is its common name, was highly esteemed in popular medicine of the past: its therapeutic use dates back to the medieval period. In the eighteenth century, some researchers felt it useful as febrifugal, analgesic and anti-inflammatory.Its buds possess a
marked organotropism for the arterial vascular system. Its therapeutic action is directed especially to the walls of the brain arteries (encephalic arteries), where it determines a antiphlogistic effect.
RIBES NIGRUM
,in its
buds
, contains high concentrations of alkaloids, phenol derivatives, vitamin C and amino acids (especially
arginine, proline and alanine
). These buds may be useful, and bring benefit, in renal disorders, in obesity, such as in dyspepsia and headache. Thanks to its properties with a cortisone-like action,
Ribes nigrum
has become one of the most important remedies of the meristematic therapy; it is a great systemic antiinflammatory and fights inflammation both from the etiologic point of view and from the purely mechanical one, as much as chemical, immunological or infectious as well.
ROSA CANINA
contains Vitamin C, pectins, tannins, organic acids, carotenoids (
rubixantina, lycopene and beta-carotene
), traces of anthocyanins and flavonoids. It has astringent properties, such as vitaminizing, tonic and diuretic as well. The Rose Hips (
young shoots
) is the remedy for the relapsing inflammation; it has anti-inflammatory and anti-allergic properties;
it promotes the neutralization of the amino acid tyramine, whose liberation comes into vaso-motorial headaches and in many cases of migraine.
Because of this property, it is useful in the treatment of migraines and headaches resistant to the most classic therapies.
TILIA TOMENTOSA
(
buds
) acts as a sedative and an anti-spasmodic; it is the vegetable tranquilizer for excellence. It has got a sedative effect, such as coleretic, vessel dilator and antispasmodic as well, simultaneously acting on the center of the sleep and on the cortico-hypothalamic axis with consequent calming effect.
ADDITIONAL REMEDIES
:
MIODOL, MAGSOL5 PLUS, ARTROSOL
BIBLIOGRAPHY
:
- Fernando Piterà - "
Compendio di GEMMOTERAPIA CLINICA
" - De Ferrari Editor
- Ernesto Riva - "
L'universo delle PIANTE MEDICINALI trattato storico, botanico e farmacologico di 400 piante di tutto il mondo
" - Ghedina & Tassotti editori s.r.l. - Bassano del Grappa (VI), Maggio 1995.
- Tina Cecchini –
Enciclopedia delle erbe medicinali
, ………… - DE VECCHI EDITORE
- Padre Gianfranco Lazzari -
L'Erbario del Frate
- EDIZIONI S. MARCO LITOTIPO
- Alberto Fidi -
Erbe e Piante medicinali
- FRATELLI MELITA EDITORI
- AA.VV. -
Enciclopedia chimica
– USES ed., Firenze
- Benigni R., Capra C., Cattorini P.E. –
Piante medicinali: chimica, farmacologia e terapia
– Inverni della beffa ed, Milano.
- Duraffourd C., D'Ervicourt L., Lapraz J.C. –
Cahieres de Phytotérapie clinique
– Masson ed., Paris 1983
- Maugini E. –
Botanica farmaceutica
– CLUSF ed., Firenze 1976
- Pomini L. –
Erboristeria italiana
– Vitalità ed
- Valnet J., Duraffourd C., Lapraz J.C. –
Phytotérapie et aromatherapie
– Presse de la Renaissance, Paris 1978
- Massari E. –
Erbe in Cina
– Milano 1981
- Penso G. –
Piante medicinali nella terapia medica
– Org. Med. Farm. Ed., Milano
- Enrica Campanili –
Dizionario di fitoterapia e piante medicinali
– Tecniche Nuove - MI
- Max Tètau - "
Gemmoterapia nuovi studi clinici
" - NUOVA IPSA Editore srl - Palermo, 1989
- Larousse - "
Encyclopédie des PLANTES MÉDICINALES identification, préparations, soins
" - Larousse-Bordas – 1997
- Tom Wilsons - "
Guarire con le erbe, i consigli, le malattie, le ricette, le dosi nella più ricca raccolta di erboristeria
" - Fratelli Melita Editori
- Dr. G. Fort - "
Guide de traitement par les plantes médicinales et phytocosmétologie, soins de beauté
" - Editions Heures de France - Paris, 1976
---