HERBOSOL Ca - Calcium, magnesium and silicon supplement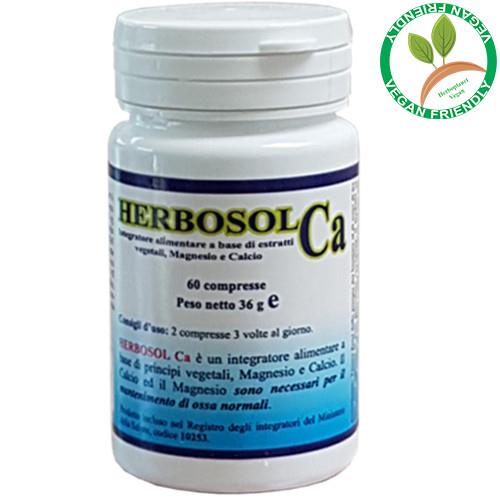 Product VEGAN FRIENDLY - Price: € 23,50
HERBAL COMPONENTS CONTENT FOR

6

TABLETS
: Horsetail D.E. (Equisetum arvense) plant

960

mg (
intake in silica

9
.
6

mg
).
Dolomite powder

960

mg (
intake in

calcium
208
.
43

mg =

26

% RDA
,
intake in magnésium 1

25
.
04

mg =

33
.
44

% RDA
), Calcium gluconato
480
mg (
intake in calcium

42

mg =

5
.
25

% RDA
).
Calcium phosphate, vegetable microcrystalline cellulose. Anticakings: vegetable magnesium stearate, silicon dioxide.
Product included in the Register of supplements of the Italian Health Ministry,
Code
10253
.
Product included in the Register of supplements of the Spanish Health Ministry,
code 0599E/11110/2016
.
Product included in the Register of supplements of the Belgium Health Ministry,
Code NUT/PL/AS
1653/56
.
HERBOSOL Ca
is a food supplement of calcium and magnesium with dry extract of
Horsetail. Horsetail contributes to the trophism of the connective. Calcium is needed for the maintenance of normal bones. Magnesium contributes to normal muscle function.
SUGGESTIONS OF USE
:
2
tablets
3
times a day
WARNINGS
: Keep out of reach of children under three years. Do not exceed the recommended daily dose. The product should be used in a varied and balanced diet and a healthy lifestyle.
NOTES ON SOME PLANTS AND MINERALS
:
DOLOMITE
represents a non-toxic source of calcium and magnesium and it allows a natural organic absorption, and in right proportions, for a perfect balance of calcium and magnesium
.
HORSETAIL
(Equisetum arvense) contains silicon in silica form (SiO2). Biological research has confirmed that silicon is involved in the calcification process of bones because it has a leading role in facilitating calcium storings (M. PEDRETTI, Erb. Domani, 1986 n.9) and this confirms the thesis of a mineralizing role of horsetail preparations.
CALCIUM
is in every cell of our body; 99% is contained in bones and teeth and the remaining 1% is in muscles and blood. Calcium in blood helps to maintain the body acid-base balance, promoting clotting. Calcium in muscles is to prevent cramps and convulsions.
BIBLIOGRAPHY
:
- J. I. Rodale e collaboratori – "
Il libro completo dei minerali per la salute
" traduzione di Bernardo Draghi- DEMETRA S.r.l.
- Giovanni Fasani e Attilio Speciali – "
Come curarsi con i minerali
" FABBRI Editori
- Dr. Frank MIRCE - "
Oligoelements et santé de l'homme
" - ANDRILLON
- Ernesto Riva - "
L'universo delle PIANTE MEDICINALI trattato storico, botanico e farmacologico di 400 piante di tutto il mondo
" - Ghedina & Tassotti editori s.r.l. - Bassano del Grappa (VI), Maggio 1995.
- Tina Cecchini –
Enciclopedia delle erbe medicinali
, ………… - DE VECCHI EDITORE
- Padre Gianfranco Lazzari -
L'Erbario del Frate
- EDIZIONI S. MARCO LITOTIPO
- Alberto Fidi -
Erbe e Piante medicinali
- FRATELLI MELITA EDITORI
- AA.VV. -
Enciclopedia chimica
– USES ed., Firenze
- Benigni R., Capra C., Cattorini P.E. –
Piante medicinali: chimica, farmacologia e terapia
– Inverni della beffa ed, Milano.
- Duraffourd C., D'Ervicourt L., Lapraz J.C. –
Cahieres de Phytotérapie clinique
– Masson ed., Paris 1983
- Maugini E. –
Botanica farmaceutica
– CLUSF ed., Firenze 1976
- Pomini L. –
Erboristeria italiana
– Vitalità ed
- Valnet J., Duraffourd C., Lapraz J.C. –
Phytotérapie et aromatherapie
– Presse de la Renaissance, Paris 1978
- Massari E. –
Erbe in Cina
– Milano 1981
- Penso G. –
Piante medicinali nella terapia medica
– Org. Med. Farm. Ed., Milano
- Enrica Campanili –
Dizionario di fitoterapia e piante medicinali
– Tecniche Nuove - MI
---