MNG-PLUS - Cell protection from oxidative stress and immune system normal function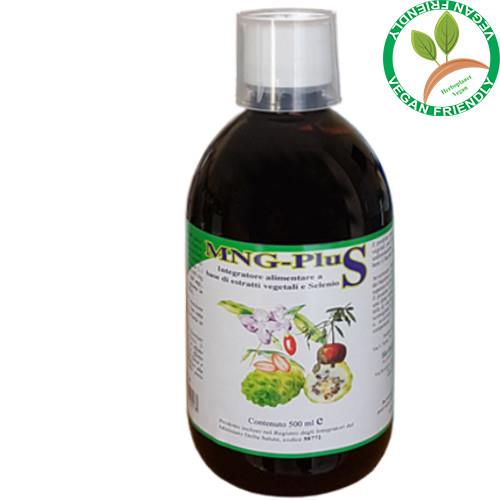 VEGAN FRIENDLY
Product
To be purchased in Pharmacy or Herbalist's shop
COMPONENTS CONTENT FOR 20 ml: concentrated juice of the Pomegranate (Punica granatum L.) 12 ml, pure Noni juice (Morinda citrifolia L.) 8 ml, dry extract of Goji (Lycium barbarum L.) titrated at 50% in polysaccharides 600 mg (bringing in polysaccharides 300 mg), Methionine selenium 15,4 mg (bringing in Selenium 70 mg = 127.27% VNR)
Product included in the Register of supplements of the Italian Health Ministry, Code 58772
Product included in the Register of supplements of the Belgian Health Ministry, Code NUT/PL 1653/82
MNG-PLUS
is a dietary supplement based on plant principles and selenium .
POMEGRANATE
juice and
GOJI
help to
protect cells from oxidative stress
.
SELENIUM
contributes to immune system normal function, normal spermatogenesis and thyroid function.
Selenium also
contributes to the maintenance of normal hair and nails.
RECOMMENDATIONS OF USE:
10 ml, twice a day by using its dosing cap.
CAUTIONS: Keep out of reach of children under three years. Do not exceed the recommended daily dose. The product should be used in a varied and balanced diet and a healthy lifestyle.
NOTES ON SOME PLANTS
:
POMEGRANATE
(
Punica granatum
) coming originally from Persia, was used in ancient times as well documented in art and literature through the ages. Pomegranate is one of the first cultivated fruits known. It has however been determined that the pomegranate plant can only be grown in very warm humid climates like many other more traditional fruits. Now some of those fruits have had their genetics alteration so they are now able to be grown in colder, dryer climates than their original cultivation. The pomegranate plant produces not only the plant and fruit but also the peel and root which can all be used for various medical purposes. In fact, the medical properties of the pomegranate plant can be traced back to the time of antiquity. For example, in the traditional Chinese medicine, in ancient times, pomegranate was considered a way to treat infertility in women.
It can be used in such infestations caused by tape worms and dysentery
(Caceres A, Giron LM, Alvarado SR, Torres MF.
Screening of antimicrobial activity of plants popularly used in Guatemala for treatment of dermatomucosal diseases
. J Ethnopharmacol 1987; 20:223-237).
It is also commonly used to treat chronic conditions in the upper and lower bowl and has been shown to cause promising results in the cases of cancer and other such diseases.
Over all pomegranates are considered to be
one of the best fruits available in the fighting of illnesses due to its high levels of vitamins, minerals and antioxidants
(Pomegranate is a potent antioxidant, superior to red wine and equal to or better than green tea). The fruit's astringent properties have been used to treat various ailments (cuts, sore throats and gum disease).
Pomegranates are a good source of vitamin C
, providing between 10-20% of the recommended daily allowance (VNR).
The potent antioxidant properties of the fruit have been attributed to its high content of soluble polyphenols
(Gil MI, Tomas-Barberan FA, Hess-Pierce B, et al.
Antioxidant activity of pomegranate juice and its relationship with phenolic composition and processing
.
J Agric Food Chem
2000;48:4581-4589).
When tested in vitro on normal and colon-cancer cell lines, the juice was found to have superior antioxidant, antiproliferative, and proapoptotic effects compared with single purified active ingredients, probably the result of synergistic actions among the fruit's multiple compounds.
Studies have shown that the antioxidant activity of the pomegranate flowers yielded activity two to three times the antioxidant potency of tea or red wine. research suggesting that pomegranate juice may be cardioprotective, reducing risk factors
(Sumner MD, Elliott-Eller M, Weidner G, et al.
Effects of pomegranate juice consumption on myocardial perfusion in patients with coronary heart disease
.
Am J Cardiol
2005;96:810-814) such as cholesterol accumulation,
foam-cell formation in macrophages
, and oxidized low-density lipoprotein [LDL] without affecting native LDL. In studies of the fruit's anticancer effects, pomegranate fruit extract (PFE) has been found to be chemo preventive in mouse mammary organ culture and in human breast cancer cells in vitro. In another study cited by the author, researchers at the University of Wisconsin in Madison found that serum prostate-specific antigen levels and inhibited proliferation of aggressive human prostate cancer cells in athymic mice (Lansky EP, Jiang W, Mo H, et al. Possible synergistic prostate cancer suppression by anatomically discrete pomegranate fractions. Invest New Drugs 2005; 23:11-20 and Lansky EP, Harrison G, Froom P, Jiang WG. Pomegranate pure chemicals show possible synergistic inhibition of human PC-3 prostate cancer cell invasion across Matrigel. Invest New Drugs 2005; 23:121-122).
Pomegranate extracts have exerted antiproliferative, antiestrogenic, and proapoptotic actions on leukemia cells
(Mertens-Talcott SU, Percival SS. Ellagic acid and quercetin interact synergistically with resveratrol in the induction of apoptosis and cause transient cell cycle arrest in human leukemia cells. Cancer Lett 2005; 218:141-151)
as well as breast- and prostate-cancer cells
. Results of studies with diabetic patients have shown that supplementing the diet with pomegranate juice had beneficial antioxidant effects on macrophages, implying that it could reduce the development of atherosclerosis; pomegranate flower extract seems to reduce some factors (hyperglycemia, hyperlipidemia, and a fatty heart) that can result in increased cardiac-impairing fibrosis in patients with type 2 diabetes (Rosenblat M, Hayek T, 69. Aviram M. Anti-oxidative effects of pomegranate juice (PJ) consumption by diabetic patients on serum and on macrophages. Atherosclerosis 2006; 187:363-371). Other studies have shown the benefits of pomegranate in promoting neurologic health, maintaining joint integrity and function, exhibiting estrogenic properties, blocking herpes simplex virus replication and adsorption, enhancing immune function, treating periodontal disease, enhancing the activity of antibiotics used to treat methicillin-resistant and methicillin-sensitive Staphylococcus aureus infections, and preventing smooth muscle dysfunction and fibrosis in erectile dysfunction. In Ayurvedic medicine, the astringent properties of pomegranates are linked with bone and cartilage build-up; in the cosmetic arena, fruit-peel extract has been shown to stimulate a type of procollagen synthesis and inhibit a dermal degeneration process.
:
we have not yet discovered the remedy that can ensure us from the effects of aging, and nobody has ever found the road that leads to immortality,
but certainly it's possible to slow down the process of aging in a considerable extent. It's almost incredible how many years can be added to the life of each one of us, years and years of healthy and happy life
.
Dr. Heinicke
, a biochemist, has discovered that the fruit of Hawaiian
NONI
(
Morinda citrifolia
) contains an alkaloid that is precursor of a vital compound called
xeronine
. Precursor of the
xeronine
is
proxeronine
. This alkaloid is also present in the pineapple fruit, but the fruit of the Noni contains it to an extent greater than 800 times.
The body produces xeronine to activate enzymes and ensure that they work adequately; many diseases develop because of malfunctioning enzymes. Without the xeronine life would stop.
The fruit of
Morinda citrifolia
, containing the
proxeronine
, has got the possibility to increase
xeronine
levels giving a significant contribution to health and cells protection.
Proxeronine initiates the release of the xeronine in the intestinal tract after coming in touch with a specific enzyme also contained in the fruit. This combination is thought to positively influence the cellular function. The possibility of obtaining a precursor for Noni's xeronine let the body decide in a natural way how much of this precursor is to be transformed into xeronine. Diseases, stress, anger, trauma and wounds may decrease the levels of xeronine in the body, creating a deficit. Noni is probably the best source of proxeronine that today we know. Some authors think that the Noni juice would give best results of its lyophilized powder or dry extract.
Studies support the ability of Noni to act as
an immunostimulant, inhibiting the growth of certain tumors, increase and normalize the cellular function and increase the regeneration of tissues. It's considered a powerful purifier of the blood and contributes to the overall homeostasis. Dr. Heinicke believes that the active principles contained in its fruit intervene on the repair of the damaged cells at the molecular level.
Proxeronine,
contained in Noni, increases
xeronine
production, which seems to be able to regularise the shape and the integrity of certain proteins that individually contribute to specific cellular activities.
According to Dr. Heinicke's theories, proxeronine contained in the fruit of the Hawaiian Noni can be used as an adjuvant in the treatment of various diseases (cancer, senility, arthritis, high and low blood pressure). Anecdotic tests have verified that the Noni alleviates the joint pains connected to arthritic diseases. A bond with arthritic pain could be due to the inability to properly or fully digest proteins, and this can lead to the formation of crystalline deposits in the joints. The capacity of the fruit of Hawaiian Noni to increase the protein digestion through an intense enzymatic function can help to eliminate this phenomenon. In addition, the antioxidant effect of Noni can help to decrease the damage caused by free radicals in the cells of the joints, which can aggravate despondency and degeneration. The active principles present in Noni have been shown to effectively control, or to suppress, more than six types of bacterial infectious strains: Escherichia coli, Salmonella typhi (and other types), Shigella paradysenteriae, Staphylococcus aureus. The damnacantale (active ingredient contained in Noni) is able to inhibit the first antigen phase of Epstein-Barr virus, responsible for mononucleosis, which, in turn, is one of the causes of chronic fatigue syndrome. Anecdotal reports support this action, i.e. that the Noni seems to be particularly effective to shorten the duration of certain types of infections.
The active ingredients, found in the fruit, testify to the possibility that they have to stimulate the production of xeronine and could explain its
immunostimulant properties
. The alkaloids present inside are adapted to stimulate the phagocytosis, a process in which certain white blood cells (macrophages) attack and literally digest the infectious organisms. Its antitumoral action
has been attributed to an immune system response, which is involved in T cells stimolation.
The presence of proxeronine in Noni promotes the increase of xeronine in the intestinal tract, allowing the intestinal walls to better absorb the various nutrients, particularly the amino acids.
Xeronine let that larger molecules can move through the cell membranes; the result is an improvement of the digestion. The fruit contains a lot of Vitamin C and it is considered as a tonic; recommended in the more debilitating conditions. The aging process bombards the body with free radicals that can cause a myriad of degenerative diseases. Dr. Heinicke argues that while grow old, we lose the ability to synthesize the xeronine, this is worsened by the presence of many toxins present the environment, which are able to block the xeronine production. He also thinks that the proxeronine contained in Hawaiian Noni would help to stop these actions, acting as an antiaging substance.
The Morinda citrifolia contains selenium, one of the best components with antioxidant effect that is available today. Noni also acts at psychic level for xeronine, activated by proxeronine contained in the fruit
, transforms some proteins of the brain in active receptors of the endorphin or "hormone of wellness". Useful for smoking and dependencies on drugs.
The Noni juice provides proxeronine to the body; the body regulates its assimilation by using the useful amount to maintain a good level, the rest is eliminated. Because of this reason, you can exclude the risk of taking a excessive dose.
Noni is one of the most important research poles of the beginning of the third millennium. In the next 15 years more and more specific pharmaceutical applications will arise. Noni is one of the great hopes of the research for the twenty-first century.
GOJI
(the word "goji" is an approximation of the pronunciation of
gǒuqǐ
(枸杞), its name in several Chinese dialectsis) is commercially called
goji berry.
Besides,
Wolfberry,
is the English common name for the fruit of two very closely related species:
Lycium barbarum
and
Lycium chinense
:
Solanaceae
family also including potato, tomato and tobacco. It is native to southeastern Europe and Asia (Tibet, North of China and Himalaya).
Wolfberry species are perennial plants growing up to 3 meters.
L. chinense
is grown in the south of China and tends to be somewhat shorter, while
L. barbarum
is grown in the north and tends to be somewhat taller. In the northern hemisphere, flowering occurs from June through September and berry maturation from August to October, depending on the latitude, altitude, and climate. These species produce a bright orange-red and ellipsoid berry, 1–2-cm long.
In particular, in China as well as in Tibet, its berries are believed to be a natural source of youth for more than 1500 years and the traditional Asian medicine celebrates, for several centuries, the berries of Goji as a balancing fruit that helps us to keep our body in a wellness state.
This plant mainly grows in Asian areas, wetted by Yellow River that fertilizes the soil in a natural way by means of the yellow mineral powder that is present in its waters. That's why no type of fertilizer or chemical additive are used thus making the taste of its berries very sweet.
Since the early 21st century there has been rapidly growing attention for wolfberries because of their nutrient value and antioxidant content.
The list of Goji benefits is enormous: it is one of the strongest antioxidants in nature; it helps the immune system to purify the skin and stimulate the immune system making a tonic and energizing action in the body. It helps to improve the view and promotes the healing. Through its antioxidants agents it protects the DNA and reduces cardiovascular and metabolic diseases risk. Because of its natural content of zinc, it stimulates the production of testosterone, thus improving the production of sperm and libido. It helps the proliferation of spleen cells also helping bones and muscles.
In the Chinese medicine it is used to stop diarrhea, and as a remedy for the dry cough. In relation to the diseases related to diabetes states, it is used to reduce blood glucose levels and cholesterol.
Goji berries also contain more C-vitamins than citrus fruits
. C-vitamins are also essential antioxidants that decreases the blood serum percentage of harmful free radicals, such as molondialdehyde, which in turn prevents free-radicals that induce fatigue and aging. A characteristic about this berry, that has recently captured the interest of researchers, is its effect on the reduction of hypertrophied and cancerous cells (Mendell, PhD., Earl. "
Goji and Cancer
." The Goji Cure. 5 Mar 2009). The chemical component that gives goji this positive affect is
beta-sitosterol
(also called
cinchol
). This compound is found in the bright red berries themselves and beta-sitosterol can affectively decrease the size of overgrown cells; In fact it can even induce apoptosis (cell suicide) of tumor cells (
in the berries of Goji is also present Germanium, a particular mineral that is considered to be a great ally in the fight against cancer
). This property of goji berries makes
it one of the most commonly
used treatment for prostate enlargement
. After men reach their 40s, the cells of the prostate gland enlarge to a certain extent. When it persists, it can develop into a condition called Benign prostatic hyperplasia (BPH). If left unaddressed the enlargement of this gland can cause obstruct the urinary tract thus making urination difficult and, in some instances, painful for older men.
In the case of prostate cancer, these cells enlarge and divide out of control causing damages to the normal cell tissues surrounding these abnormal cells. And this may do extensive damage to normal body functioning. Because the beta-sitosterol in goji effectively reduces the size of these swollen cells without serious side affects it is becoming used commonly by physicians
("
Complete Beta sitosterol Information.
" Drugs.com. 2009. 5 Mar 2009
). It is used as a precautionary treatment but in patients with cancers, it can be used along with other medications to assist in the reduction of tumor cells
(no known drug interactions have been documented for beta-sitosterol
). Goji berries are rich in vitamin A and B, potassium and polysaccharides
. Its essential fatty acids and betaine help to detoxify the liver: that's why it is also called "
the fruit of life
". According to the
ORAC
test (standardized test of the American Agriculture Ministry able to measure the antioxidant power of foods) the
black grape
contains 5.000 ORAC units of antioxidant power, the
orange 750
and the
Goji 30.000: 600% more than black grapes juice
. Besides,15 grams of dried berries cover the whole daily requirements (VNR) of antioxidant substances.
SELENIUM
is an antioxidant mineral, able to counteract the free radicals harmful action. It helps to maintain the elasticity of tissues, thus delaying the oxidation of polyunsaturated fatty acids, which, in turn, can cause the solidification of tissues proteins
.
Dr. Harman could extend the average life of laboratory animals by administering antioxidants and the validity of its results was confirmed by many subsequent scientific researches. Passwater and Welker (American laboratory, May 1971) argue that the antioxidant therapy, only, should add from 5 up to 10 years to our lives. The protection from radiation (due to cosmic rays, the sun's rays and the cleavage of various elements) should add from 2 to 5 years.
If we consider the way in which radiation induce the aging, you are again faced with the free radicals that are a result of the process itself.
---