PROINF - Maintenance of health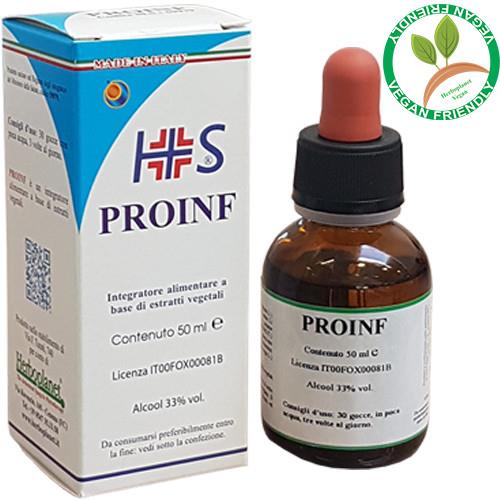 Product VEGAN FRIENDLY - Price: € 24,40
HERHERBAL CONTENT FOR

90

DROPS
:
Hydroglyceric-alcoholic solutions

1/40

of
: black Currant (
Ribes nigrum L.
) buds
24.08
mg, Rosehip (
Rosa canina L.
) young shoots
20.04
mg, Vine (
Vitis vinifera L
. ) buds
9.64
mg, white Birch (
Betula verrucosa
EHRARDT.) buds
7.84
mg, downy Birch (
Betula pubescens
Ehrh.) buds
7.84
mg, Rosemary (
Rosmarinus officinalis L.
) Young shoots
6.36
mg, Walnut (
Juglans regia L.
) buds
5.62
mg.
Product included in the Register of supplements of the Italian Health Ministry,
code
59979
.
Product included in the Register of supplements of the Spanish Health Ministry,
code 0599E/13730/2015
.
Product included in the Register of supplements of the French Health Ministry,
code 2016-6-229
.
Product included in the Register of supplements of the Belgian Health Ministry,
code PL
1653/91.
PROINF
is a food supplement based on herbal extract.The fruit of the WALNUT
contributes to the integrity and functionality of the cell membranes
.
SUGGESTIONS OF USE
:
30
drops, 3 times a day, in some water.
WARNINGS
: Keep out of reach of children under three years. Do not exceed the recommended daily dose. The product should be used as a part of a varied and balanced diet, and healthy lifestyle.
NOTES ON SOME PLANTS
:
BETULA PUBESCENS
: it contains betuloretinic acid and tannic acid which, together with vitamin C, betulin and flavonoids activate the macrophages action,
stimulating the Mast cells of the bone marrow and the endothelial reticulum system,
counteracting in this way the tendency of inflammatory processes to a chronic state
.
RIBES NIGRUM
: It contains organic acids, phenolic derivatives, flavonoids, salicylic acid, essential fatty acids, terpenes, phosphorus, sulfur, essential oils, vitamin C, amino acids (
arginine, alanine
…)
that give it its great action as "cortison-like", stimulating liver function, as well as kidney and spleen functions, the stimulation of the adrenal cortex and the consequent release of useful substances in the modulation of the inflammatory and immune processes, especially in the course of allergic phenomena; it also stimulates eosinophilia and reduces the erythrocyte sedimentation rate.
ROSA CANINA
: it contains ascorbic acid, tannin substances, vitamin C, essential oils with stearoptenes, geraniol, citronellol, vitamin A, carotenoids, vitamins B1, B2, PP, K, iron, aluminum, flavonoids and organic acids
which make it indispensable in recurrent and localized phlogosis cases where here it has a balancing action of gamma-globulins and reducing action of alpha 1 and alpha 2 globulins
.
ROSMARINUS OFFICINALIS
: it contains polyphenols, diterpenes, triterpenes and rosmarinic acid which give
great antiseptic and antispasmodic action in respiratory and bronchial asthma
,
this is due to the stimulation of the System endothelial reticulum, to the prostanoids synthesis and the modulation of the complement action.
BETULA VERRUCOSA
: it contains salicylic glucosides that oxidize in the body as salicylic acid, betulalbin, betulin, heterosides (
betuloside, monotropidoside
) that make free, by hydrolysis, the methyl salicylate with
analgesic and inflammatory-modulating properties
.
It has got an action on the endothelial reticulum System, stimulating the macrophage action and the action of Kuppfer cells
.
JUGLANS REGIA
: It contains juglone, tannic acid, alpha and beta hydro-juglone, juglandin, tyrosinase, inosite mesoinositol, nicotine, carotene, phosphorous, calcium, magnesium, barium, potassium, flavonoids; outdoors, the alfa-hydroglujone oxidizes to juglone, with very good antiseptic and antibiotic properties, especially at the skin level.
Very active in adenitis cases tending to the festering and in catarrhal forms at mucosal level
(
pharynx, urethra, vagina, conjunctiva
).
It decreases the hyper-gamma globulinemia range, the values of the beta-lipoproteins, so stimulating the plasma cells activity,
so useful in prostatitis with a tendency to becoming chronic
.
VITIS VINIFERA
: it contains mono and diglucosides of peonidin, malvidin, delphinidin, petunidin, flavonoid quercitin, malic acid, acetic acid, succinic-glutamin, choline, carotene, tartaric acid and salicylic acid, calcium phosphorus, magnesium, copper, sodium, vitamins A, B1, B2, PP.
By reducing the alpha 2
globulins and the beta globulins it is of great efficacy in chronic and recurrent inflammatory states especially at osteoarticular level
.
From the plants described above it is possible to obtain
MSA
(
Spagyric-Alchemical Macerates
)
with extraction ratio 1 to 50
(
RE 1/50
) if you follow the indications given by
Solanimus
in his book "
ALCHIMIA e SPAGYRIA: admirabiles et inseparabiles Artes!
", where some practical notions of Spagyria or Spagyrya and Alchemy are very well described.
BIBLIOGRAPHY:
- Fernando Piterà - "Compendio di GEMMOTERAPIA CLINICA" - De Ferrari Editor
- Ernesto Riva - "L'universo delle PIANTE MEDICINALI trattato storico, botanico e farmacologico di 400 piante di tutto il mondo" - Ghedina & Tassotti editori s.r.l. - Bassano del Grappa (VI), Maggio 1995.
- Tina Cecchini – Enciclopedia delle erbe medicinali, ………… - DE VECCHI EDITORE
- Padre Gianfranco Lazzari - L'Erbario del Frate - EDIZIONI S. MARCO LITOTIPO
- Alberto Fidi - Erbe e Piante medicinali - FRATELLI MELITA EDITORI
- AA.VV. - Enciclopedia chimica – USES ed., Firenze
- Benigni R., Capra C., Cattorini P.E. – Piante medicinali: chimica, farmacologia e terapia – Inverni della beffa ed, Milano.
- Duraffourd C., D'Ervicourt L., Lapraz J.C. – Cahieres de Phytotérapie clinique – Masson ed., Paris 1983
- Maugini E. – Botanica farmaceutica – CLUSF ed., Firenze 1976
- Pomini L. – Erboristeria italiana – Vitalità ed
- Valnet J., Duraffourd C., Lapraz J.C. – Phytotérapie et aromatherapie – Presse de la Renaissance, Paris 1978
- Massari E. – Erbe in Cina – Milano 1981
- Penso G. – Piante medicinali nella terapia medica – Org. Med. Farm. Ed., Milano
- Enrica Campanili – Dizionario di fitoterapia e piante medicinali – Tecniche Nuove - MI
- Max Tètau - "Gemmoterapia nuovi studi clinici" - NUOVA IPSA Editore srl - Palermo, 1989
- Larousse - "Encyclopédie des PLANTES MÉDICINALES identification, préparations, soins" - Larousse-Bordas – 1997
- Tom Wilsons - "Guarire con le erbe, i consigli, le malattie, le ricette, le dosi nella più ricca raccolta di erboristeria" - Fratelli Melita Editori
---