NEO COLIFAST - Regulate gastrointestinal motility and elimination of gases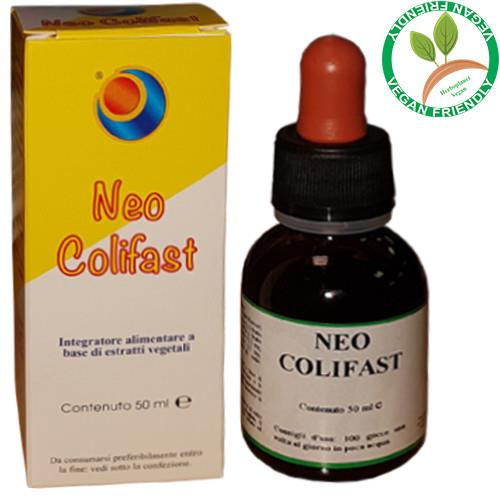 INGREDIENTS CONTENT FOR 100 DROPS
:
aqueous extracts D/E

1:8

of
: Ginger (
Zingiber officinale Roscoe
) rizhome
76.50
mg, green Anise (
Pimpinella anisum
) fruits
76.50
mg, Fennel (
Foeniculum vulgare
) fruits
76.50
mg, blueberry (
Vaccinium myrtillus
) fruits
76.50
mg,Chamomile (
Matricaria recutita
L.) flowers
52.00
mg. Preservatives: Potassium sorbate, sodium benzoate. Glycerin.
NEO COLIFAST
is a food supplement based on herbal principles
useful for adjusting the gastrointestinal motility and to facilitate the elimination of gas.
WARNINGS:
keep out of the reach of children under the age of three years. Do not exceed the recommended daily dose. The product should be used in the context of a varied and well-balanced diet and a healthy lifestyle.
USE
:
to promote the elimination of gas
:
50
drops once a day, in some water.
To adjust the gastrointestinal motility
:
100
drops once a day, in some water..
NOTE:
traditionally,
GINGER
(
Zingiber officinalis
) is used as
carminative in indigestion cases, in stomach ache and fever. In the ayurvedic medicine it is used to treat the discomfort caused by the state both of disease, and KaphacheVata
. Ginger is an important component of many ayurvedic preparations because we think it is useful to
abdominal pain
, atonic dyspepsia, eructation, colic, colitis, flatulence, hyperacidity, ausea, vomiting
.
The
ANISE
fruits (
Pimpinella anisum
) contain essential oil (
consisting of anethole and other terpenes
), furanocumarine, flavonoids, fatty acids and sterols; they have got
carminative and digestive properties
, and they are part of the "hot seeds".
One of its main indications is its use in aerophagia cases and in difficult digestions. It mitigates intestinal spasms and has got a disinfectant action on the digestive tract.
FENNEL
seeds (
Foeniculum vulgare
) contain
8
% of essential oil.
It's an activator of the digestive glands functions
, useful as
carminative
(
intestinal gases sedative
), and in certain intestinal tumultuarie. It
'
s a diuretic remedy and
has got a general sedative action
. It is a component of the "hot seeds", the other three components are:
Dill, Anise and Cumin
.
BLUEBERRY
(
Vaccinium myrtillus
) is a
rebalancer of the bacterial flora
, it is great for working on infantile diarrhea, because the substances contained in the plant are not harmful.
CHAMOMILE
(
Matricaria chamomilla
)
have got spasmolytic and sedative action.
---