ALBA CELESTA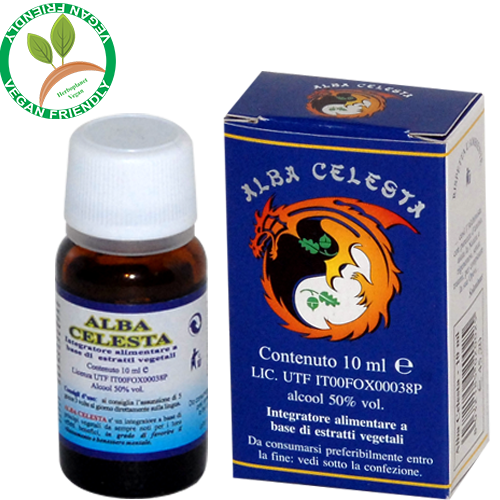 Product VEGAN FRIENDLY
COMPONENTS CONTENT FOR 15 DROPS
: Alchool, water, potassium carbonate plant. Hydroalcoholic solution of Gotu kola (
Centella asiatica L.
) leaves 1
,41
mg. Essential oils of: Star Anise (
Illicium verum Hook f.
) seeds
0,93
mg, Turmeric (
Curcuma longa L.
) rhizome
0,70
mg, Ginger (
Zingiber officinalis Rosc.
) root
0,54
mg, Cardamom (
Elettaria cardamomum L. maton
) fruits
0,50
mg, Bitter Orange (
Citrus aurantium L. var. Amara
) peel
0,46
mg (
intaking
0,000030
mg of synephrine
), Lemon (
Citrus limonum Burn. f.
) peel
0,23
mg. Hydroalcoholic solutions of: Caterpillar fungus (
Cordyceps sinensis
) sporophorum
0,225
mg, ABM (
Agaricus blazei murill
) sporophorum
0,225
mg. Essential oils of: Sage (
Salvia officinalis L.
) leaves
0,225
mg, Burnet (
Pimpinella anisum L.
) seeds
0,225
mg, Tangerine (
Citrus reticulate L.
) peel
0,225
mg, Carnation (
Syzygium aromaticum L. Merr. & Perry
) floral buds
0,135
mg, Fennel (
Foeniculum vulgare Mill.
) seeds
0,1125
mg, Cumin (
Cuminum cyminum L.
) seeds
0,1125
mg, Lemongrass (
Cymbopogon Citratus Stapf.
) leaves
0,0562
mg.
Product incuded in the supplement register of the Italian Health Ministry,
code 49008
.
Product included in the Register of supplements of the Belgian Health Ministry,
Code PL 1653/94
.
ALBA CELESTA
is a supplement consisting of herbal ingredients. GOTU KOLA
contributes to the functionality of the microcirculation (heavy legs) and to memory and cognitive functions
. The STAR ANISE, CARDAMOM, LEMON end BURNET
contribute to digestive function and to the elimination intestinal gases
.
We cannot forget also their contribute in the fluidity of bronchial secretions and well-being of nose and throat
. The GINGER
contribute to digestive function
,
to the regular gastrointestinal motility and to the gases elimination
.
It has anti-nausea action
.
It contributes to the regular functionality of the cardiovascular system and to circulation normal of the blood
.
It helps joint function and counteracts disturbances of the menstrual cycle
. The BITTER ORANGE
contributes to digestive function and to the elimination intestinal gases
.
It help the relaxation and mental well-being
. The CATERPILLAR FUNGUS, so as the ABM,
contributes to the natural defenses of the body
,
it also has tonic action and of metabolic support
. The SAGE
contributes to digestive function and to intestinal gases elimination
.
It helps the regular process of sweating and counteracts disturbances of menopause
.
It is useful as a tonic in the physical and mental fatigue
. The CUMIN
contributes to the contrast of the disturbances of menstrual cycle
. TANGERINE and LEMONGRASS
help the relaxation and mental well-being
.
Excellent for those people who practice meditation techniques
.
It
promotes the flow of the prana in our body, bringing clarity and stability of the mind
.
SUGGESTIONS OF USE
: It is recommended taking
5
drops
3
times a day directly on the tongue.
WARNINGS
: Keep out of reach of children under three years. Do not exceed the recommended daily dose. The product should be used as part of a varied and balanced diet, and healthy lifestyle.
NOTES
:
STAR ANISE
(
Illicium verum
) contains
anethole, methylcavicol, pinene, limonene
. Popular usings suggest taking star anise as a digestive, carminative, antispasmodic, galattagogo, in flatulence cases, in bowel fermentation, after lunch intestinal spasms and bloats, especially if depending by nervous origin. "
Il Sole

24

ore
", on November
3, 2005
, reported that in the markets of Beijing, star anise is much sought-after because "
it contains the main active ingredient of Tamiflu, the antiviral that has proven quite effective in treating people suffering from bird flu
". The newspaper goes on warning, however, that "
there is no evidence that its tea can be effective in treating this disease," because this infusion is prepared with star anise fruit that is woody and unlikely he may transfer all its active principles by simple infusion in boiling water: on the contyrary,

4

or

5

drops of essential oil, to be taken daily, could serve as prevention
. Within psychic area, it helps to overcome negative experiences, opening the Chakras and connecting the various energy levels with an opening effect. It stimulates solar plexus, intestine, stomach and respiratory system. Ayurvedic medicine considers
TURMERIC
(
Curcuma longa
) with many medicinal properties, but only recently, Western researchers have admited its properties.
Turmeric has become popular as a product fighting depression and now it's being tested to determine its use against Alzheimer's disease, cancer and liver diseases
. Its active ingredient,
curcumin, has an interesting anti-inflammatory activity against both lipoxygenase system, both cyclo-oxygenase system. Furthermore, it has got some antimutagenic, antioxidant and chemopreventive activity on multiple models in vitro
.
CARDAMOM
has got antiseptic, antispasmodic, digestive and tonic properties
.
It is useful in cases of tiredness and mental fatigue
,
physical weakness
,
indigestion, abdominal colic, flatulence, halitosis
.
It is used to awaken the mind. Especially suitable to promote and soften prana flow in the body
,
bringing clarity and stability to the mind
.
GINGER
(
Zingiber officinalis
) is used as
a carminative in indigestion, pain in the stomach and fever cases. In Ayurvedic medicine is used to treat discomforts caused by morbidity and Kapha, and Vata
. Ginger is an important component of many ayurvedic preparations because, we think, it is useful in
abdominal pain
,
anorexia
,
atonic dyspepsia
,
cold extremities, colic, colitis, cough
,.
Within psychic side
, ginger
puts into circulation and harmonizes our energy
.
It activates all body functions
.
It strengthens spleen and is useful to report any disturbance in balance
.
CENTELLA
, thanks to its active principles, is able to increase the elastic compression of connective venous, increasing venous return, and this allows this plant to be useful in venous stasis cases.
QSPC
are included in the formulation in part to spice up the mixture and in part because of their function.
BITTER ORANGE
(
Citrus aurantium
) is the
main remedy for the heart
. It is rich in bioflavonoids, whose action, appear on your heart, is well known;
it is useful in nervous excitement states
. It combines the solar qualities to lunar ones.
It restores solar quality re-harmonizing the masculine with the feminine, the unconscious with consciousness, sleep with waking. It reunifies, ultimately, the relationship of dualization
.
LEMON
activates and strengthens the defenses by stimulating production of red and white corpuscles
. Within psychic area, it is used in depression cases, awakening vital energies, giving security and self-confidence. It reduces the confusion, cheers up and brightens the mood. It gives the light taking away the darkness ("...........
I look on the dark side
....").
CORDYCEPS SINENSIS
(
Caterpillar fungus
) is a fungus that grows in the mountainous regions of China and Tibet. It is characterized by powerful toning and considered able to
increase sexual vigor and longevity
. The discovery its properties is due to the ancient Tibetan yak and goats shepherds, who, having noticed a vigorous behavior of their animals after grazing on the wide altitudes of the highlands, have researched its cause founding that with the common herb, another particular "
plant
" was growing there, which is grazed by their animals as well. From that moment testings and the discovery of the medicinal fungus powers began.
It is believed that it is able to improve athletic performance, increasing the flow volume
. Studies and experiments have been performed to demonstrate its effects on human performance.
It was discovered that by taking Cordyceps
,
Adenosine Triphosphate (ATP), at the cellular level, increases. It is a molecule present in all living organisms, for which it is the main form of stored energy immediately available. When ATP loses a phosphate it becomes Adenosine Diphosphate (ADP)
and the energy left again by the tie break is at once available for all those processes of the organism which require energy as well as muscle contraction, nerve impulses, protein synthesis and cell divisions
.
An increase of cellular ATP means a real increase in energy, not as due to the use of stimulants such as caffeine, ephedrine and amphetamines
.
With amphetamines, brain receives misleading information about its availability of energy to consume, but when it's finished our body is forced to have recourse to its reserves.
Cordyceps sinensis is a great tonic in sexual life.
It is an aphrodisiac tonic, but not a
"
one shot in time
"
one, like the blue pills, but as a drug that permanently improves sex life by helping health.
During an important conference held in Rome, Italian and Chinese university professors met. Some of them were experts in acupuncture and treatments with traditional Chinese medicine, as Professor He Jialang, working at Zhejiang Chinese Medical University and also well-known acupuncturist in Italy. Jialang, together with the famous Italian immunologist Professor Samuel Paparo, Faculty of Medicine of the University "La Sapienza" in Rome, along with two other Chinese academics, father and son (Chuaiti Ke and Yueai Ke), coming from the Institute of Medical Research, University of California in San Diego, with Professor Yong Sheng Fan, from Zhejiang Chinese Medical University, have carried out research on this fungus to demonstrate its amazing properties. Cordyceps sinensis has received increasing attention from chemists, biologists and physicians. This fungus contains
cordycepyacid
and
ergosterol
, components which, in their own combination,
increase immune system functions. The secret of this fungus is being able to perfectly balance the Th1 and Th2 lymphocytes that are important to body's immune response
.
AGARICUS BLAZEI Murill
(
ABM
) is a popular edible medicinal fungus, native in a small village, Piedade, in the areas of the Atlantic Forest Highlands in Sao Paulo, Brazil, and it was discovered by the Japanese researcher
Takatoshi Furumoto
.
Traditionally, it is used for preventing various diseases, including cancer, hepatitis, atherosclerosis, ipecolesterolemia, diabetes, dermatitis, heart disease, etc.
. Because of its effects on health, the fungus was brought to Japan in the mid of '60s and subjected to biomedical research. ABM is
rich in immune-modulating substances
,
such as β-glucans and proteoglycans
.
Experimentally
,
Japanese researchers have shown
,
both in vivo and in vitro
,
its immune anti-infection and anti-tumor effects in rats
.
FENNEL
(
Foeniculum vulgare
)
is used in infections cases.
It activates the digestive gland
and is useful as a
carminative
(
sedative of flatulence
), in some tumultuous diarrhea,
good expectorant
. It stops hiccups; it is a diuretic and, finally, exercises an overall sedative action.
CUMIN
(
Cuminum cyminum
) contains thymol and has antiseptic, antispasmodic, detoxifying, digestive, antifermentative, stimulant, tonic, aphrodisiac, bactericidal, anti-toxic properties.
It stimulates appetite, helps peristalsis, prevents cramps and intestinal fermentation
. In California it has been succesfully
used to stimulate immune system in people with allergies
. As a carminative, it's good for nutrients absorption.
LEMONGRASS
(
Cymbopogon citratus
)
has refreshing
,
nervous system sedative
,
tonic
and gastric exciting properties. It is useful in stress, nervous tension, in digestive problems, colitis, fever, headache as well as in milk insufficiency, disorders of skin, sweating, infection of kidneys and bladder, fluid retention, varicose veins, lack of concentration , flatulence.
Lemongrass is rich in water-soluble vitamin A
.
It is good for immune system, lymphatic system, blood and circulation
.
BIBLIOGRAFIA
:
- Ernesto Riva - "
L'universo delle PIANTE MEDICINALI trattato storico, botanico e farmacologico di 400 piante di tutto il mondo
" - Ghedina & Tassotti editori s.r.l. - Bassano del Grappa (VI), Maggio 1995.
- Tina Cecchini –
Enciclopedia delle erbe medicinali
, ………… - DE VECCHI EDITORE
- Padre Gianfranco Lazzari -
L'Erbario del Frate
- EDIZIONI S. MARCO LITOTIPO
- Alberto Fidi -
Erbe e Piante medicinali
- FRATELLI MELITA EDITORI
- AA.VV. -
Enciclopedia chimica
– USES ed., Firenze
- Benigni R., Capra C., Cattorini P.E. –
Piante medicinali: chimica, farmacologia e terapia
– Inverni della beffa ed, Milano.
- Duraffourd C., D'Ervicourt L., Lapraz J.C. –
Cahieres de Phytotérapie clinique
– Masson ed., Paris 1983
- Maugini E. –
Botanica farmaceutica
– CLUSF ed., Firenze 1976
- Pomini L. –
Erboristeria italiana
– Vitalità ed
- Valnet J., Duraffourd C., Lapraz J.C. –
Phytotérapie et aromatherapie
– Presse de la Renaissance, Paris 1978
- Massari E. –
Erbe in Cina
– Milano 1981
- Penso G. –
Piante medicinali nella terapia medica
– Org. Med. Farm. Ed., Milano
- Enrica Campanili –
Dizionario di fitoterapia e piante medicinali
– Tecniche Nuove - MI
- Larousse - "
Encyclopédie des PLANTES MÉDICINALES identification, préparations, soins
" - Larousse-Bordas – 1997
- Tom Wilsons - "
Guarire con le erbe, i consigli, le malattie, le ricette, le dosi nella più ricca raccolta di erboristeria
" - Fratelli Melita Editori
- Dr. G. Fort - "
Guide de traitement par les plantes médicinales et phytocosmétologie, soins de beauté
" - Editions Heures de France - Paris, 1976
---