TSA ELEUTHEROCOCCUS SENTICOSUS - root (Eleutherococcus, Siberian Ginseng)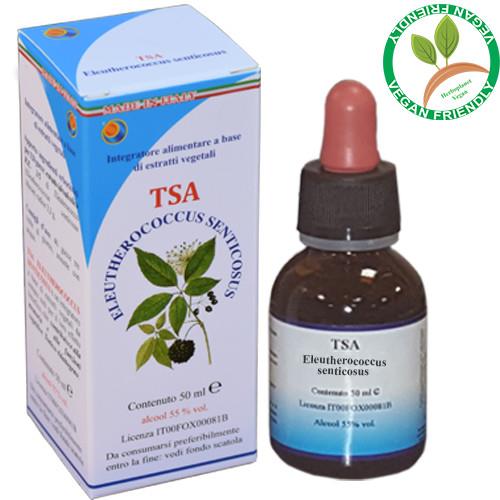 CONTRIBUTION OF HERBORISTIC COMPONENTS FOR 120 DROPS: Spagyrical ydroalcoholic solution with extraction ratio 1/5 (E.R. 1/5) of Siberian ginseng (Eleutherococcus senticosus) root 3,3 g.

Product included in the Register of supplements of the Belgian Health Ministry, Code PL 1653/40.

TSA ELEUTHEROCOCCUS SENTICOSUS is a food supplement based on plant extracts and able to facilitate the adaptation of the organism to external aggressions.
Use
:
40
drops in some water,
3
times a day.
Warnings
: Keep out of children under three years old. Do not exceed the recommended daily dose.
Notes: The hydroalcoholic solutions has been made with the alchemical spagyric method of Solanimus (T.S.A.) which includes all the classic spagyrical phases with the final addition of a specific phase of the alchemical philosophy. We have joint spagyrics and Alchemy to get the best from plant. Eleutherococcus is part of the neurostimulant substances; it is now considered an "adaptogenic", a complex of substances able of balancing the homeostatic cell mechanisms through a stimulation of the synthesis of mediators which govern the normal operation of tissues and organs. This translates into an increase, in the body, of its ability to adapt to adverse conditions that induce tiredness. The result is a set of stimulating properties tending to protect the organism from the attack of stressful situations.
REFERENCE
:
- Ernesto Riva - "
L'universo delle PIANTE MEDICINALI trattato storico, botanico e farmacologico di

400

piante di tutto il mondo
" - Ghedina & Tassotti editori s.r.l. - Bassano del Grappa (VI), Maggio
1995
.
- Tina Cecchini –
Enciclopedia delle erbe medicinali
, ………… - DE VECCHI EDITORE
- Padre Gianfranco Lazzari -
L'Erbario del Frate
- EDIZIONI S. MARCO LITOTIPO
- Alberto Fidi -
Erbe e Piante medicinali
- FRATELLI MELITA EDITORI
- AA.VV. -
Enciclopedia chimica
– USES ed., Firenze
- Benigni R., Capra C., Cattorini P.E. –
Piante medicinali: chimica, farmacologia e terapia
– Inverni della beffa ed, Milano.
- Duraffourd C., D'Ervicourt L., Lapraz J.C. –
Cahieres de Phytotérapie clinique
– Masson ed., Paris
1983
- Maugini E. –
Botanica farmaceutica
– CLUSF ed., Firenze
1976
- Pomini L. –
Erboristeria italiana
– Vitalità ed
- Valnet J., Duraffourd C., Lapraz J.C. –
Phytotérapie et aromatherapie
– Presse de la Renaissance, Paris
1978
- Massari E. –
Erbe in Cina
– Milano
1981
- Penso G. –
Piante medicinali nella terapia medica
– Org. Med. Farm. Ed., Milano
- Enrica Campanili –
Dizionario di fitoterapia e piante me
dicinali – Tecniche Nuove - MI
- Larousse - "
Encyclopédie des PLANTES MÉDICINALES identification, préparations, soins
" - Larousse-Bordas –
1997
- Tom Wilsons - "
Guarire con le erbe, i consigli, le malattie, le ricette, le dosi nella più ricca raccolta di erboristeria
" - Fratelli Melita Editori
- Dr. G. Fort - "
Guide de traitement par les plantes médicinales et phytocosmétologie, soins de beauté
" - Editions Heures de France - Paris,
1976
---